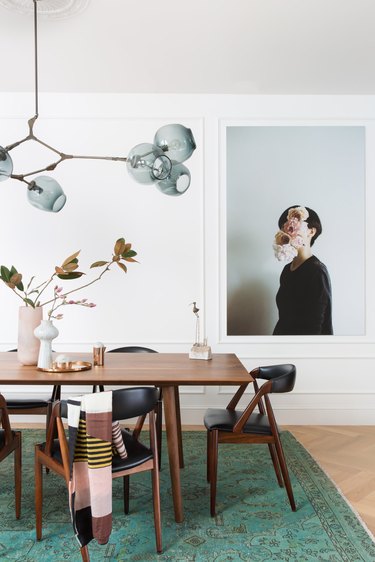 Hunker may earn compensation through affiliate links in this story. Learn more about our affiliate and product review process
here
.
Searching for dining room ideas can be a tad bit overwhelming. From midcentury to Scandinavian to industrial to modern and so on, it can be hard to weed through everything to find the right look for you. And since this space acts as one of the main entertaining hubs in any home, it's especially important that it reflects your own personal style, and not whatever is trending on Pinterest at the moment. This handy guide is an easy way to get started with the process of narrowing down your dining room search, so you can spend more time actually enjoying your space every evening, instead of endlessly hemming and hawing over the design.
Dining Room Idea #1: Midcentury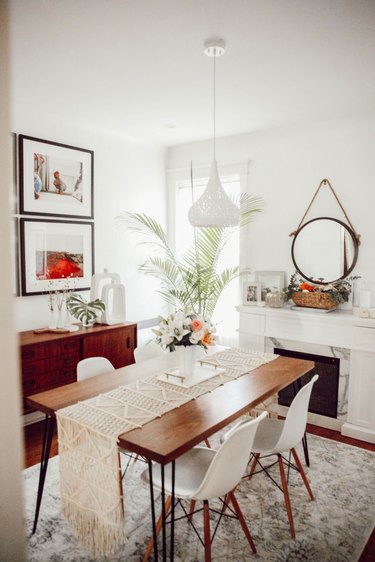 If you're after the more minimal look, Scandinavian design encompasses all things fresh and simple. Clean lines, soothing color palettes, and an appreciation for streamlined design make up the Scandi aesthetic. If you follow the principles of hygge, a dining room look like the one in this '50s-inspired Helsinki apartment is the way to go. Also, knowing your Nordic brands is pretty essential if you're championing this style, so start familiarizing yourself with retailers ranging from Muuto to Montana.
Dining Room Idea #3: Industrial
Whether you're in a Manhattan loft or a country cottage, industrial style is still an achievable look. Just add natural materials with raw finishes (read: wood, metal, brick, and glass). One for the vintage lover, this aesthetic tends to incorporate repurposed and hardwearing antique elements, well suited to spaces dedicated to chowing down. Miranda Schroeder nailed the look with an industrial dining table, exposed bulb chandelier, and metal chairs. She completed the design by painting the upper half of the walls in a dramatic black hue.
Dining Room Idea #4: Modern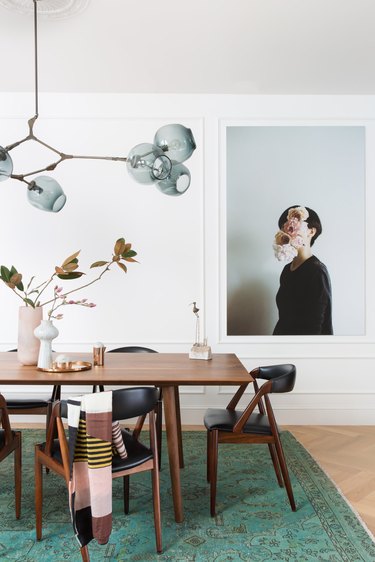 Want to give your dining room a modern refresh? Whether you've got an open-plan layout or you're trying to make the most out of a small dining room, this aesthetic will work for everyone. More often than not, color schemes for a modern dining room will be fairly neutral but that's not to say that bold colors are a no-go. You just need to be thoughtful about your palette.
Dining Room Idea #5: Farmhouse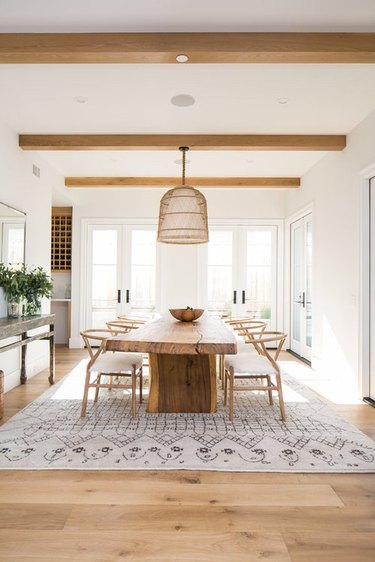 Wellington boots at the dinner table? Perhaps not quite the farmhouse look we all aspire to, but certainly the inspiration for rustic style. Distressed finishes, lots of wood, and natural textures all play a part in achieving the perfect farmhouse dining room, no muddy footprints required. If you want to put a modern spin on the country look, take inspiration from this design by Eric Aust Architects and keep the color palette neutral, floorboards bare, and add a statement handmade rug.
Dining Room Idea #6: Bohemian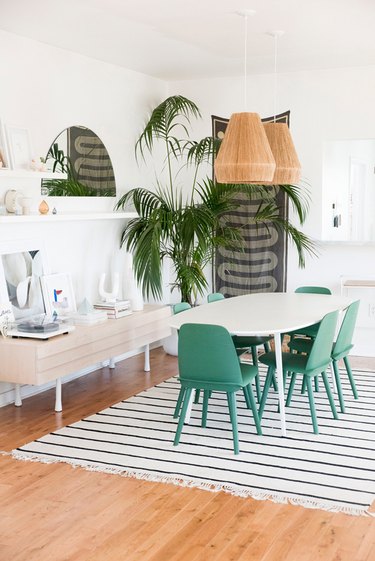 A bohemian dining room encompasses all things creative and is perfect for those of you who think outside of the box. To achieve the ultimate boho-chic space, mix and match furniture (rattan is your friend), and add textures such as the wall hanging and area rug seen in this scheme by Bri Emery from Designlovefest. And last but certainly not least, don't forget verdant plants and pops of color. Express yourself and you will be rewarded with a carefree yet spirited room.
Dining Room Idea #7: Contemporary
We all want to make our homes look as expensive as possible, don't we? While it's not always feasible to spend thousands of dollars on interior design, there are contemporary dining room ideas that you can pull off on a budget. This luxe look by Arent & Pyke incorporates a channel-tufted leather dining bench, walnut chairs, and a brass-footed dining table. Create your own luxury space by featuring warm metallic finishes, leather, and dark woods such as walnut. Oh, and sculptural lighting and large scale artwork are an absolute must.
Dining Room Idea #8: Open Concept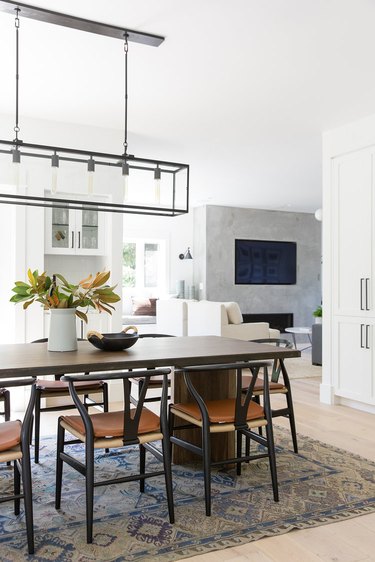 Whether you have a grand mansion or a spatially-challenged studio apartment, open concept dining rooms all come with the same design challenge: how do you divvy up the space? Shea from Studio McGee successfully solves the equation in this dining room that opens up both to the living room and the kitchen. Shea uses an area rug on the floor to create a visual boundary that in effect grounds the design, while the rectangular table and chandelier help fill out the dedicated space.