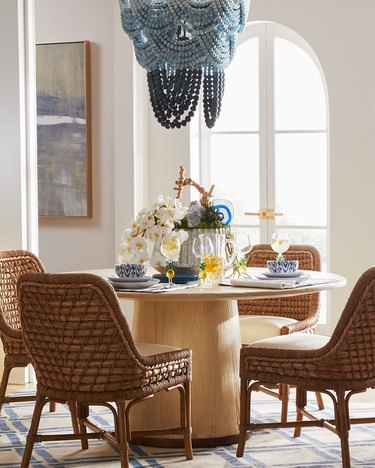 Hunker may earn compensation through affiliate links in this story.
Free-spirited, eclectic, organic, colorful, and unique: Just a few of the words that are like magic to a bohemian-lovin' decor enthusiast. A little bit of vintage color here and a little bit of greenery over there are really all you need to add bohemian flair to your home. What's arguably the hardest place to boho up? The dining room. A large table is obviously the most important element for a dining room, but it's not easy to find a truly eclectic (and affordable) option. That's where lighting comes in.
Dining room lighting is the perfect opportunity to set the tone of the space and greet your guests with your laid back and easygoing (but seriously enviable) style. Wow them with a beautifully ornate statement pendant, or maybe an oversized rattan fixture is more your style. (If you're the DIY type, this boho tassel chandelier is one of our favorites.) Either way, a bohemian dining room light fixture is exactly what you need to pull your space together. Here, five of our favorite styles of boho lighting ideas, perfect for a dining room.
1. Stick to Natural Materials
Jute, rattan, wicker, and bamboo are all easy materials to focus on when searching for bohemian light options. Often in neutral hues of black, white, or natural tan, they offer a light, airy feel to a space and are eye-catching, but not too bulky. (Plus, have we mentioned how they are good organic materials to pair with plants?)
2. It's All in the Beaded Details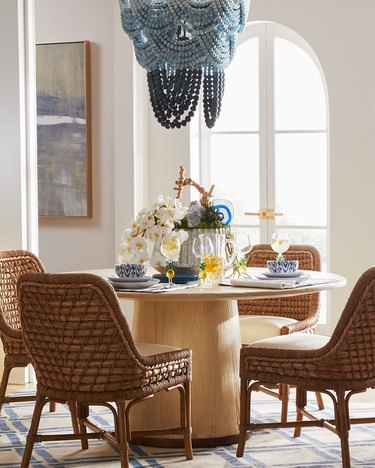 TBH, this may be one of our favorite ways to incorporate stunning boho elements into your dining room: A beaded chandelier. If you're lucky, you could prob find an amazing vintage one at your local flea market, but if not, there are plenty of options online for all budgets and price points. Our advice? Look for one in a gorgeous and unexpected hue, like purple or blue.
3. The Brighter the Better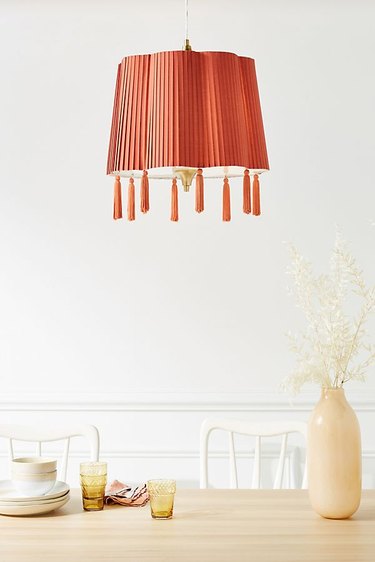 Speaking of unexpected colors, that's one of the best ways to infuse your space with a bohemian vibe. If the rest of your dining room is filled with neutrals and organic materials — like this set-up from Anthropologie — you can punch up the personality with a pop of color. A fun blood orange, neon teal, or pastel purple will do the trick nicely.
4. Put a Little Tassel Into it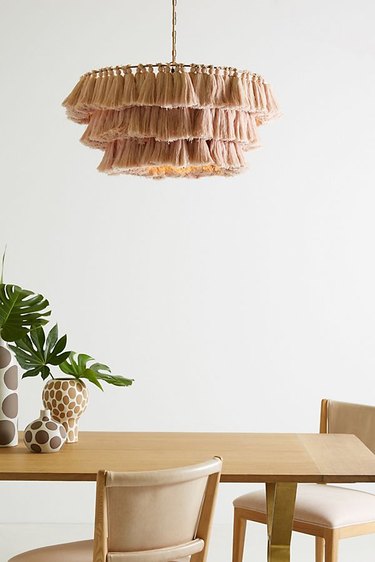 As far as embellishments go, there's nothing quite as boho as tassels and fringe. They give off a truly casual but still put-together vibe, and add a certain joie de vivre that bohemian styles also possess. (Quite effortlessly, we might add.) No one's more equipped to bring this look to life than the Queen B of Boho herself, Justina Blakeney, who designed this tiered fringe chandelier in a ton of different colors, pink ombré included.
5. Go Big and Make a Statement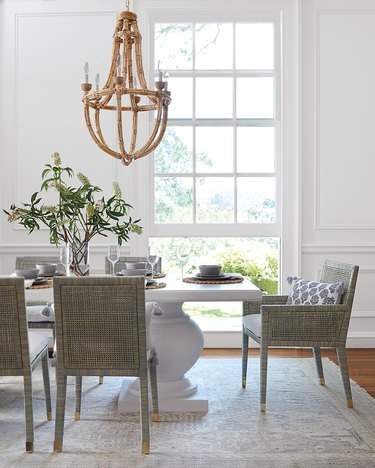 We like to say: The more eclectic, the better. Oyster shells, bamboo, crystals, feathers — boho decor is all about catching the eye and making a statement, so go big on your lighting. It'll create the perfect centerpiece for all dinner parties (and even act as a bit of a conversation starter should you need it).