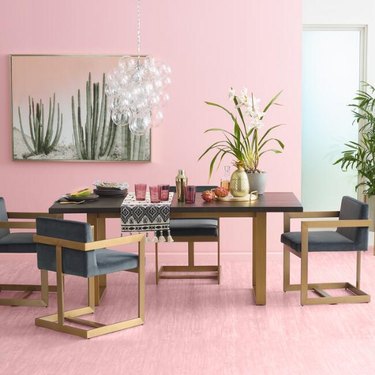 Hunker may earn compensation through affiliate links in this story.
1. Textile Art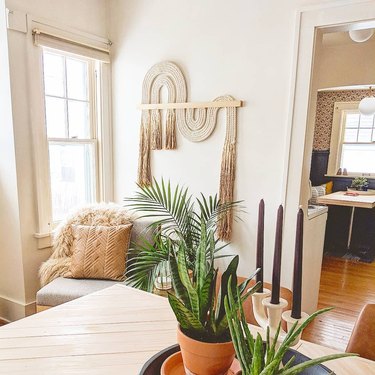 With mixed-media textile artists like Cindy Hsu Zell burning up our Pinterest pages lately, it's no wonder we're drawn to this similar sculptural work by up-and-coming Etsy makers. These oversized, tactile pieces make a huge impression, especially in dining rooms where super-sleek surfaces tend to reign.
2. Art Ledges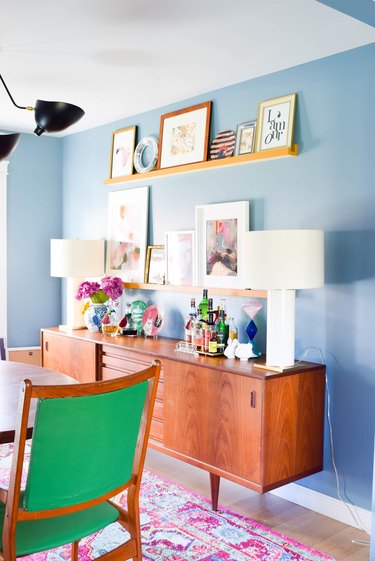 Perfect for the chronic redecorator, an easy-to-install picture ledge can provide tons of flexibility for your dining room's focal point — simply switch out your favorite pieces as the mood strikes you. We also love how the eclectic arrangement lends a more free-flowing, less fussy look to a formal dining area.
3. Tone-On-Tone Paintings
A single oversize piece of art in the dining room might not seem revolutionary at first, but when you coordinate the color of the piece's background to your wall paint, it creates an expansive, artistic effect that will garner compliments from all your dinner party guests.
4. Custom Latch-Hook Art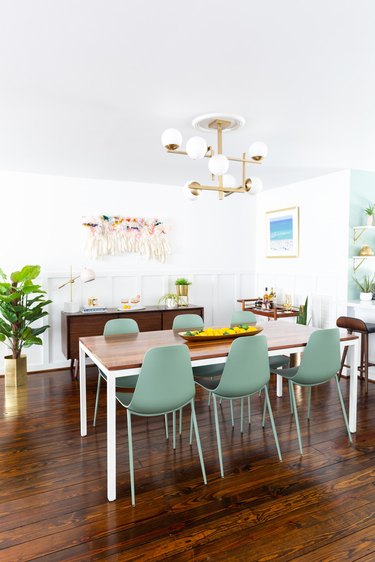 If you have a specific color palette in mind, a custom-made macramé or latch-hook piece might be exactly what you're searching for. Not only can you confirm that the hues of your fiber art blend seamlessly with your existing furnishings, but many artists will let you dictate the size of the finished work as well — so even extra-expansive dining room walls can get their fill. (Quite the DIY-er? You can also make your own using dip-dye yarn.)
5. Souvenir Baskets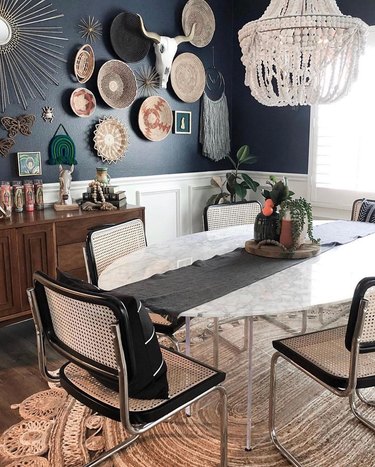 For a well-traveled look, we're loving this global take on the classic gallery wall, which trades framed prints for handwoven baskets and art objects. Whether they're actual souvenirs you've picked up on your latest far-flung adventures or just imports that caught your eye, there's no denying this arrangement adds some international flair to your dining room.
6. Wallpaper Murals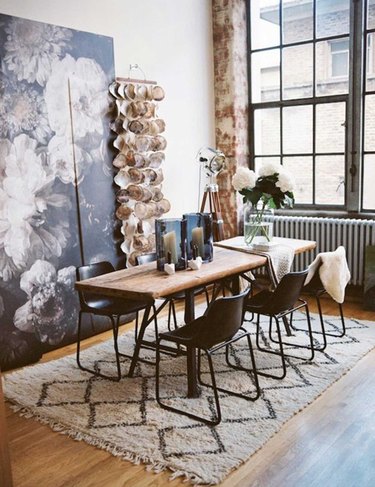 Think beyond the frame. With so many jaw-dropping styles of wallpaper murals available, there's no reason your entire dining room wall shouldn't be the art itself. Pick a moody, Dutch Master-inspired floral to amp up the drama even more.