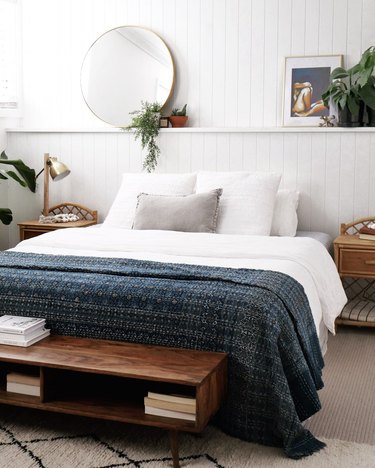 We will always, always love art prints here at Hunker. They are timeless, easy, and offer a wonderful way to show off unique style. That said there are times we also love to push the envelope when it comes to wall art — and a bedroom is a great place to take a few style risks. After all, it's not a room that will be frequently seen by guests, which makes it a space where your distinctive preferences can really shine.
So, let us voyage beyond the boundaries of framed artwork and look at some inventive approaches to decorating using these exceptional bedroom wall decor ideas. From fiber hangings to vintage finds to new ways to display objects, we have no doubt that you'll be able to add loads of personality to your refuge in no time.
1. Hang an area rug.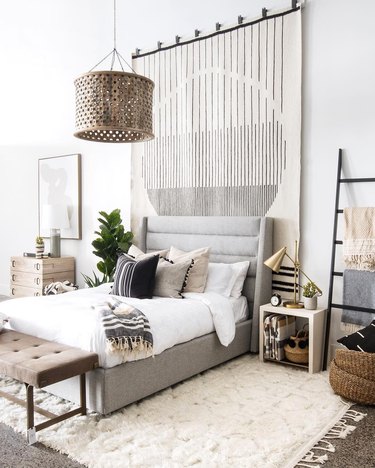 This is a bedroom wall decor idea that's a bit outside the box, but we are so here for it — an area rug hung on the wall. It's a twist on hanging a tapestry (a rug will have a lot more heft and bring warmth and texture to the walls) and the ideal spot to hang it is behind a bed. This large, modern area rug looks flawless behind the headboard in a dreamy en suite styled by the team at Leclair Decor.
2. Trade a frame for a sculpture.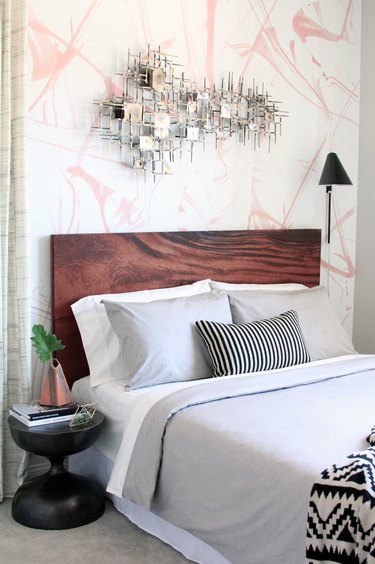 Midcentury designers sure knew what they were doing back in the day, frequently turning to stunning metal sculptures to fill their walls instead of traditional artwork. This Brutalist-inspired piece, displayed in a bedroom designed by Studio Surface, juxtaposes beautifully with pink, patterned wallpaper.
3. Display woven baskets.
We've seen the baskets-as-wall-art trend for a while now, and it's still a bedroom wall decor idea that we love. And to make your woven decor unique, gather vintage versions in varying patterns and arrange them in whichever way feels good to you. In this space decorated by Bre of Brepurposed, the baskets act as an effective focal point in the white room.
4. Collect vintage oil paintings.
What's better than one vintage oil painting? A whole gallery wall full of them, of course. After you've scored a few gems from your local thrift shops, flea markets, and antique stores, arrange them above your headboard, as Yvonne of Painted Planks does in her bedroom. Major bonus points if you tie the paintings together with similar colors and scenery.
5. Go with an eye-catching wall hanging.
In a bedroom, you can go big or go home when it comes to artwork, and since you might not want to clutter your walls with too many decorative accents, one giant wall hanging will likely do the trick. In a bedroom designed by Emily Henderson, a sizable, wooden wall hanging takes up residence on one of the walls, and we think it looks amazing.
6. Show off your hat collection.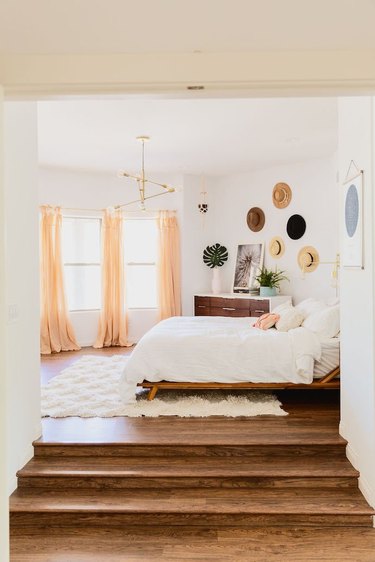 Hats look chic when hung on a wall, especially when they're displayed as a collection in various hues and materials. And this genius bedroom wall decor idea will also save you some closet space. In a bedroom belonging to Paige Rangel and showcased on Glitter Guide, the eye goes straight to the stylish brims that double as wall art.
7. Opt for a simple mirror.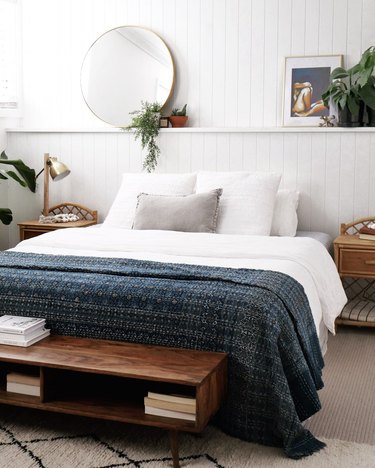 Sometimes, all it takes is a classic, clean mirror to complete a room. In this bedroom belonging to Caitlin of The House on Beach Road, a round mirror sits on a picture ledge that runs that length of the wall, alongside some houseplants.
8. Embrace everyday objects.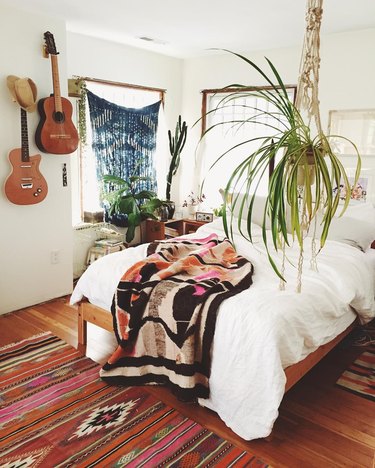 If you're someone who enjoys keeping must-haves within reach — think: art supplies, shoes, sunglasses — treat them as art and devise new ways to display them via your bedroom walls. This space belonging to Emily Katz is a perfect example. Her guitars are always ready to be played at a moment's notice, and they look pretty darn cool hung up on the wall if we do say so ourselves.
---
Shelby Deering is a lifestyle writer who contributes to national magazines and websites, including Country Living, Good Housekeeping, Well+Good, and more. When she's not writing, you'll find her shopping flea markets, hiking, and going for walks with her corgi.
View Work