Welcome to Hunker Hotline, where we consult the pros to get answers to your most urgent decor questions. Today, our expert is Bre Bertolini, founder of the blog Brepurposed, where she shares her love of design and DIY. She loves mixing modern decor with vintage gems to create a casual aesthetic that's warm and inviting. Today's question ...
Q: I live in California, an earthquake-prone state. I know it's a hazard to hang sizable pieces of artwork over a bed, so what are my options for decorating the space above my bed?
A:
The options most people have for decor above their bed are usually endless; but if you live in an area that's prone to earthquakes, those options can be quite limited. Living on the East Coast my whole life, I've never personally dealt with this problem, but I work with clients all over the world, so it's something I have to be mindful of when designing a space that could be affected by an earthquake. Just because you can't have a heavy piece of artwork above your bed doesn't mean you have to sacrifice good design. Check out some of these ideas for inspiration!
Wallpaper
Wallpaper is definitely your safest option. You're not adding anything that could potentially fall on you, but it adds a ton of character and interest to a space. And with a bold design, you don't need to worry about hanging any other artwork over it — let the wallpaper speak for itself!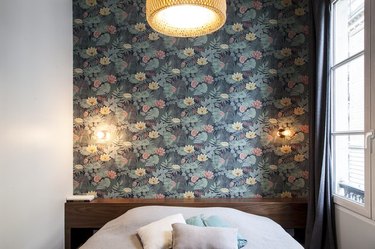 Unframed Art
Art is an obvious choice for decor above the bed, but adding a heavy frame definitely isn't earthquake friendly. So go sans frame and use some small thumb tacks or wall tape to adhere the artwork and you'll be able to sleep soundly knowing a glass frame won't come crashing down on you in the middle of the night. You could also DIY a frame out of super light balsa wood or hang some family photos on a string.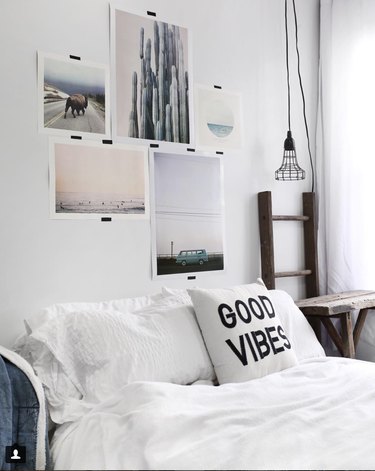 Macrame/Woven Wall Hanging
Macrame art has made a huge comeback and it's a popular choice for decor above the bed. Be careful, because the larger the piece, the heavier it will be. But with the main material being string, it's definitely a lightweight and safe option for those living in earthquake-prone areas.
Tapestry
A tapestry is a great way to add a large statement piece to your space that is totally earthquake-friendly. Let your personality shine by using one from past travels or a vintage piece from a local flea market.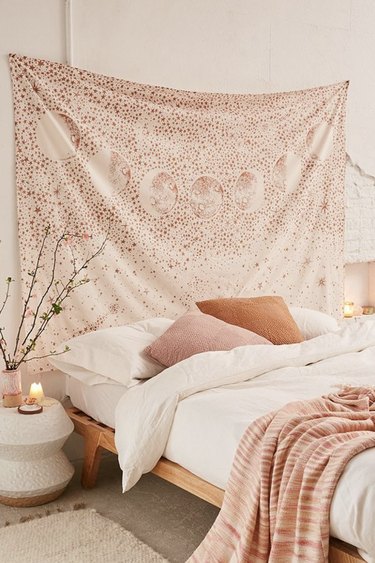 Baskets
Baskets are another lightweight option to add above your bed that will add some texture and interest. Collect a few from local thrift shops and create a gallery of baskets or align a few larger ones right in a row. Play around with the layout and have fun!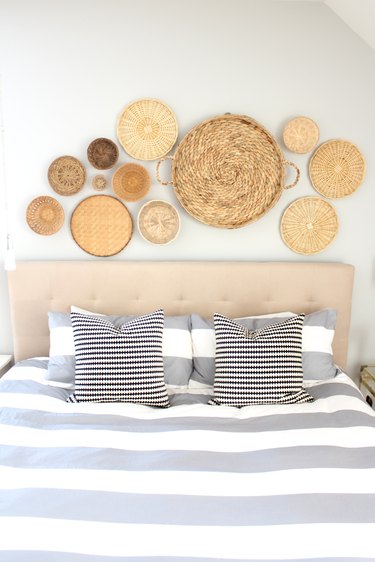 As you can see, there are tons of options for earthquake friendly decor that you can hang above your bed. You can sleep peacefully knowing you'll be safe, all while being able to let your design style shine.