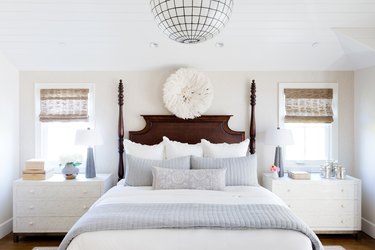 The wall above your bed is teeming with design potential, it just takes the right decor items. "Statement pieces above the bed help to set the tone for your bedroom," says interior designer Alison Giese. "They also provide vertical interest to visually expand the space."
Curious how you can turn the wall above your bed into the centerpiece of your bedroom? We asked a few of our designer friends to share their advice, and this is what they had to say.
According to Emma Kemper of Emma Beryl Interiors, the wall above your bed should be the focal point of a bedroom. "Whatever goes above the bed becomes a major statement about the tone of the space," she explains. "We like to use tongue-in-cheek art to set a fun and playful mood for a bedroom."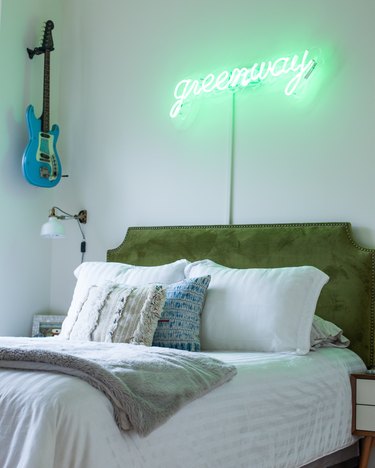 Not only will a neon sign draw attention to the wall above your bed, Molly Torres Portnof of DATE Interiors says it helps create a more ambient bedroom atmosphere. "Instead of art, hang a neon sign above your bed for an elevated look that casts a pop of color onto your walls," she says. "Added bonus: Your neighbors will think your bedroom turns into a chic club at night!"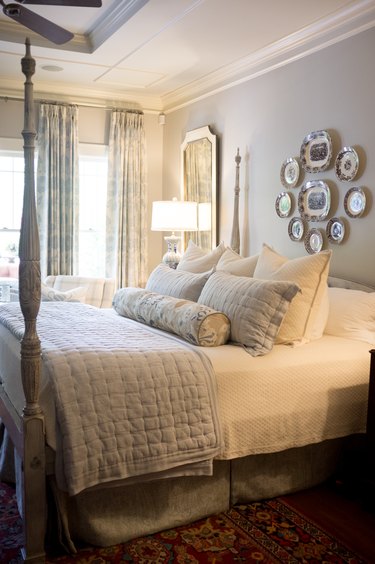 For an eye-catching above-the-bed display that's more traditional in style, Maggie Griffin suggests showing off some of your favorite pieces of porcelain. "Displaying family heirlooms is the perfect way to shake up your style," she says. "A set of antique blue and white china, brown transfer ware, and creamware are all favorites of mine."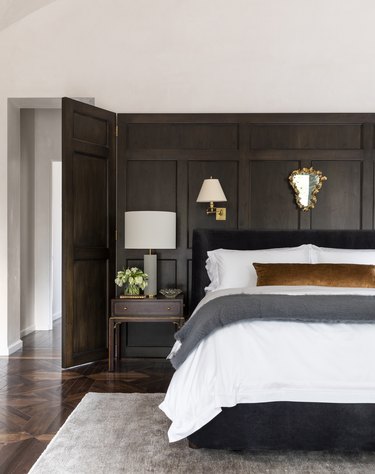 If you ask Marie Flanigan, a vintage screen found at your local antique store is an outside-of-the-box way to fill the space above your bed. "[Place] it directly behind the headboard so it acts as a piece of oversized art, adding interest and texture," she advises.
5. Geometric Gallery Wall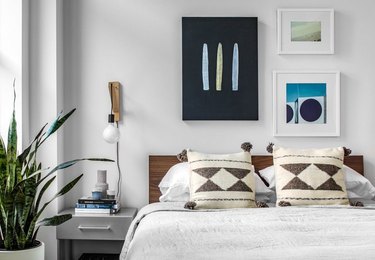 Michelle Zacks says a little line-work can go a long way on the wall above your bed. "An asymmetrical gallery wall arrangement composed of geometric artwork makes a graphic statement," she explains. "Use textural throw pillows and clean-lined wall sconces to play up the theme."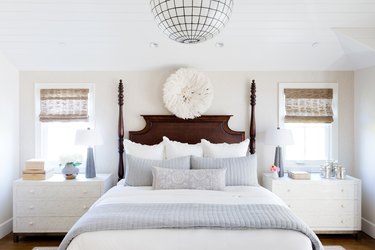 Kate Lester of Kate Lester Interiors prefers to incorporate unexpected touches of texture onto the wall above the bed. "I like the idea of playing with scale above a bed and doing something really large and dynamic, or small and understated," she explains. "A unique textile or textured item ... draws your eye to the space and is generally more interesting to look at."
---
** **Isabel Ladd believes the space and wall above your bed is the perfect place to experiment with a bold and eye-catching wallpaper print. "Layer it with a textural headboard, statement lighting, and a beautifully layered bed, and your days will start and finish in complete maximalist elegance," she says.
Not a fan of wallpaper? No worries. Emily Spanos of Emily June Designs says painting the wall behind your bed in a vibrant shade will also make a major impact. "Bright paint immediately creates visual interest, and if it's a punchy enough color, you won't even need art," she says.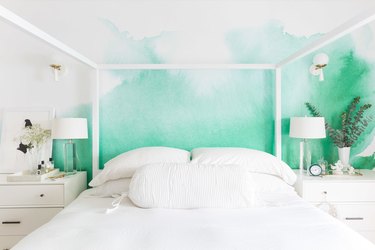 Megan Hopp of Megan Hopp Design says there is no better spot for a mural than on the wall behind your bed. "What's even better is an oversized print or subject that makes a bold statement and fills the space top to bottom side to side," she explains. "Plus, peel-and-stick style wall murals are widely available, so there's no need to fear commitment."