Hunker may earn compensation through affiliate links in this story. Learn more about our affiliate and product review process
here
.
Bedrooms are the most private areas in a house, but just because they aren't on display for everyone who enters your home, that doesn't mean that they don't deserve the same attention to detail and thoughtful curation as the rest of your home. When it comes to narrowing down bedroom ideas, focus on what it will take to create a welcome respite from the outside world — a place where you can relax at the end of a long day and look forward to waking up in the morning.
So, where do you start? What's the best way to go about creating the sanctuary you've been dreaming of? Read on to discover answers to all of these questions and more.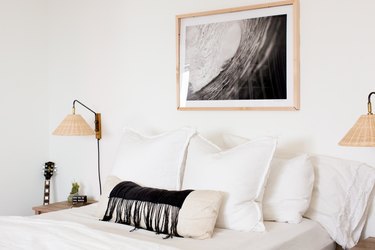 The first step in making your dream bedroom idea a reality is to assess the size of the space you're working with. In a perfect world, a functional bedroom would include a pair of nightstands (one on either side of the bed), a dresser, an accent chair, and reading lights. However, all rooms aren't created equally, and the size of your space will dictate how much furniture you can accommodate. You may have a king-size bed on your wish list, but if you're dealing with a spatially challenged room, you'll be hard-pressed to fit that in with additional furniture. But the good news is that the bedroom is one place where less really is more. Take a page out of the Scandi design playbook and craft an uncluttered refuge with a few hardworking pieces.
Most designers agree that regardless of a bedroom's size, you should aim to center the bed on a wall and enhance symmetry by placing bedside tables on either side. From there, square footage will determine what else you can add. A seating area with either a pair of chairs, a settee, or a bench enables the space to be enjoyed for more than just sleep. Some people even turn to the ancient Chinese art of energy management called feng shui to determine how to arrange their sleeping quarters.
Add a couple of lounge chairs.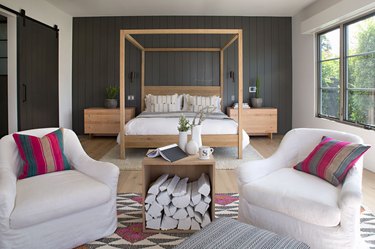 Add a seating area for two if space allows. This farmhouse-inspired bedroom idea by RailiCA Designs features a high-contrast color scheme that is warmed up by pale wood tones and a balanced design scheme. The ample space makes it possible to add a pair of lounge chairs and a side table, creating an extra hang-out spot.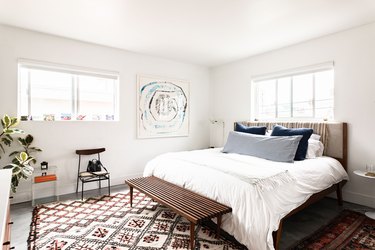 A bench at the foot of the bed is another great extra-seating option if you don't have enough room for a set of chairs but would like to work in an additional perch. The slatted wood option in this room adds plenty of texture and warmth to the bohemian setup. Rugs and textiles infuse color and pattern while plain white walls keep the space from feeling cluttered.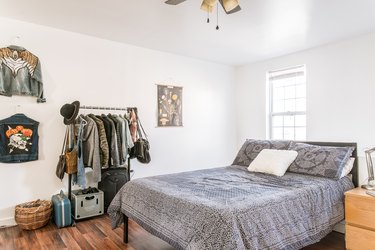 But what if you don't have the luxury of space? Small spaces actually have the added bonus of being inherently cozy — a particular boon when dealing with bedroom ideas that strive for cozy. After all, bedrooms should be sanctuaries where we want to cocoon ourselves and feel safe. If you're dealing with a particularly tiny space, you'll want to minimize clutter, be efficient with your storage, and select multi-tasking furniture. A small bedroom requires a smaller bed and might necessitate placing your bed in a corner. Not ideal, but workable. And to compensate for the lack of one bedside table, select an option with a bit more surface area to sit on the free side of the bed and consider mounting shelving to stash books or display pictures. Pro tip: Keep the area above your bed free of knick-knacks if you live in an earthquake zone.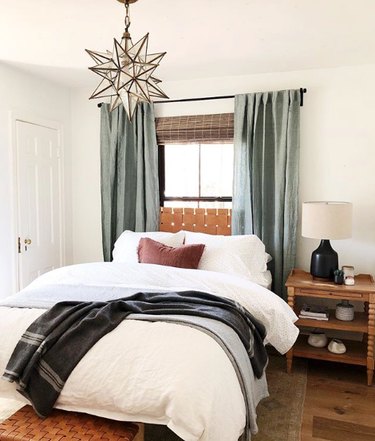 Work with what you've got: A bed in front of a window? Only one bedside table? It's all good. This petite space by Anissa Zajac of House Seven Design is constrained by size but still includes plenty of hardworking and stylish bedroom ideas. A tiered side table is a practical solution for storing oft-used items, and still leaves space for a lamp, while a scaled-down leather bench at the foot of the bed provides texture, and an extra spot for sitting or resting bags. A decorative pendant light infuses plenty of charm and a global vibe.
Bedroom Styling — Master vs. Guest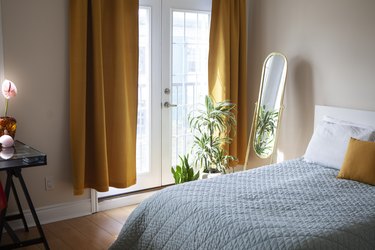 Now that you've got a pretty good idea of how to lay out your sleep space, what are the details you can add to transform your bedroom into the ultimate sanctuary? First, determine your style. Are you going for a traditional boudoir full of feminine accessories, or are you more of a minimalist who appreciates contemporary design? Once you've got a handle on your aesthetic, an area rug is a good foundation, plus they add softness and set the tone stylistically for the rest of the space. Rugs introduce subtle doses of color and pattern, enabling you to keep the rest of the room neutral and calm, which will aid in getting a good night's sleep.
Next, focus on the bed by purchasing luxe sheets, a duvet, and layering pillows and a throw blanket. Even though you will remove the layering pillows at the end of the day, accessories personalize a space and help create a finished look. A potted plant in a dead corner is another great bedroom idea that adds color and an earthy quality, plus indoor plants can help reduce stress and induce a state of calm, which will help you sleep.
If you're lucky enough to have a spare space for guests that's not the couch, consider stocking up on essentials to make them feel at home. Guest rooms are generally smaller than a master suite, so the basic principles apply but are scaled down — an area rug, bedside table, reading light, a set of soft pillows, a blanket, and some greenery will do the trick. Most people are so grateful to have a free spot to lay their head that they'll appreciate any effort you put forth to make their stay more comfortable.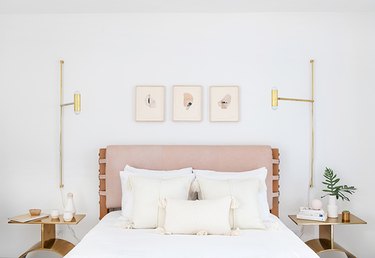 Brass accents elevate this guest bedroom idea and give it a glamorous edge that's tempered by a bohemian wood and pink leather headboard. Sarah Sherman Samuel outfits a spare room in Mandy Moore's home with the essentials — reading lights, bedside tables, and crisp linens — for a welcoming and stylish temporary rest stop.
Squeezing the Most Out of Your Bedroom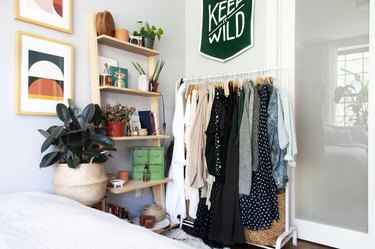 There's nothing worse than wasted space. If you have any awkward or unused corners in your bedroom, consider using them for a makeshift home office or even a built-in vanity area. You don't need a lot of space (or money) to create a functional and multi-purpose area. If off-the-shelf furniture doesn't fit, a simple custom desktop can be created by attaching a piece of plywood to either side of the wall.