Living in a studio apartment comes with a whole host of challenges — namely space and storage. But design can be tricky, too, when your living room is also your bedroom (and your office, and your dining room). Instead of getting caught up in what your space is or isn't, let yourself be inspired by these eight clever studio bedroom ideas that can help you make the most of your small space and get a good night's sleep.
1. A Grown-Up Loft Bed
BRB. We're off to the hardware store for some plywood so we can try and recreate this brilliant studio bedroom design from Lea Korzeczek and Matthias Hiller of the German firm Studio Oink. It exists somewhere between a loft bed and captain's bed, and comes with all the storage and space-saving benefits of both — but you won't have to climb up a ladder to go to bed at night.
2. Two Rolling Twin Beds
If you have a long wall to play with, consider getting two twin beds and putting them on casters. When placed end to end, they create a lot of seating and can easily be moved to create two separate (or one large) sleeping area as needed.
3. Lots of Low Storage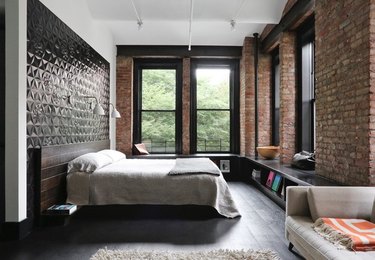 Keeping your furniture and storage close to the ground can make any studio bedroom idea feel lofty. If you add long stretches of low shelving to your space, you'll get the added benefit of extra surface area for displaying lamps, art, and more.
4. A DIY Daybed
Everyone can agree that most pullout sofa beds totally suck to sleep on. Daybeds, on the other hand, can be downright dreamy as long as you have a good mattress (and don't regularly share your bed with anyone). If you can't find a daybed you like, take a queue from blogger Sarah Yates Mora over at A House in the Hills and DIY a daybed with plywood. You can outfit it with the comfy twin mattress of your dreams, along with all the throw pillows your little heart desires. Bonus: the high sides can help divide your space.
5. Curtain Call
Curtains seem like such a simple studio bedroom idea. But when you have a one-room home, you don't want to block any natural light or make your space feel smaller than it already is. That's why sheer curtains around the bed are so brilliant. For this New York City studio makeover, Homepolish designer Amy Row put the bed in the corner and suspended sheer panels from the ceiling to create a little privacy and a somewhat separate sleeping area, while still keeping the whole place feeling open and airy.
6. A Bed Against the Wall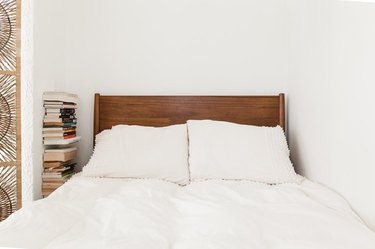 Look, we know that there are all kinds of reasons why you're not supposed to put your bed against the wall, but when space is at a premium it can totally work. Photographer Katharine Rose made this bed-in-a-corner studio bedroom idea look super chic and inviting with textured, all-white bedding.
7. A Chaise (Instead of a Sofa)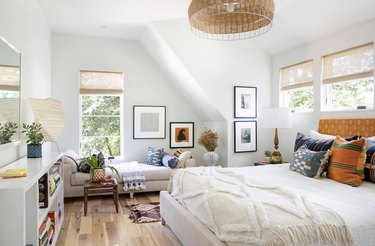 As long as you're cool with people sitting on your bed (which, let's be honest: you probably should be if you're going to live in a studio), consider a chaise lounge or a daybed instead of a sofa for additional seating, like the one in this beautiful bedroom designed by Lucy Penfield.
8. A Sideboard-Style Dresser