L.A.-based photographer Katherine Rose doesn't mind small space living. In fact, she prefers it. "Having a smaller space was actually quite intentional for me," she says. Which is why, when hunting for a place to live, she passed over a four-room apartment for her current home, a quaint 1920s-era studio in Los Feliz. "I wanted to remain as much of a minimalist as possible," the New Jersey native explains, which, truth be told, is a lot easier said than done. (For most, Marie Kondo-ing your life can only last for so long.) But Katherine is conscious about living with less, and is highly intentional about what she brings into her home: "If I want to purchase something new, that means I need to either donate or sell something I currently have. The same goes for clothes since I have such a small closet."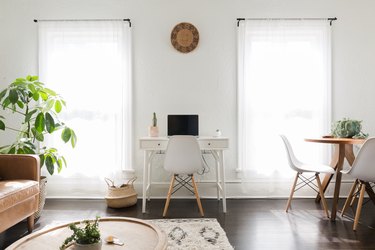 1 of 9
Main Space
Katherine's studio consists of a single main room, yet each spot has a different purpose. A workstation acts as a home office, while a small round table and chairs becomes a dining nook.
Image Credit:

Paul Anderson for Hunker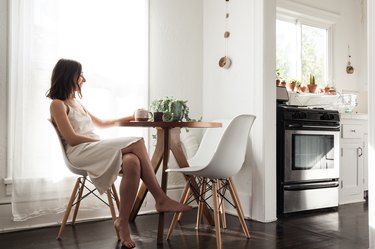 2 of 9
Dining Nook
She describes her place as bohemian-meets-minimalist: "Because the space is small, I wanted to make sure it never felt cluttered, but I wanted it to feel warm, inviting, and interesting. I stuck with a really earthy color palette and added a ton of plants and lots of feminist art."
Image Credit:

Paul Anderson for Hunker
3 of 9
Bedroom/Living Room
4 of 9
Bedroom
Thanks to original, French-style windows, the studio is flooded with light. Textured bed linens from Urban Outfitters help emphasize Katherine's bohemian-minimalist aesthetic.
5 of 9
Windowsill
Katherine's neighborhood is a huge draw: "Los Feliz is such a great neighborhood. I am walking distance to tons of restaurants, bars, coffee shops, and a movie theater and about a 20 minute walk to Silver Lake. My absolute favorite part of this neighborhood, though, is being so close to Griffith Park — it's my little green haven in this busy city and I love to hike."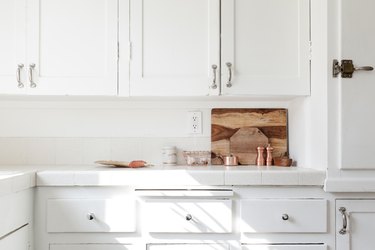 6 of 9
Kitchen
One way to make a small space feel more open? Making sure surfaces are cleared of clutter, and being selective about what needs to be on display.
Image Credit:

Paul Anderson for Hunker
7 of 9
Kitchen
One of the coolest things about Katherine's apartment is the built-in ice box in the kitchen, a relic from the 1920s.
9 of 9
Living Room
"My home reflects so many of the things I love and value — travel, nature, books — and it's filled with beautiful art pieces that inspire me and remind me of my own strength and power."
---
Leonora Epstein is Hunker's Senior Director of Content. She has previously served as Executive Editor at HelloGiggles and as BuzzFeed's Deputy Editorial Director. She is the co-author of "X vs. Y: A Culture War, a Love Story" (Abrams, 2014). Feel free to reach out at leonora@hunker.com.
View Work