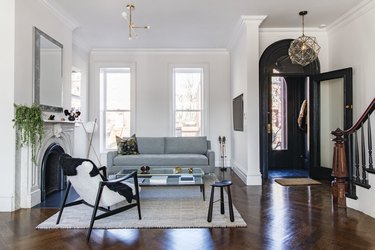 Don't live in a mansion? We feel you. That doesn't mean you can't use a few clever design tricks to make a small living room feel more expansive. A thoughtfully edited space with hard-working design elements and multitasking furniture can provide high-style and function whether you're decorating 300 or 3,000 square feet. So, if you're downsizing or just looking to maximize the cozy space you're currently living in, check out these 10 small living room ideas to help you squeeze big living out of a tiny space.
1. Hang curtains high.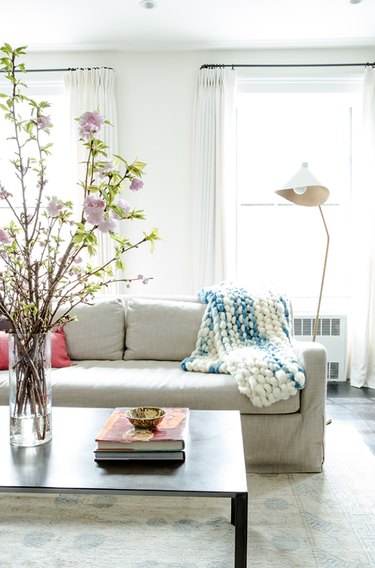 To give the illusion of higher ceilings, hang your curtains several inches above your windows and opt for a length that'll allow fabric to pool, or gather, slightly on the floor. This will draw the eye up and give an expansive feeling to smaller living spaces. Keep the material lightweight and semi-opaque to filter in light, as Katie Martinez does in this Greenwich Village living room.
2. Mirrors are your best friends.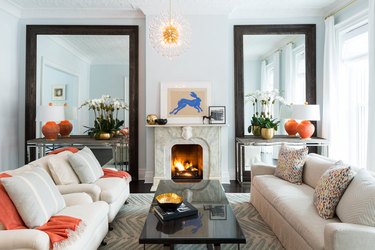 Reflecting natural light, seemingly enlarging walls, breaking up visual clutter — mirrors might be the hardest working design element to include in a small living room. Here, Chango & Co. bookends a fireplace with oversize mirrors, creating the illusion of depth. Barely-there blue walls, wispy drapery, and neutral furniture provide the perfect backdrop for pops of orange that add interest and keep the eye moving.
3. Pay attention to scale.
Bulky furniture and small spaces are a bit like oil and water; they don't mix well. Take a cue from Shea over at Studio McGee and choose unfussy furniture that neither overwhelms or feels diminutive. A straight leg sofa with clean lines anchors this room and is paired with a perfectly proportional brass coffee table, a side table with useful drawers for storage, and a pair of accent stools that can easily be moved.
4. Go high-tech with your TV.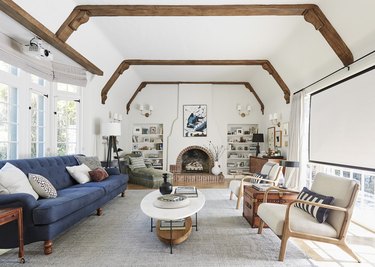 How to get around a small living room without a lot of wall space? Make like Emily Henderson and go high-tech with a ceiling-mounted projector and pull-down screen, both of which can easily be removed when you want to tuck them out of sight. When the lights go down, you've got your very own scaled-down, home theater.
5. Forgo the coffee table.
Tradition dictates that every living room needs a coffee table, but consider opting for a side table instead, like this fireside beauty seen on Camille Styles. It's a perfectly-sized perch to between two nubby lounge chairs. Symmetrical floor-to-ceiling nooks flank the fireplace and get the small-space living treatment used to display statement-making art and functional shelving and cabinetry.
6. Opt for built-in solutions.
There really isn't a small-space challenge that a built-in can't solve. Case in point: this hard-working cozy living room created by Portland-based designer Jessica Helgerson, which features unobtrusive floor-to-ceiling cabinets, a built-in desk, and drawers under the sofa (that doubles as a bed). A neutral palette keeps things soothing and visually uncluttered, while an oversize frameless mirror works its magic by bouncing light to enlarge the space.
7. Go vertical.
Maximize the design blessing of high-ceilings by installing practical floor-to-ceiling shelves, which naturally draw the eye up, as the Brooklyn Home Company does in this townhouse. Plenty of natural wood furniture adds warmth to the bright, all-white walls; rough-hewn exposed beams further accentuate the lofty space and ground the room.
8. Make the most of your walls.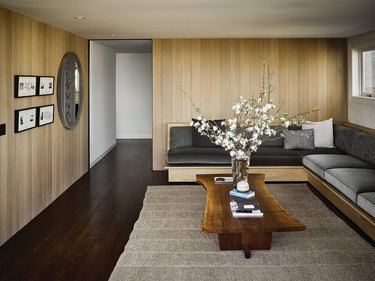 We love a good built-in sofa (see above). They're the perfect small living rom idea — a marriage of form and function — freeing up valuable real estate in small spaces while providing a beautiful streamlined aesthetic. They're totally versatile, working equally well in boho, classic, or modern spaces, like this one by Catherine Kwong. The natural wood paneled walls and gray velvet cushions impart a luxe feel to this thoughtfully planned space.
9. Decorate with a few choice pieces.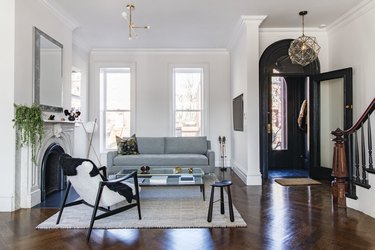 When space is scarce, choose a few key pieces that pack a design punch without adding visual weight. In this elegant small living room idea by Elizabeth Roberts, a double-shelf glass coffee table adds storage while virtually disappearing, giving the illusion of a larger room. Metallic accessories like the silver frame of the mirror and gold finish of the light fixtures infuse a hint of glamour.
10. Low ceilings? No problem.
Complement low ceilings with low furniture and short pendant lights to give the appearance of height. In this small living room idea crafted by Jersey Ice Cream Company, a neutral color palette, leather furniture, and layered, bohemian textiles create a laid back and welcoming space. Reclaimed wood ceilings and doors add rustic charm and warmth.