Whether you're short on space or just want to fake a more open floor plan, a mirror has the ability to completely transform your living area. Bonus points: the den just so happens to be the perfect room to add this eye-catching accent. In case you missed it, feng shui experts have long advised against hanging one in the bedroom (it's said to bounce energy around, leaving you sleepless and more anxious than usual). Outside of your sleeping quarters, the right mirror should reflect light to give the appearance of depth, making more room for entertaining, lounging, and everything in between. When it comes to finding the right mirror to elevate your living room, it's all about shape, size, and placement.
However you choose to hack it, you'll be "adding on" the square footage you've always wished for, but (thankfully) won't ever have to clean. Scroll through to see our favorite living room mirror ideas for maximum design inspo.
1. Play with height.
It's a tale of old meets new as interior designer Katie Hackworth stays true to this Seattle home's historic vibe. When it comes to the den, a faux fireplace plays host to an antique-inspired leaning mirror. Its placement means your eyes are immediately drawn upward, faking a higher ceiling.
2. Go decorative.
One living room mirror idea we totally want to copy: hanging a gilded circular beauty above a marble fireplace as seen in this Vancouver abode. Expert Andrea Rodman chose a textured fabrication that plays off of the metallic accents (candlesticks, picture frames) on each side. It also complements the gold, spindly light fixture hanging from the tray ceiling.
3. Take over a wall.
Leave it to Brooklyn-based design firm Chango & Co. to take living room mirror ideas to new heights. This symmetrical space relies on two floor-length mirrors, rimmed in dark wood, flanking each side of the mantel. The modern decor (strategically placed lamps and metallic potted orchids) appears to multiply in front of your eyes.
4. Experiment with angles.
Swedish interior designer Susanne Swegen's living space utilizes dreamy neutral hues to open up the square footage. A leaning, minimalist-inspired floor mirror picks up the color-blocked walls in its reflection, creating the illusion of major depth. Another pro tip: streamlined seating with thin legs and a set of nesting tables will free up valuable space.
5. Master the art of symmetry.
Balance is key in this exquisite lounge area designed by Shea from Studio McGee. (After all, the only thing better than one mirror is a pair.) Each is hung directly above a wooden console, leaving just enough space for objets d'art to sit on top. What makes this set so striking is the lattice-edged detail of the frame — it's as though the reflections are infinite.
6. Treat it like a piece of art.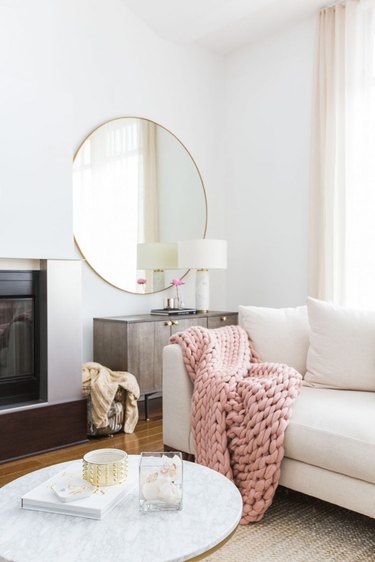 This oversize circular mirror makes a grand statement in blogger Marianna Hewitt's Los Angeles abode. Similarly to a large scale piece of art, it acts as a focal point in the living room, plus the thin brass frame adds a hint of glam. And bonus: It will reflect all of the natural light pouring in through the floor-to-ceiling windows, tricking your eyes into thinking the space is much more expansive.
7. Expand an open floor plan.
Designer Brian Paquette took a woodsy, Seattle condo and just about doubled it in size with the right elements. The space becomes instantly larger with a medium-size antique mirror hung on the wall in the dining area. The reflection mirrors the living nook, giving the appearance that there is another room beyond.