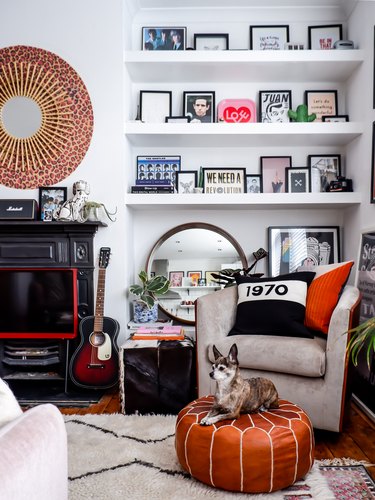 Do you ever get down to designing a room and realize that the layout just isn't working? We hear you. Not every home is made the same, nor does every room have perfectly straight walls — and with that, you need to make the most of the space around you, especially when you're dealing with tight quarters. So here are eight living room corner ideas for turning that awkward, unused space into a functional and, more importantly, inviting nook.
1. Opt for a sectional sofa.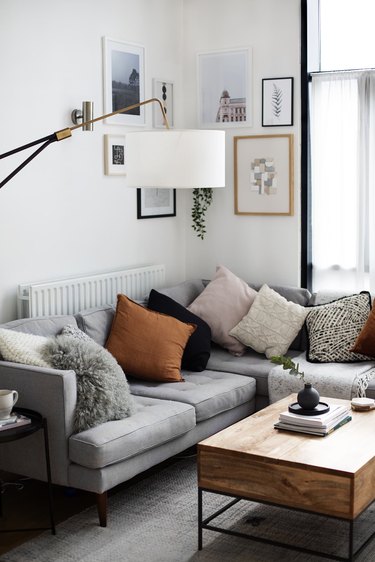 Avoid placing your sofa in the middle of the room — taking up valuable square footage — and make the most of those corner spaces, instead. Push your L-shaped sectional right up against the wall, perfectly in-line with that often unused space. Follow the lead of Teri from The Lovely Drawer and create a gallery corner, hanging some of your favorite photos and prints on the walls.
2. Make lighting a feature.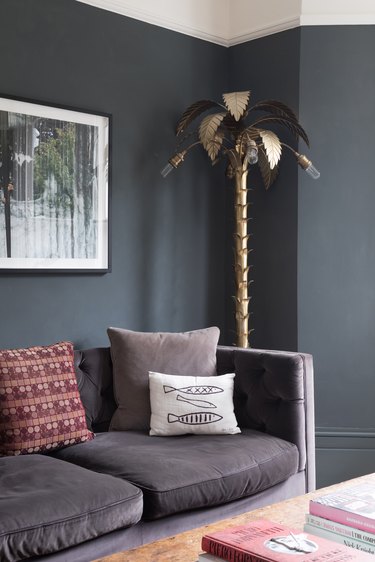 One of the best ways to make sure all eyes are on your chic home decor, rather than the shape of the space, is to incorporate a statement light fixture. Interiors author and blogger Kate Watson-Smyth has done exactly that with her genius living room corner idea — a show-stopping brass palm tree floor lamp that demands attention. Go big or go home, right?
3. Incorporate shelving.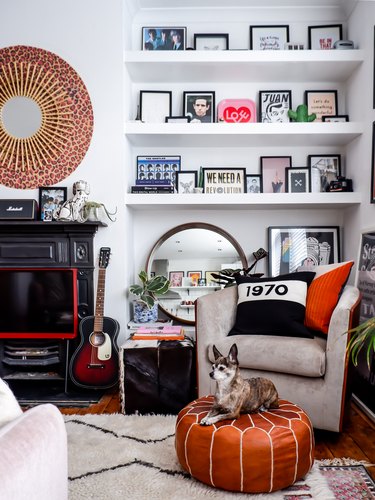 Fill any awkward nooks with shelving and you'll soon have a feature area instead of void space. Layer artwork, photographs, and other decorative objects to draw the eye in and finish the look with a statement chair and footstool for the ultimate living room corner.
4. Think outside the box.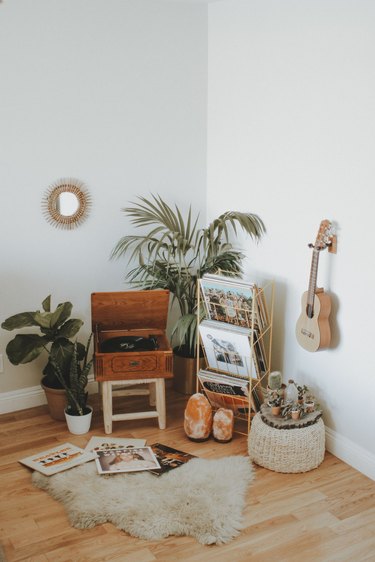 If you've got all of the other bases covered, think about how you can create something different instead. This stylish living room corner idea from Amanda over at Advice From a 20 Something is perfect for a music lover or someone who simply likes to chill out. Get the look in your own abode with a record player, vinyl rack, plants, and some decorative (or regularly used) instruments.
5. Style under the stairs.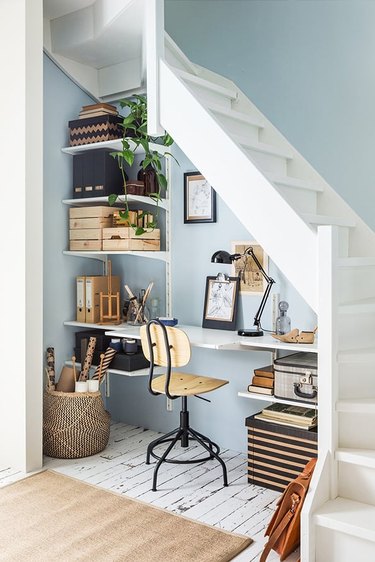 Making the most of the space under the stairs is always tricky, but when done right, it can end up being highly functional and aesthetically pleasing. This design scheme makes use of industrial-style shelving and a simple floating desk to create a home office that can easily be hidden with a screen or curtain. Not bad for an awkward nook.
6. Highlight windows.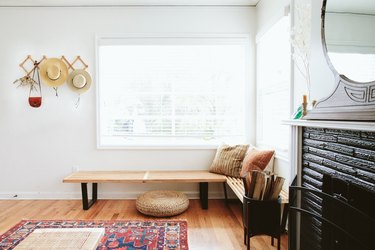 Have a living room corner surrounded by windows? Don't hide them, highlight them! Simply place two benches underneath to create a little reading nook that will allow you to read (or people-watch) to your heart's content. Photographer Paige Jones has placed hers by a working fireplace which makes for a cozy night in.
7. Elevate your seating.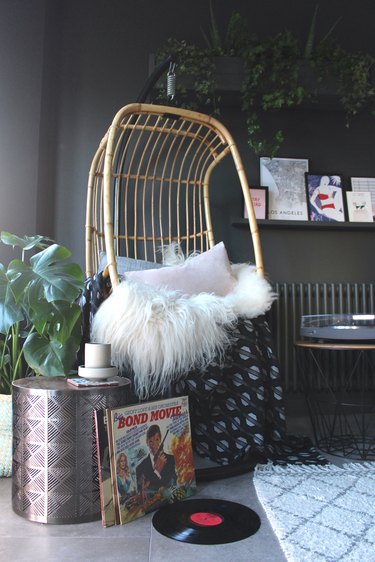 Statement chairs are a crowd-pleaser when it comes to living room corner ideas, so this is your chance to add a unique piece of furniture to your humble abode. Swivel chairs, wingbacks, and loveseats are all great options, but much like Katty from Den of Foxes, we've got our hearts set on a hanging rattan chair like the beautifully styled one in her bohemian home. Either that or a throne ... it's hard to choose.
8. Go all out with plants.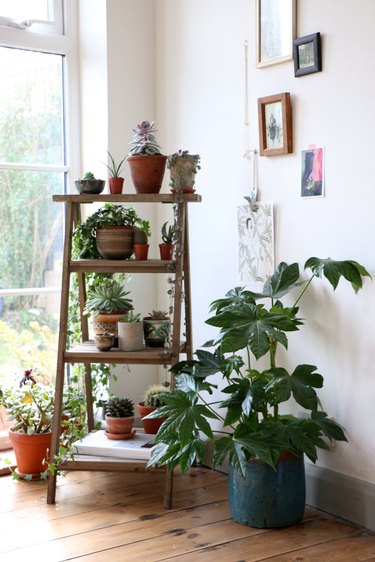 Botanicals are a brilliant way of making use of awkward corners and bringing an oddly shaped room to life. British blogger Jeska of Lobster & Swan has placed a rustic ladder in the corner of her living room with a variety of plants and vintage planters — she's even popped some art on the wall, the ultimate living room corner idea.