Calling all music lovers! Whether you're into making music or listening to it, you'll adore these melodic-inspired spaces. And the good news is: Even if space is tight, it's actually surprisingly easy to carve out a cool area where you can appreciate your favorite tunes. From a tiny nook to an entire studio, if you're ready to take the plunge, look no further — these 12 music rooms hit the perfect note.
1. Turn an empty corner into a den of song.
You don't have to dedicate an entire room to your love of music — an empty corner will do just fine. Brio Interior Design used a pretty area rug to anchor this space, while planters and drums do a great job of separating the area from the rest of the midcentury home.
2. Create a laid-back listening station.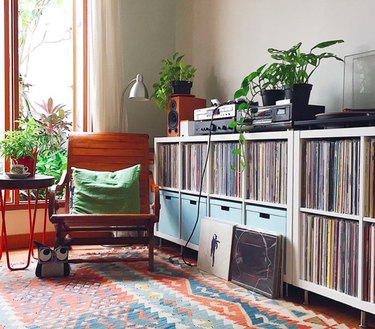 If you don't play any instruments (yet!), set up a comfy corner dedicated to playing your favorite vinyl records. You can even get bookcases similar to these from Ikea ( $69.99 ) to store your treasured vinyl collection. Just be sure to place your turntable within arm's reach of your lounge chair so you can turn up the volume as soon as your favorite jam comes on.
3. Use instruments as wall art.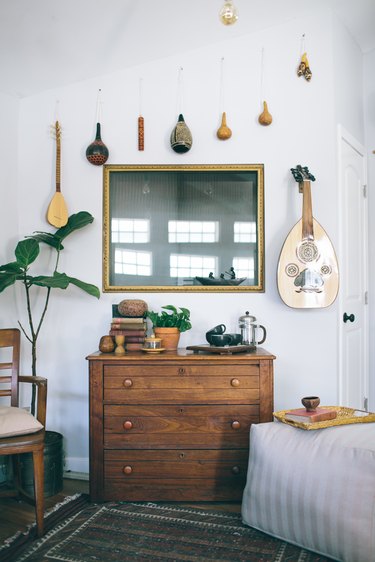 Hanging your instruments not only gives you the opportunity to show them off, but it allows them to double as wall art for visual interest. And bonus: This will also keep your floor space clear for more important things like walking around or dancing the night away.
4. Make use of an awkward nook.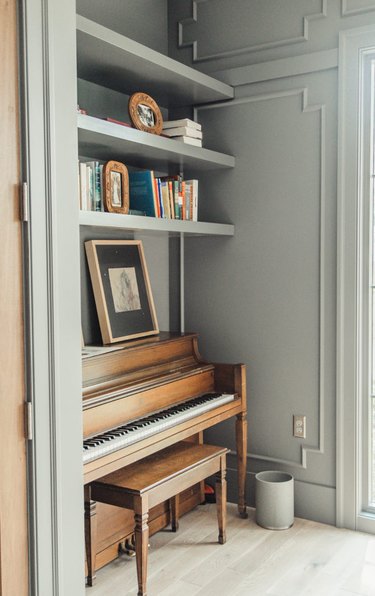 Give an awkward nook a new purpose by transforming it into a musical hideaway. This Salt Lake City abode added open shelving above the piano to seamlessly round out their inspiring new cove.
5. Create a luxe feel with fabrics.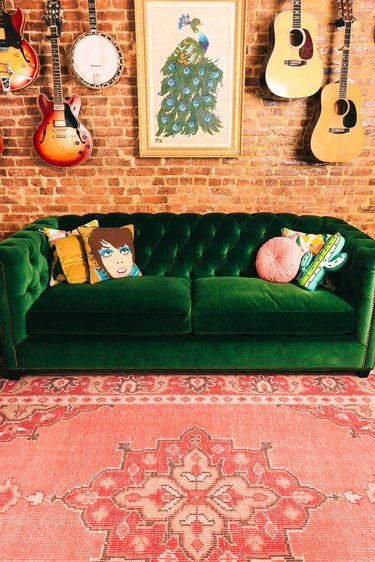 The vibe of your musical sanctuary can make or break the space. Which is why including decadent fabrics like velvet is pretty much a no brainer. Blogger Keiko Lynn paired a tufted-green velvet sofa with a pink area rug to amp up the cozy, while mixing in a bit of rock 'n' roll glam.
6. Try a bold paint color to add a little drama.
This navy blue wall creates a striking and dramatic background for a simple wood piano in this music room and office. A midcentury modern brass floor lamp in the corner adds a touch of glamour, while the geometric area rug finishes the look.
7. Or keep it bright and airy.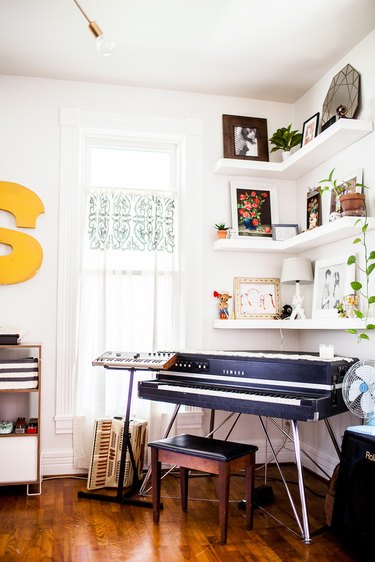 This music room's white walls, playful accents, and bright natural light make it an especially cheerful space. Katie from the blog Skunkboy used corner shelves behind their keyboard to draw attention and focus to the most important area in the room, where all of the musical magic happens.
8. Add texture with natural elements.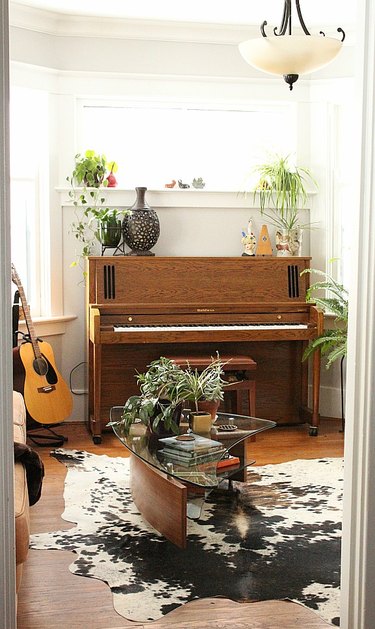 Add a rustic, bohemian vibe to your den of music with a cowhide rug and a variety of plants. These natural decor elements will keep your space feeling relaxed and full of life, creating the perfect environment to create sweet, beautiful music.
9. Paint your piano a playful color.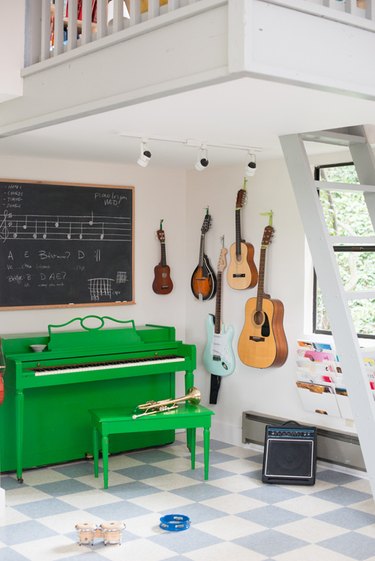 Make your piano pop by giving it a bold makeover. Gabrielle from the blog Design Mom chose to paint hers a playfully bright shade of green. We're pretty sure that we would've paid more attention to piano lessons if our teachers or parents did the same.
10. Turn album covers into a gallery wall.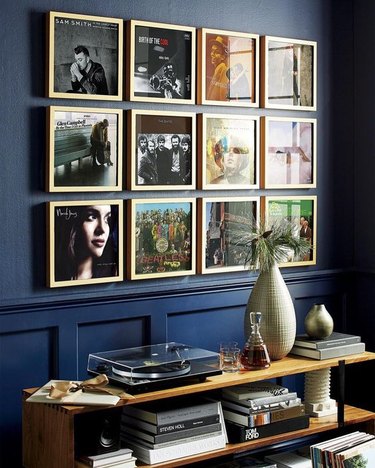 Don't let your favorite albums just sit in a box collecting dust. Grab a few all-time classics and put them into frames ( $49.95 ) to create your own rock 'n' roll hall of fame. A gallery wall filled with the greats will be a constant source of inspiration every time you walk by. And if you get bored, you can rotate them out regularly.
11. Think outside of the box, or under the stairs.
If there was one thing we took away from the movie Field of Dreams it was the sage piece of advice, "If you build it, they will come." We think the same probably holds true for this vinyl-lover's custom-built DJ station. And even if no one comes to see you spin, at least you have a rad place to hone your craft.