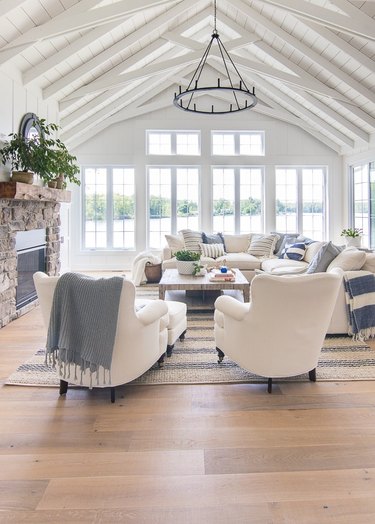 Whether your view overlooks rolling waves, a peaceful lake, or none of the above, you can still incorporate elements of rustic beach decor into your home to evoke a laidback, seaside style that'll instantly relax you. Best of all: you don't need a house in Cape Cod to make the beachy look work.
Even if you're located inland, you can incorporate coastal-inspired accessories (think artwork and shelf decor), nautical textures (such as jute, rattan, and wood), and soothing colors (blues, of course, but also creams and grays) that give a nod to the seaside.
1. Use ceiling space to hang beach-inspired items.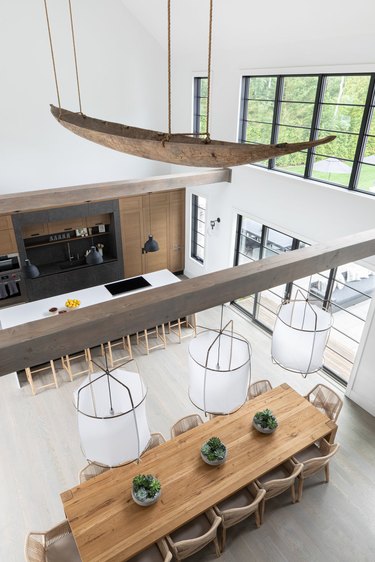 What could be more rustic and beachy than hanging a wooden canoe from the ceiling? That's what Chango & Co. did in this Hamptons getaway home, and the decor is bound to surprise and delight guests. In an otherwise sleek (dare we say modern?) home, touches of coastal accents remind guests where they are: the beach.
2. Add paddles.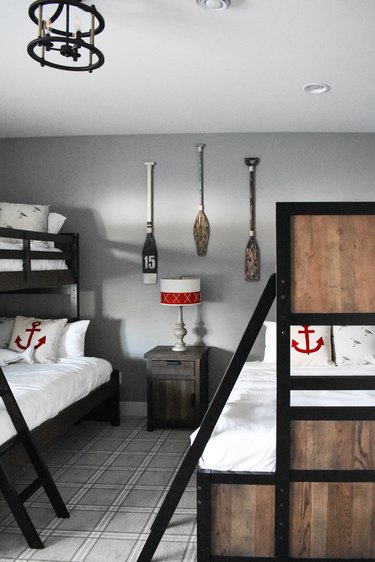 A guest room is the perfect place to hone in on a beach theme and remind your visitors they're on vacation. Interior Impressions nailed the rustic waterfront vibe in this Minnesota lake house. The bedroom has vintage-style paddles on the wall and pillows with anchor embroidery.
3. Use small accessories for a subtle beachy vibe.
Bring the beach into your home in a subtle way with small accessories. Think shells, ropes, and touches of blue throughout. This oyster shell basket, for example, is gorgeous and functional. It serves as a catch-all for remotes or magazines.
4. Layer blue and white accessories.
Blue and white accessories will create an instant beachy oasis; no renovation necessary. Kelly Rinzema of The Lily Pad Cottage layered a variety of blue and white pillows and throw blankets atop classic cream furniture to complement her enviable lake view. The wood grain table and striped rug anchor the living room and prevent the space from veering too modern.
5. Accessorize with nautical vintage toys.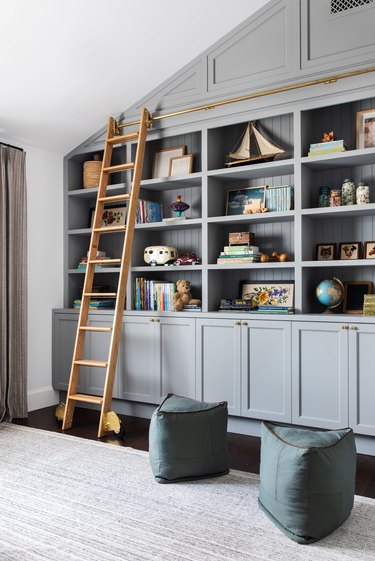 Amber Interiors nailed a subtle, sophisticated beach theme in this playroom by styling the built-in bookcase with a vintage toy sailboat and other nautical play items. Bring this look into your own home by incorporating small, seaworthy accessories, such as boats, framed maps, and shells on your shelves.
6. Get beachy artwork.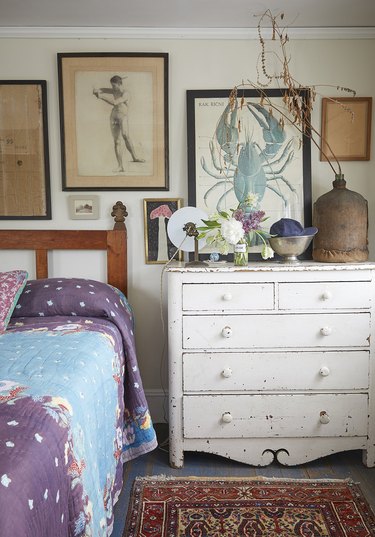 John Derian's 18th-century Cape Cod home is just as one-of-a-kind and inviting as his treasure-filled shops. In this bedroom, he brought a seaside vibe to a gallery wall with an oversized lobster print as well as a weathered dresser and florals to emphasize the rustic side of beach decor. Frame your own seaside prints, maps, or vintage book pages to get this look.
7. Bring the outdoors in with nautical textures.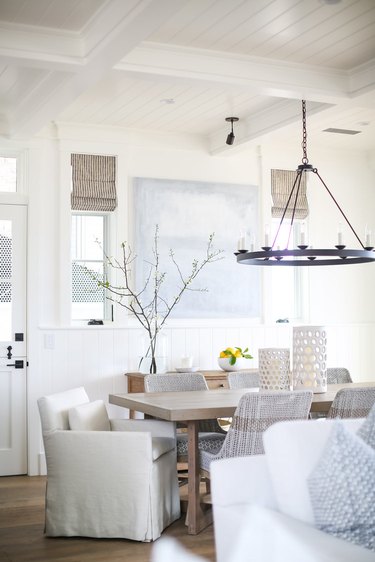 Jute and rattan and linen, oh my! Incorporating nautical materials in your space is key to capturing a rustic beach vibe. Here, Kelly Nutt Design used various textures — from the window coverings to the chair backs to the white wood paneling — all within a natural color palette to create a breezy dining room in Corona Del Mar, California. It's perfect for those days when you can't eat outside.