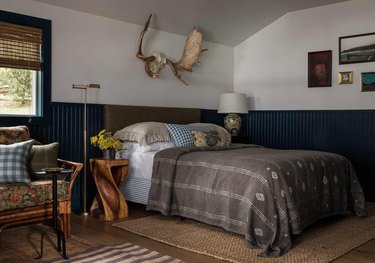 Navy shades play so nicely with wood that it's a bit surprising you don't see rustic blue interiors more often. Just envision your favorite lakeside setting — it's all there. The wood. The stone. The azure tone of the water. The clear cerulean of the sky.
The color blue can help rustic interiors from being so on-the-nose. Rustic kitchen cabinets don't have to be wood. Rustic bathrooms don't require galvanized steel. And rustic bedrooms don't need to have a wrought-iron bed and antlers (although who doesn't love a well-placed set of antlers?).
With a modern sensibility, some smart editing, and a hint of rustic blue, you can create a space that feels alive with color and rich in history at the same time.
1. Go with a rich marine blue in an open kitchen.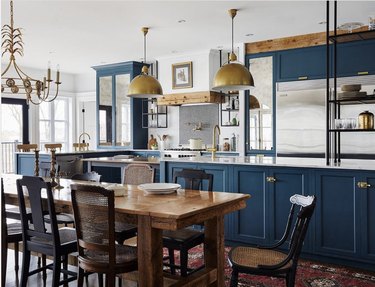 2. Modernize rustic elements with clean lines and a sharp blue.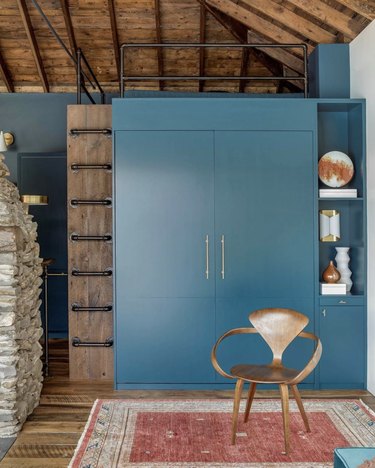 The just-right blue paint can make a rustic space feel thoroughly modern, as is the case in this 674-square-foot lakefront cabin in central Massachusetts that was re-imagined by JN Interior Spaces. The overt rustic accents — the stone fireplace, the raw wood ceiling — mix seamlessly with the clean lines of the built-ins, including this Murphy bed that's painted with a bright Hague Blue by Farrow & Ball.
3. Focus on rustic blue accents for a subtle look in the bedroom.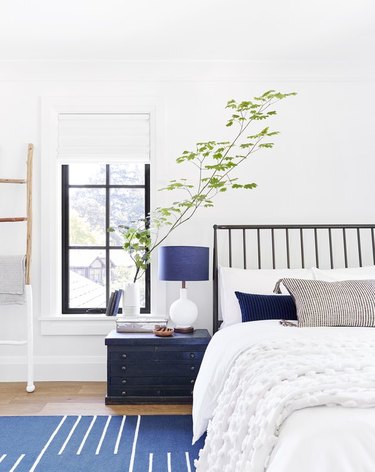 There's no reason you can't have a rustic bedroom that's still light and airy. A few weathered blue accents can create a look and feel that's stylish but not in-your-face. In this sparsely decorated space by Emily Henderson, the azure details — a lampshade, a rustic bedside table, and a woven rug — pop against the white linens and vice versa.
4. Choose gray-blue kitchen cabinets for a more classic look.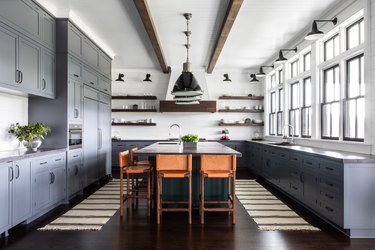 5. Embrace a dramatic hue in the living room.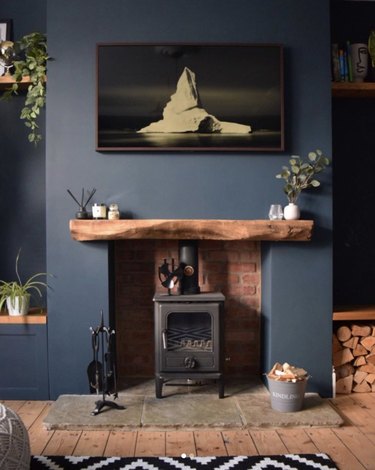 Here's another space with Hague Blue, FTW. The dramatic, versatile paint adds depth to this rustic living room with raw wood details — from the antique fireplace to the knotty pine floors and neatly stacked logs. It's a far cry from the red walls that existed before Renovate Fifty Eight took over.
6. Paint only half of the bedroom to avoid a cave-like feel.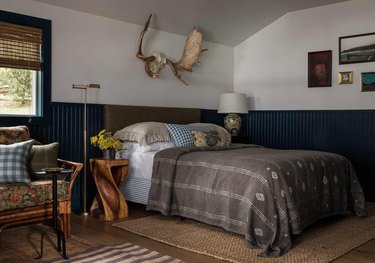 A deep, dark rustic blue bedroom can feel cave-like if you overdo it. One solution? Just paint the wainscoting — or, if you don't have wainscoting, split the difference of the wall with a line slightly above the headboard. Here, Heidi Caillier Design used a rich navy paint to highlight the wainscoting and also give the eclectic mix of rustic accessories a masculine backdrop. The moose antlers simply seal the deal.
7. Try a pale shade of blue for a rustic, country feel.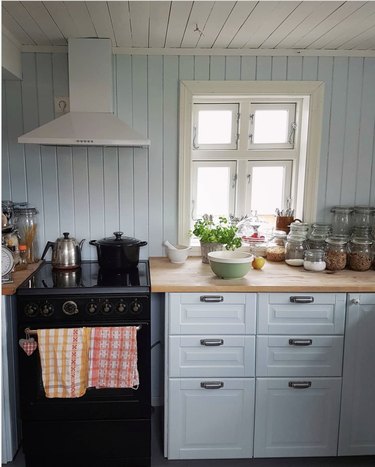 8. Create a striking backdrop in the dining room.
Navy dining rooms are newly chic (even though the color blue is thought to be an appetite suppressant. Who knew?!). This rustic space in Highland Park, California, featured on The Effortless Chic, has a lot of drama because of the walls. But it doesn't feel staid, thanks to the eclectic gallery wall and a mix of wood and industrial accessories. And fresh flowers help, too, of course.
9. Coat a light-filled rustic entryway with blackish-blue paint.