A Murphy bed is a bed that pivots down from the wall, transforming a living space by day to a bedroom by night. Murphy beds are convenient space-saving furniture concepts that are seeing a resurgence among today's urban apartment dwellers and downsizing homeowners.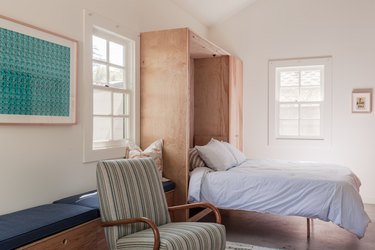 An Eponymous Bed
The Murphy bed is indeed named after its inventor, William L. Murphy, who perhaps should be honored more as a clever suitor than a genius space-saver. The time was the late 19th century; the place, San Francisco. Murphy, an inventor, was courting a young opera singer, but he had a problem: He lived in a small apartment that had a bed but no proper bedroom; in other words, a studio. Social custom of the time prohibited women from entering a man's bedroom, which for Murphy meant his entire apartment. So he devised a way to store his bed in a closet. With no bed, there was no bedroom—and Murphy could entertain female visitors.
How Murphy Beds Work
William Murphy's patented design featured a full-size bed with a metal frame that pivoted from the floor at the head of the bed. Since then, many variations have been patented and sold, but most do pretty much the same thing. What makes a Murphy bed special is the pivoting frame; the mattress itself can be any standard type. Most Murphy beds also include springs and/or counterbalance weights to make it easy for one person to lift and lower the bed (although, as Charlie Chaplin has shown, this can get complicated when you're very drunk).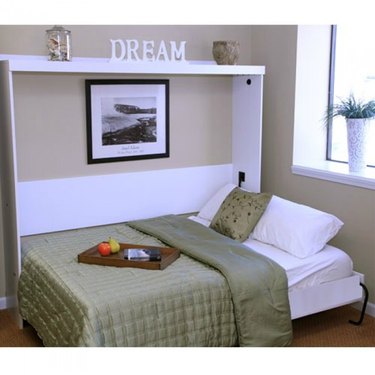 One notable departure from the standard Murphy bed is a "horizontal" version that mounts parallel to the wall and pivots on its side; this is often a twin or double bed that fits into a wall unit with shelves. A futuristic variation is the Zoom Bed, a motorized, remote-controlled bed that moves like a caterpillar in and out from the guts of a stylish storage unit.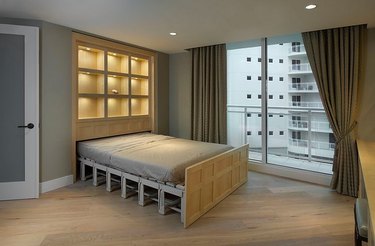 Where to Get a Murphy Bed
Murphy beds are sold by many furniture manufacturers and are commonly called wall beds. (For many years, the Murphy Door Bed Company defended its sole use of the Murphy bed name; thus the generic "wall bed.") You can also buy DIY kits for building your own Murphy bed. A basic version includes hardware with two pivot points, retracting legs and gas lift supports (the shock-like things that hold up a car hatchback). To use the hardware, you build a wood box for the mattress as well as a large wood cabinet for mounting and concealing the bed. The hardware kits are surprisingly expensive (around $250 to $300), and then you also must buy the other materials and the labor, but compared to the cost of a manufactured Murphy bed, this can be an attractive alternative.