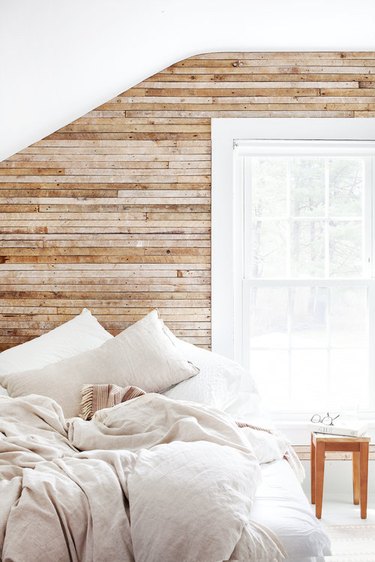 From snow days, to rainy days, to a polar vortex, it is clear that winter is in full swing. So it's no surprise that people are opting to hunker down indoors instead of braving the elements. We're envisioning relaxing in bed with hot apple cider, snuggly blankets, a crackling fire — OK, we admit this is starting to sound more like a log cabin in the woods than a bedroom. Or is it? While having a hearth in your sleeping quarters might be more fantasy than reality for most of us, we can still create a super cozy sanctum for catching some zzz's. Here are 10 modern rustic bedroom ideas that will keep you feeling warm and toasty.
1. Play with contrast.
The shiplap walls in this high contrast master bedroom are an ode to the Wild West, while the striking black hue gives this space a modern edge. To complement the look, the homeowners installed brass articulating wall sconces on each side of the headboard and a contemporary chandelier above the bed.
2. Mix different influences.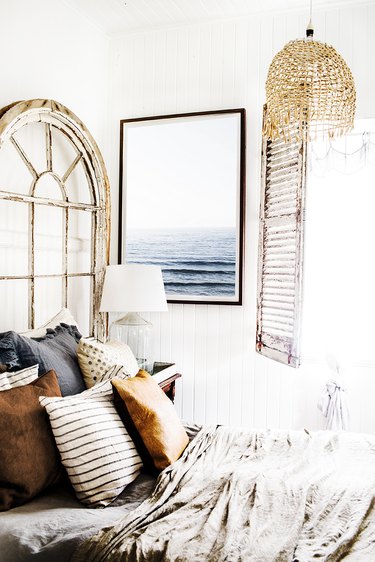 Rustic meets boho meets coastal in this picture-perfect bedroom belonging to photographer Kara Rosenlund. The weathered wood shutters, linen sheets, and assortment of throw pillows add character and loads of texture — and we're digging it.
3. Or, infuse Southwestern flair.
4. Grab a statement-making headboard.
This rich and moody boudoir designed by Kristin Jackson pulls in rustic pieces like a live edge headboard (can you believe this was a DIY project!), leather accent chair, and faux fur throws. The ambiance is decidedly masculine, but not in an over-the-top way, and totally sexy.
5. Or, lighten things up.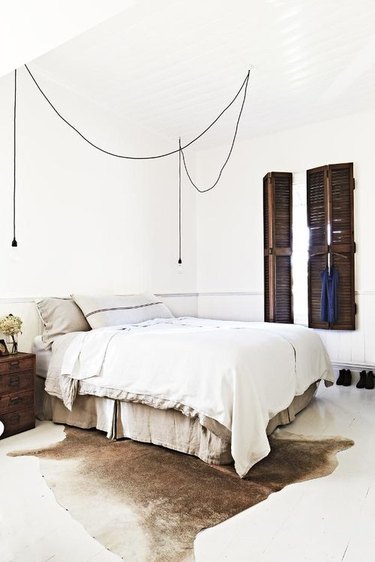 May we present: homespun comfort with a contemporary twist. Soaring ceilings, white walls, and white flooring contribute to the airy atmosphere in this rustic bedroom designed by Kali Cavanagh. The suspension lights hanging above each side of the bed create an interesting focal point, too.
6. Focus on details.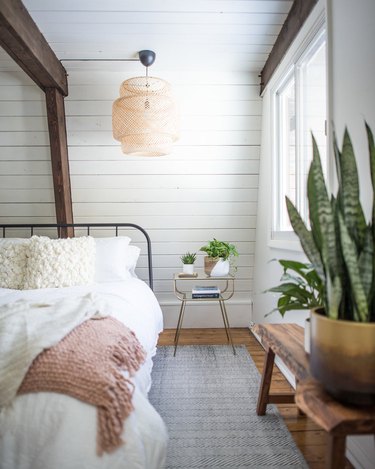 A refined take on rustic style, this bedroom belonging to Danielle and Ely from The Hunter Greenhouse boasts beautiful exposed dark wood ceiling beams, a live edge bench, and an industrial-style headboard. The fabulous woven light fixture, potted plants, and brass nightstand lend a dreamy boho vibe.
7. Decorate with shiplap.
There's something decidedly warm and inviting about the raw look of wood, as you can see from this rustic bedroom belonging to Ashley from Joyfully Growing. She DIYed a gorgeous wood plank shiplap wall that injects just the right amount of log cabin flair.
8. Add a hint of glam.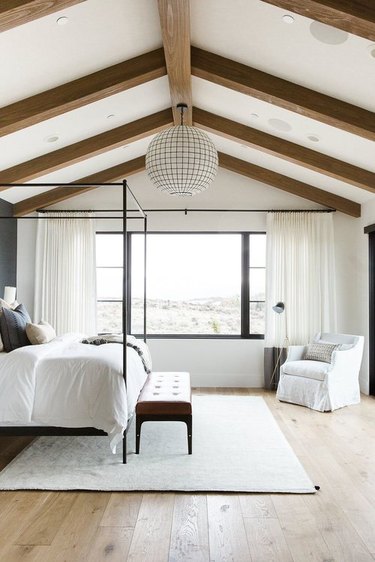 9. Steal inspo from Scandi minimalism.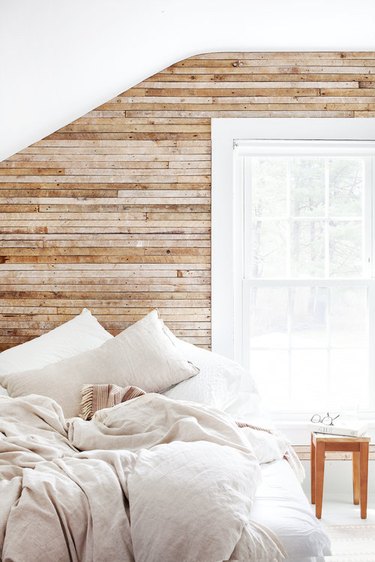 This Scandi-chic bedroom captured by Heidi's Bridge is serving up cozy cabin realness. A rustic wood accent wall warms up the bright white space and complements the perfectly rumpled greige linen bedding.
10. Add texture to the walls.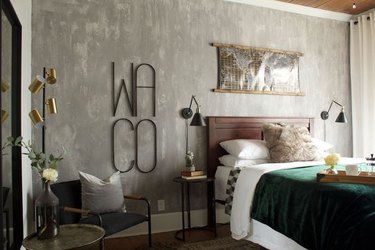 Color and texture rule in this modern rustic bedroom belonging to Ariel from House of Mowry. The faux cement accent wall, dark wood headboard, and emerald green blanket are a visual treat that we'd happily indulge in on any given snow day.