Kitchen spaces serve as the backdrop for gatherings, cooking parties, or late night snack scavenging. When you're Pinning away idea after idea for the look of this particular room, the possibilities can seem endless.
We rounded up a few of our favorite rustic kitchen looks for inspiration.
1. Create high contrast with light wood and touches of black.
We love the way this kitchen space mixes light wood cabinets with a black kitchen island for a bold look. This rustic-meets-modern look feels complete thanks to a white ceiling and a minimal lighting fixture.
2. Opt for a nature-inspired hue and greenery.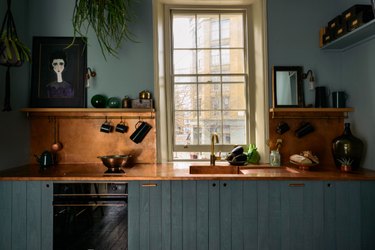 Just because you're going for a rustic look doesn't mean you necessarily need to pick a classic wood cabinet look. We love the way these dark green cabinets bring a sense of nature indoors, especially when paired with greenery.
3. Choose sleek wood cabinets and pair with minimal decor.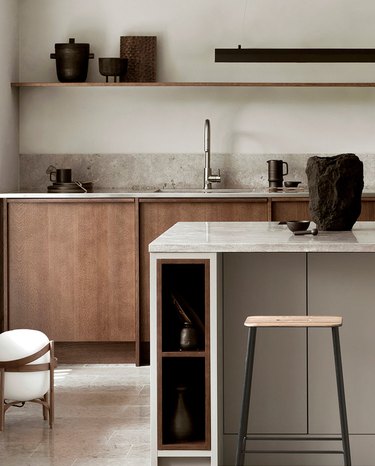 4. Mix warm wooden cabinets with neutral open shelving.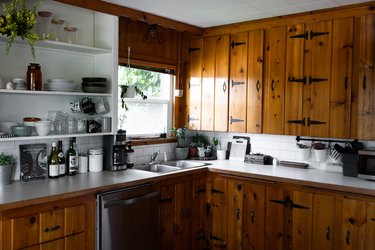 For a warmer look in your kitchen space, go with a darker wood with an interesting grain pattern. We love how this style looks alongside open shelving painted white.
5. Show off your best dinnerware with glass doors.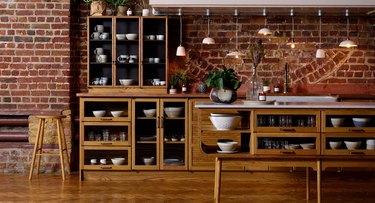 If you love the rustic kitchen look but want to also keep your space light and open, we suggest experimenting with glass kitchen cabinet doors. You can show off all your best dinnerware this way.
6. Use just a pop of green and wooden shelves.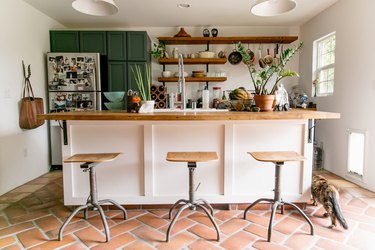 Considering adding color but don't want to go overboard? Try a dark green along with open shelving in a dark wood. Keep plenty of plants nearby and choose a neutral color for the rest of the space.
7. Experiment with a variety of warm tones.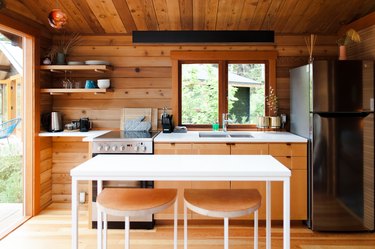 This cook space makes lovely use of warm tones in its walls, window trim, cabinets, and open shelving. Combine with white countertops and a couple of rustic stools to tie everything together.