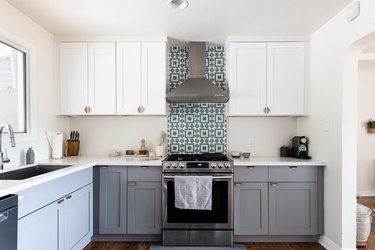 Today, there are a lot of options — materials, styles, colors — to choose from, so we don't blame you for your quandary. And if you're discovering that one of the biggest obstacles is trying to narrow down the myriad of hues, well, guess what? We're here to tell you that you don't have to choose — you can have more than one. No, really. It's perfectly OK. In fact, some of the swankiest culinary spaces around are sporting two-tone kitchen cabinets — it's completely on-trend at the moment. Here's a small sampling to whet your appetite.
1. Yes, color can work in small kitchens.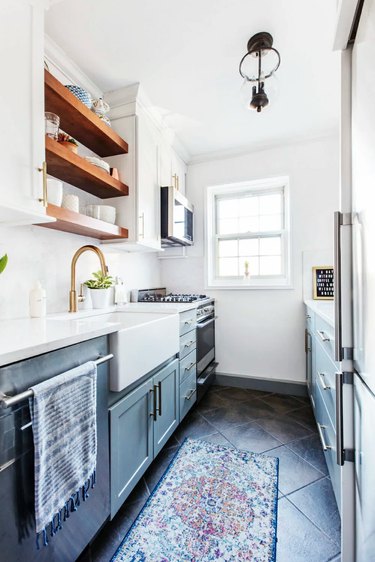 Dark-hued cabinets can work in diminutive kitchens, and will actually make your scullery look even more spacious and fresh if you pair them with white cabinetry. In this galley kitchen showcased on Sweeten, the blueish-green units on the bottom are balanced by bright white cabinets on top, resulting in a space that feels far from cramped.
2. Don't be afraid of bold color combos.
Although most two-tone kitchen cabinets follow some standard visuals — white on the upper cabinets with a darker hue on the bottom — we also love it when homeowners take a less traditional route. For instance, in this cook space designed by Ester Bruzkus, the pink lower cabinets and light wood upper cabinets match up surprisingly well. The effect is oh-so-cool and contemporary.
3. Dress them up with luxe accessories.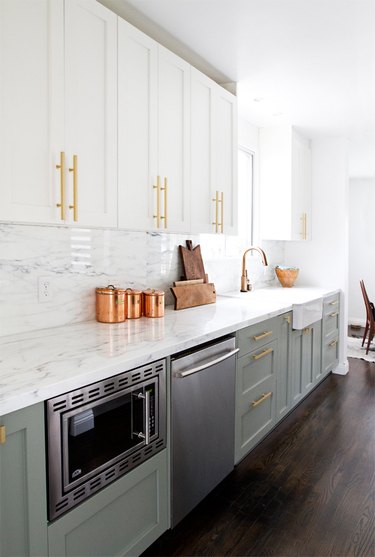 4. A kitchen can still be bright and airy with a moody color.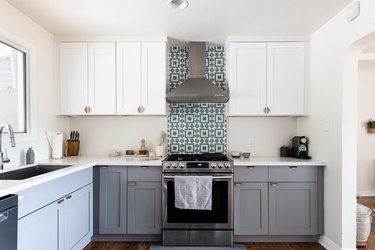 Moody cabinet colors will not make your kitchen look dark and depressing. If you pair a bluish-gray shade with white, as in the case of this cook space belonging to Stephanie Chang, your space can still look airy and bright.
5. Embrace a black and white palette.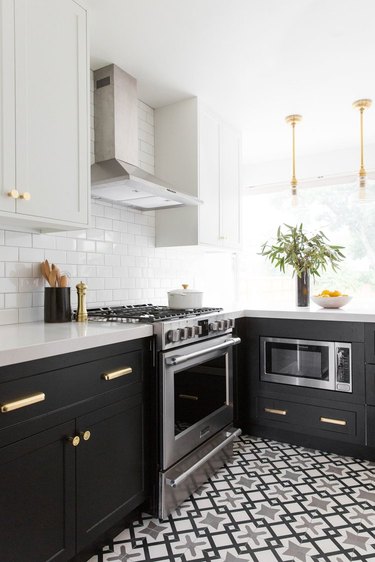 6. White and a light wood finish are perfect partners.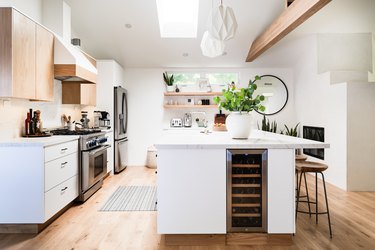 OK, so maybe color isn't really your thing when it comes to the kitchen. If you only see neutrals in your culinary space, you can still jump on the two-tone kitchen cabinet bandwagon and install a set in white and a set in a light wood finish, a look that's perfected in Hunker Editorial Director Laurie Grossman's newly renovated kitchen.
7. Paint them yourself.
Perhaps you're jonesing for two-tone kitchen cabinets, but you don't have the time, patience, or moolah to install new ones. Never fear — you can always paint the ones you already have! That's the approach Aniko of Place of My Taste took in her kitchen, and we are loving the combination of white and navy blue.