When it comes to decorating your abode, we firmly believe that your kitchen should take precedence. As the heart (and stomach!) of your home, the cook space is one room that all of your guests will visit at some point during their stay. But before you jump ahead to selecting colors or weighing the pros and cons of open shelving, it's important to think about kitchen cabinet ideas.
Make no mistake, your kitchen cabinets are not a one-style-fits-all situation ... there are a whole host of different looks to choose from. And it's amazing how the slightest bevel, recessed panel, or molding can transform the entire space, and influence the rest of your culinary headquarters.
Kitchen Cabinet Style #1: Raised-Panel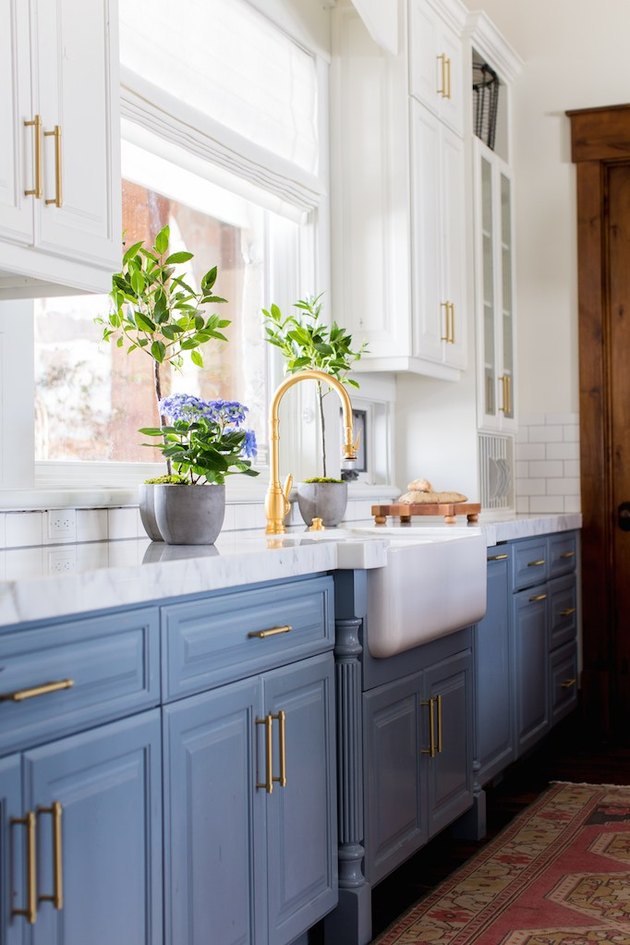 This timeless kitchen cabinet style better known as raised-panel is similar to Shaker cabinets (more on that style later) in that they both feature a four-sided frame with a panel in the middle. The difference here is that the middle panel is raised as opposed to being flat. We love the way that Becki Owens gave the traditional look a modern twist by painting the lower cabinets in this bright kitchen blue while keeping the uppers white. Paired with gleaming brass hardware, a vintage kilim runner, and a dash of greenery, this cook space is definitely heating things up.
Kitchen Cabinet Style #2: Mission or Craftsman
Bring the Arts and Crafts movement to your home with mission style, or craftsman, kitchen cabinets. All the rage in the late 18th century and early 19th century, this style was a stance against machine production. If you want to achieve the same look in your own home, opt for small details that offer a handcrafted feel. Between the lower cabinets with wooden doors and bold borders to the sophisticated black upper cabinets with glass door fronts, this kitchen from New Old ticks all the boxes — all the while looking oh-so-cozy.
Kitchen Cabinet Style #3: Shaker
It's no wonder that Shaker is one of the most in-demand kitchen cabinet styles around. Comprised of four pieces of wood and a recessed center, this beloved option can withstand the test of time. A lot — and we mean a lot — of people have opted for Shaker cabinets, so you might want to give yours a personal touch. Spice up your space by painting your cabinets in two different colors, as Shea from Studio McGee did in this Calabasas home.
Kitchen Cabinet Style #4: Beadboard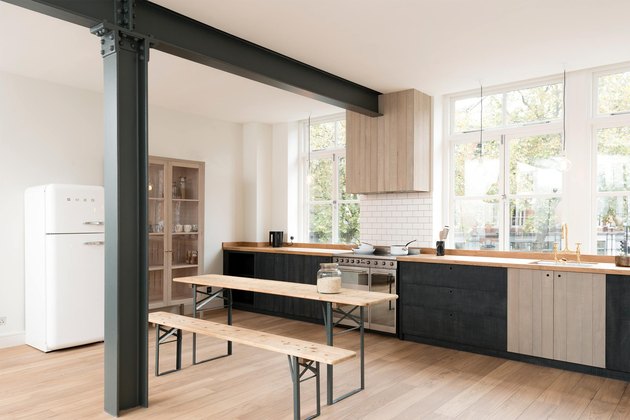 Consider beadboard a happy medium between flat-panel and craftsman cabinets. This style adds a rustic, yet contemporary, edge to any kitchen, as seen in this culinary design by deVOL. And bonus, beadboard cabinets look just as good au naturale as they do painted in a dramatic hue.
Kitchen Cabinet Style #5: Louvered
As this kitchen cabinet style from IXTRA proves, louvered doors can be equal parts pretty and practical. Not only does this look add extra texture to your space, but the strategically placed slots will allow air to circulate through your cabinets so they'll never get stuffy. Take notes from this neutral design and up the "wow" factor by pairing louvered doors with simple, flat-panel cabinets.
Kitchen Cabinet Style #6: Glass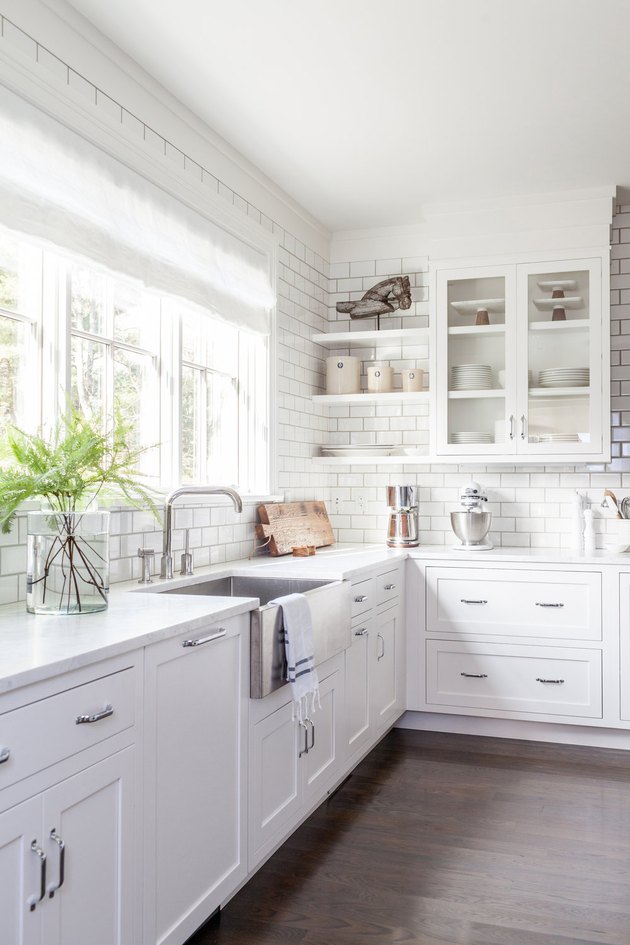 Want to show off your beautiful bowls, wine glasses, and serving trays? We have the perfect kitchen cabinet idea for you: Opt for upper cabinets with glass doors, as seen in this all-white kitchen by Chango & Co. Not only is it an incredibly versatile look, but it's an elegant way to show off your fancy culinary accoutrements. Just make sure you always have a really good glass cleaner on hand.
Kitchen Cabinet Style #7: Flat Panel or Slab
Craving something simple? Flat panel or slab kitchen cabinets are ideal for the modern-minded design enthusiasts. Free of ornate details and carvings, this frills-free style will give any cook space a cool, contemporary edge. But just because these cabinet fronts are simple doesn't mean they have to be boring. Kick things up a notch with a little color and sleek hardware. Let Cantilever Interiors show you how it's done.
Kitchen Cabinet Style #8: Open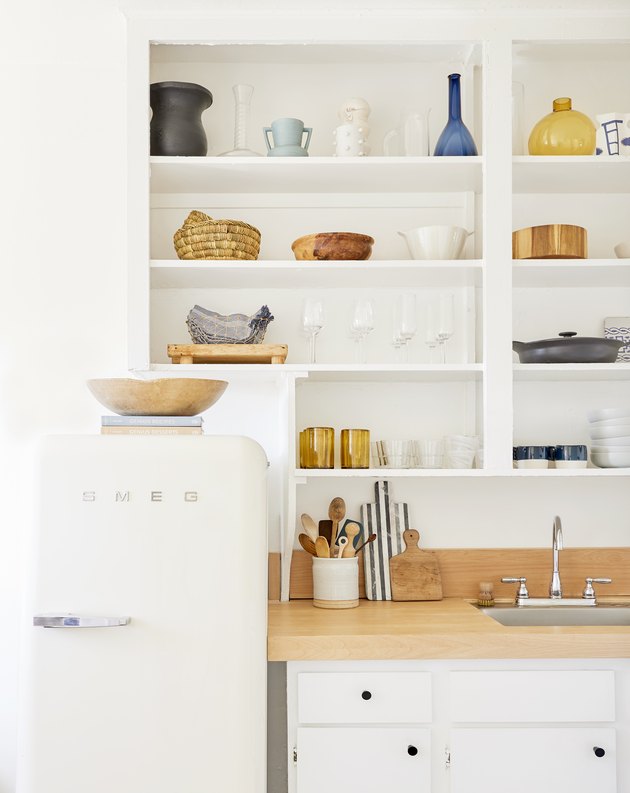 Of course, you don't necessarily need to follow the traditional kitchen layout with both upper and lower kitchen cabinets. Swap the uppers for open shelving, instead ... we hear it's all the rage. Plus, shelves will encourage you to keep your wares in tip-top condition. Or, get the same look by doing a fraction of the work and just remove the doors from your upper cabinets á la this bright kitchen by Emily Henderson.
---
Kelsey Mulvey is a freelance lifestyle writer and editor. Her work has been featured in Lonny, Apartment Therapy, and Wallpaper*, among others.
View Work