A flat panel, or slab door, is a kitchen cabinet that looks exactly how it sounds. Instead of having the more detailed appearance associated with Shaker style cabinets, flat-panel cabinets look like flat slabs. They don't have a traditional appearance with a recessed panel. Instead, this door style looks clean and is free of design details — you've probably seen the look showcased in a display kitchen at IKEA.
As homeowners, we all have to weigh the pros and cons of every decor decision, and flat panel cabinets are no exception. On the plus side, they're incredibly easy to clean and they're ideal if you want to forgo hardware (or show off your hardware without other details getting in the way). On the other hand, they do lack visual interest. So, if you're aiming for a farmhouse or vintage-inspired kitchen, you might want to consider a cabinet style like raised-panel or louvered instead.
Here are eight flat-panel kitchen cabinet ideas that celebrate the look.
1. Flat panel cabinets shine in a white kitchen.
If you're aiming for fresh, cool, and clean in your culinary space, look no further than flat-panel cabinets in airy white. They'll look stylish without stealing the show, something that's proven in this kitchen designed by Devon Grace Interiors.
2. Amp up the drama with a little black paint.
For a completely current look in your kitchen, we say paint your flat-panel kitchen cabinetry black. Here, in this space crafted by Catherine Kwong Design, the black cabinets and matching drawer fronts blend beautifully with a marble countertop and decorative touches.
3. Have fun with your palette.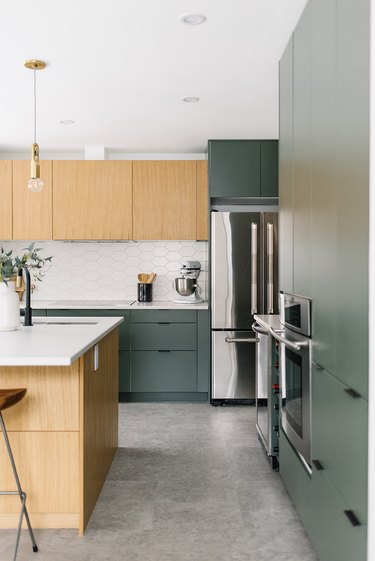 Wood is always a good choice when it comes to cabinetry, regardless of the style. For example, this kitchen by Brandie of Ember & Brune, flaunts the classic material with flat-panel cabinet fronts and the finished result is picture-perfect and oh-so-modern.
5. Fancy them up (a little) with beadboard.
There is a caveat to the whole flat-panel-cabinets-are-flat thing. You can actually dress them up with a bit of beadboard to add visual intrigue. They're still flat — they just feature a textured detail. Designer Sarah Sherman Samuel perfected the look in this on-trend kitchen with a muted shade of green and brass half-moon-shaped hardware.
6. Choose eye-catching hardware.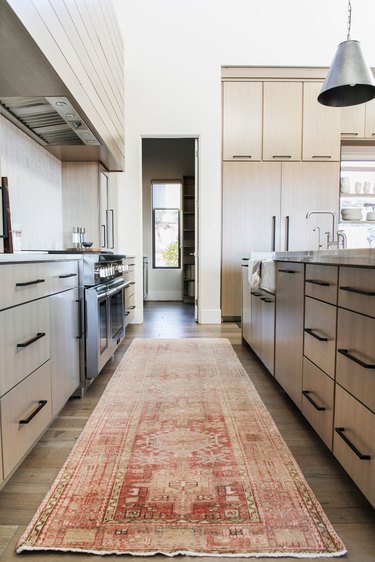 As we mentioned, flat-panel cabinets provide an ideal opportunity to show off unique and attention-grabbing hardware in your kitchen. The wood cabinets in this culinary space by the team at Stagg Design look even better thanks to sleek black pulls that add a dash of contrast without distracting from the overall design.
7. Go full-on minimalist.
It goes without saying that flat-panel cabinets are a flawless addition to minimalist kitchens. And if you want to take the pared-down aesthetic a step further, forgo the hardware. With clean lines, unfussy fronts, and uncomplicated visuals throughout, Helen of Design Hunter has fully mastered the no fuss, no muss look.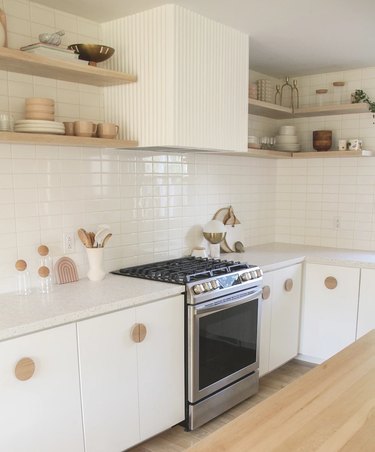 To really push your kitchen in a contemporary direction, pair your flat-panel cabinets with geometric pulls. Brit of Brit Dot Design did just that in her all-white kitchen with round wooden pulls, and reinforced the geometric vibe with decorative accents.