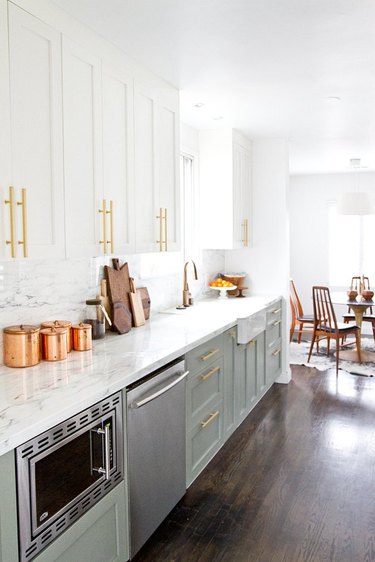 For homeowners on a budget, IKEA kitchens can be a godsend. For the price, the cabinets are quality, and the variety of design options lets you craft the kitchen of your dreams. Yes, you're going to spend less money — but your new kitchen certainly won't look cheap. No matter whether you're updating your country farmhouse or giving your city penthouse a new style, an IKEA kitchen provides all the style and glamour you desire. Still not satisfied? Consider a classic IKEA hack or update the cabinet fronts for extra personalization.
Why Get an IKEA Kitchen?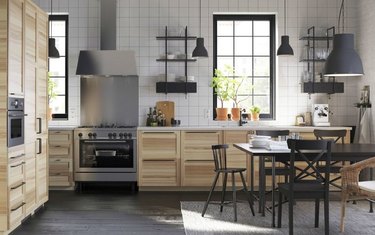 Reasons to get an IKEA kitchen include:
You're on a budget. These wallet-friendly cabinets open up space in the budget for design flair elsewhere — like that glitzy arabesque backsplash you're swooning over.
You're looking for quality. IKEA offers the best combination of price and quality. Two years after installation, blogger Binkies and Briefcases says she still loves her IKEA cabinetry, and that the drawers are "strong and they hold a lot of stuff."
You're seeking custom features. Sure, high-end cabinet designers will add any feature you can imagine — but your everyday homeowner deserves fun details, too. From pull-out trashcans to built-in microwaves, you can customize every cabinet and drawer.
You're willing to wait for a sale. IKEA does a massive kitchen sale once or twice a year. Hold out for the 20% off sale, if you can, but there's also typically a 10% off sale for IKEA Family members once a year, too.
You want to shop in one place. Not interested in trawling through seven big-box stores for every appliance and countertop? IKEA offers almost everything you need in one place, from ranges and counters to fridges and freezers.
Here's why you might skip IKEA:
You're working with an awkward space. For all its customizability, IKEA may not be the best fit if it doesn't fit. If your kitchen is full of strange nooks and crannies, going fully custom may be a good bet.
You're not so handy. You'll definitely need to be comfortable with construction to assemble your IKEA kitchen. Imagine your typical IKEA furniture build ... times three dozen cabinets. If the thought makes your stomach turn, consider hiring a pro. (But here's a tip: Many pros will install IKEA kitchens, too!)
You're looking for the best quality. Sure, we love the combo of quality and price, but if you're looking for a kitchen guaranteed to stand the test of several decades, consider spending a bit more.
Can I Hack My IKEA Kitchen?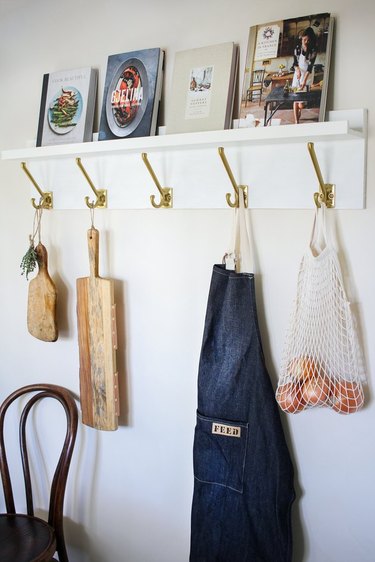 Want more kitchen hacks? IKEA's BESTÅ cabinetry system isn't designed for the kitchen, but creative DIYers can find a use for these smaller shelves. Consider a tufted bench for your eat-in kitchen or make a wine rack for easy-access sipping.
Can I Upgrade the IKEA Cabinet Fronts?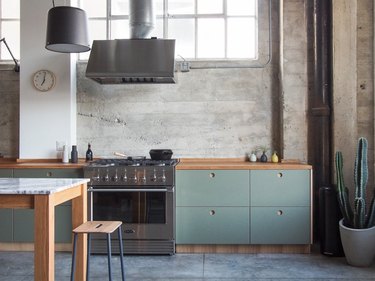 Hate IKEA's selection of cabinet fronts? There are a number of companies happy to upgrade your look. Your choices include:
Semihandmade, whose affordable custom fronts have garnered a lot of fans. We see why: their gorgeous beaded doors give a beachy vibe, and their melamine wood-effect doors lend your kitchen refined rusticity.
Plykea, which might be your perfect fit if you're a fan of the trendy plywood look. These birch doors come in painted or unpainted styles.
Kokeena, which offers painted, wood-grain or laminate doors. If you're aiming to build as eco-friendly a kitchen as possible, try this sustainable company.
Reform, which works with renowned architects to create gorgeous one-of-a-kind cabinet fronts — like this creative plywood-inspired front from Danish designer Cecilie Manz.
What Styles Can I Choose From?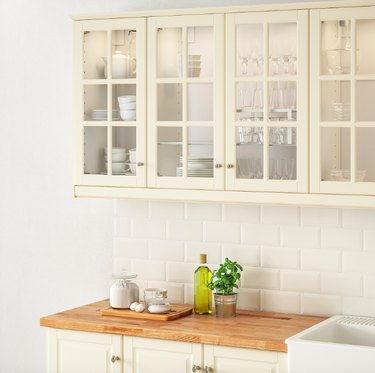 IKEA offers offers a wide variety of cabinet front styles — so if you don't want to splurge on custom models, you've got a wide variety of options. Love farmhouse? Try the glass BODBYN doors (starting at $76.50). Or, if you're eager for the all-black effect, consider the dark and moody KUNGSBACKA doors (starting at $27). And the classic GRIMSLÖV doors provide serious Shaker style.
Keep in mind that all IKEA cabinet fronts attach to the same cabinet system, the SEKTION. So if you dislike something about that style, you're stuck — and an IKEA kitchen may not be the best kitchen company for you.
Is an IKEA Kitchen Really Budget-Friendly?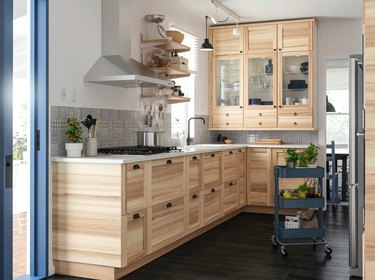 But don't think IKEA kitchens are magic: It's easy to still spend a lot, especially if you're adding a lot of new cabinetry. Need an example? Check out this gorgeous portfolio of IKEA kitchens from Modern Kitchen Pros. Most of the spaces cost around the national average, but some were way, way more expensive. Custom cabinet fronts and other dream-home details can quickly up the price.