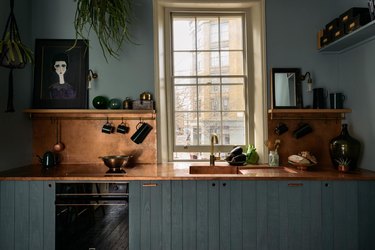 When it comes to kitchen design ideas, the number of cabinet styles can be truly overwhelming. Are you with us? The options range from shaker cabinets and flat-panel options to craftsman and cottage designs. But what if we told you that beadboard cabinets can combine the best of multiple styles? And what exactly is beadboard?
Also known as "tongue and groove" or "v-groove," this cabinet design style is comprised of narrow, vertical planks separated by grooves or "beads." They're made from long wood slats which usually have tongue and groove joinery. Though previously used predominantly in wall paneling (and a favorite of those who love farmhouse style), beadboard is becoming more popular for all types of styles and locations. We especially like beadboard kitchen islands.
Need some inspiration? These six beadboard cabinet ideas are subtle yet statement-making.
1. Add texture to your existing cabinets with a simple DIY.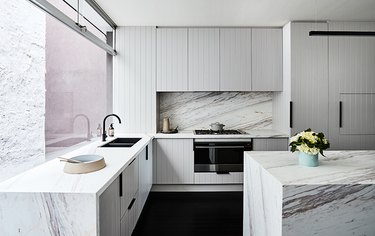 Beadboard cabinet doors will add texture to any kitchen, whether it's in an English cottage style home or a boho abode. You could even DIY the effect with pre-cut wood panels. Just take a look at Rebecca Judd's contemporary kitchen as an example — the soft gray cabinets are clean and minimal with a distinct lack of handles, but they feel warm and welcoming thanks to the subtle beadboard detail. And we can't get over those marble countertops.
2. Mix and match your cabinetry.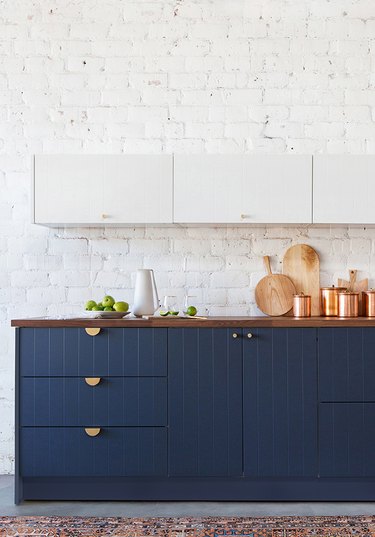 Interior icon Sarah Sherman Samuel coined the term "modern beadboard" to describe her collaboration with home design company Semihandmade, and we're fans of the look. By using beadboard on the lower cabinets and keeping the upper cabinetry simple, Samuel created a fresh take on two-tone kitchens.
3. Combine shaker and beadboard in a modern farmhouse kitchen.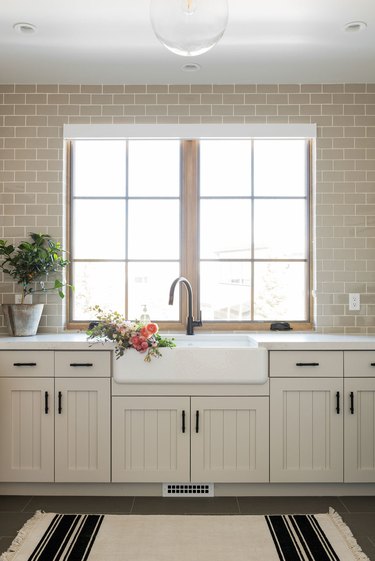 White beadboard is great on its own, but you can mix and match cabinetry styles for a fun look in a modern farmhouse style kitchen. This simple design from Studio McGee incorporates both beadboard and shaker-style doors for a contemporary meets classic aesthetic. And the subway tile takes everything to the next level.
4. Keep the cabinetry au naturel.
5. Experiment with panel widths in a white kitchen.
While beadboard typically consists of narrow planks of wood, you can play around with the panel widths to achieve something a little more unique in your kitchen design. The team at CM Studio opted for a wider plank on the cabinet doors in this minimal farmhouse style kitchen, and the result is sleek and sophisticated.
6. Channel a rustic, cottage-style vibe.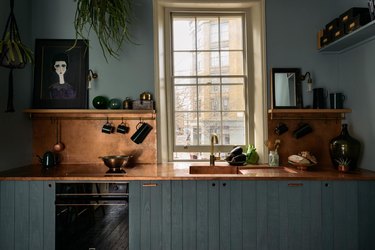 If you're looking for a rustic yet contemporary kitchen, try painting your beadboard cabinets in a rich hue like the teal that deVOL used here. Paired with a statement-making copper countertop and backsplash, this beautiful kitchen takes farmhouse chic to a new level. But you could just as easily go for butcher block counters if you want something a little less bold.