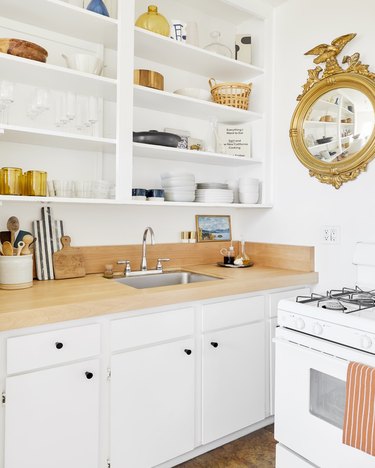 With the trends turning toward all things natural and organic, it shouldn't come as a surprise that real-deal wood countertops are popping up in modern kitchens everywhere. The look is classic and bygone, and yet, with new wood stains and design approaches, they also appear to be oh-so-cool and current. So if you're considering upgrading to wood kitchen countertops, the helpful guide ahead will definitely come in handy.
Wood Kitchen Countertops Overview
Wood kitchen countertops have been around almost as long as there have been trees, and today, they're available in a wide variety of species. For example, you can choose from cherry, maple, bamboo, oak, teak, and others. You can even opt for a few strips of wood placed on top of one another, creating a butcher block slab perfect for slicing, dicing, and prepping your meals.
Pros of Wood Kitchen Countertops
This traditional material carries plenty of pros. Many homeowners go with wood kitchen countertops because each piece of wood is different, translating to a one-of-a-kind look. You can customize your kitchen countertop further by picking out the wood you desire and staining it or lacquering it however you please. If going green is a top priority in your culinary space, you can go eco-friendly by using a piece of reclaimed wood as your countertop. And, since it emulates a butcher block, your knives will stay strong as you cut and work on this surface — which, by the way, will be a lot quieter than banging away on a granite countertop.
Cons of Wood Kitchen Countertops
If you're searching for a kitchen countertop material that requires little to no maintenance, you might want to think twice about wood. It requires expert-level sealing to keep it looking fresh, and it can be prone to water damage, too. It also shows scratches and imperfections a lot more than other countertop materials.
Cost of Wood Kitchen Countertops
There are some factors that can make wood kitchen countertops expensive. First of all, if you prefer a custom work surface rather than trying to install one yourself, that will naturally up the price. Also, the general rule of thumb is that the stronger and more durable the wood, the more expensive it will be. That means that certain species, like teak, will hit your budget more than other types, such as maple or walnut. Staining or edging will cost a few extra bucks as well.
Wood Kitchen Countertop Maintenance
While they do require a bit more love with proper sealing and refinishing, wood kitchen countertops are surprisingly easy to clean. They may require more frequent wipe-downs than stone since wood is a very porous material, but when you do clean, all you'll need is a sponge and soap or white vinegar for a deep-down clean. You can also scrape off crumbs and food left behind with a pastry scraper or spatula.
Wood Kitchen Countertop Style Inspiration
1. Mix a light-colored wood countertop with pastels.
Consider bringing hues into your kitchen that mesh well with the color of your wood countertop. For example, in this culinary space belonging to Maryal of Love and Specs, a light, reclaimed wood surface is the ideal backdrop for the pastel decorative elements displayed throughout.
2. Go full-on rustic.
3. Embrace a variety of colors alongside your countertop.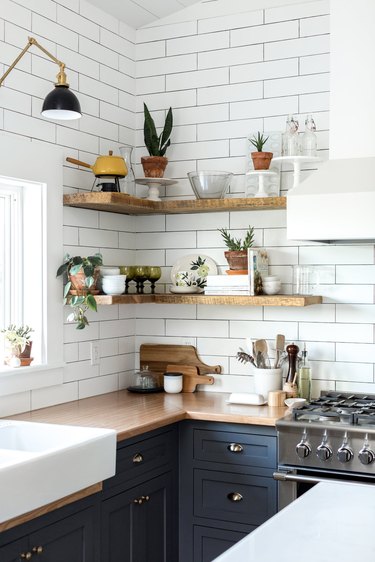 When you don't go overly dark or light with the finish of your wood kitchen countertop, you can really play with your kitchen's color palette. For an eclectic look, take a cue from this kitchen featured on Coco Kelley and wrap in blues, yellows, greens, and browns next to your work surface.
4. Match floating shelves with the countertop.
To reinforce the natural look in your kitchen, install wood open shelving along with a wood kitchen countertop. In this space belonging to Aniko from Place of My Taste, the shelves and wood surface beautifully display modern farmhouse treasures.
5. Mimic wood flooring.
If you're striving for cohesion in your kitchen, look no further than matching your wood kitchen countertop to the accompanying wood floors below. In this space designed by Amanda Katherine Interiors, the countertop echoes the visuals of the floor with planks in varying sizes and colors.
6. Craft a DIY wood countertop.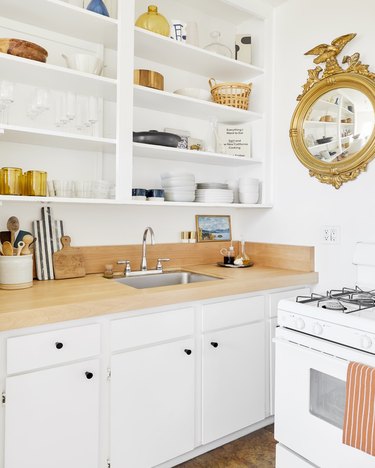 If you'd prefer to skip the cost of a standard wood kitchen countertop, simply craft your own. With some help from her dad, Jess Bunge of Emily Henderson Design installed a plywood work surface in her cook space and made it look sleek and polished with a water-based matte finish. The countertop looks oh-so-stylish alongside the other wood accents displayed on her shelves.
---
Shelby Deering is a lifestyle writer who contributes to national magazines and websites, including Country Living, Good Housekeeping, Well+Good, and more. When she's not writing, you'll find her shopping flea markets, hiking, and going for walks with her corgi.
View Work