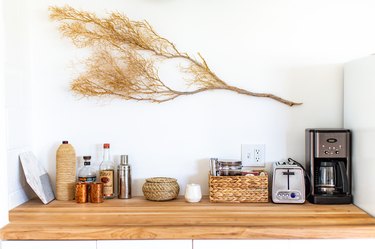 Kitchen countertops are more or less the lifeline of the room. They bridge the gap between appliances, serve as a landing spot for the toaster and coffee maker, and add a stylistic element to boot. But what if homeowners could take it all to the next level by employing a more functional approach? Wood countertops, or more specifically butcher block countertops, come to mind. Timeless and versatile, a wooden component can seamlessly blend in with a contemporary or modern scheme just as easily as it would a traditional, country, rustic, or cozy, English cottage.
Easier to source and install than marble, butcher block can also be relatively affordable — although not compared to laminate, which is one of the more budget-friendly countertop options on the market. Depending on the type you go for (wood or grain), it runs from about $40 to $100 per square foot. But keep in mind that if you've been dreaming of using a really rare and exquisite type of wood for your kitchen design, you'll end up paying the equivalent of the price for luxurious stone. With that being said, not all butcher block countertops are created equal. In fact, there are three distinct styles you should know.
Butcher Block Countertop Styles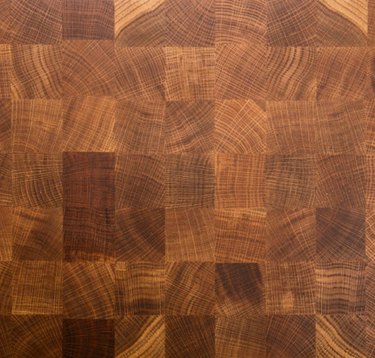 End grain butcher block is the most durable and simultaneously most expensive type. It's characterized by a checkered motif, which is achieved by gluing blocks of wood together, with the end grain facing up. Hardwood is the preferred material here and anything such as walnut, oak, and birch are fair game.
The manufacturing process of edge grain countertops is similar to end grain with the primary difference being that lengthier "side" strips of a wood slab are used, instead of the square ends. The result here is a more linear finish that shows off the long edge of the wood. Maple and walnut are the types of wood most commonly used.
Less durable and more susceptible to wear and tear, when compared to edge grain or end grain, face grain butcher block countertops are the least popular type. A budget-friendly alternative, face grain is similar to edge grain except that it's made from the wider plank of a wood slab, which is laid flat. Because of this, it can be significantly softer and therefore weaker — meaning you won't necessarily have the convenience of using it as a cutting surface unless you're okay with a worn-out look.
Before you set out to convert your kitchen into an uber-functional zone, here are the pros and cons of butcher block countertops.
Pros of Butcher Block Countertops
They can be relatively easy to care for.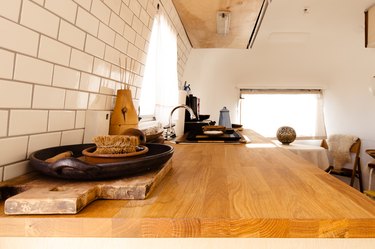 Unlike marble, which is highly susceptible to stains and discoloration, a butcher block countertop can withstand more wear. In the case that it doesn't, a fix is much easier to come by. Scratch, nick, scorch or stain the material, and you can simply sand the damage away and reapply a protective coating of mineral oil. Wood surfaces hold up well against elements like citrus, which would otherwise damage stone surfaces.
They require no special process for cleaning, so you can wipe them down with plain soap and water. If you're looking for a little bit of a deeper clean, spray the counters with white vinegar — this will act as a disinfectant — and allow it to soak before wiping it off. Alternatively, slice a whole lemon in half, sprinkle salt over the open face, and rub it on a particularly stubborn stain to get rid of it.
They fit in with every style and space.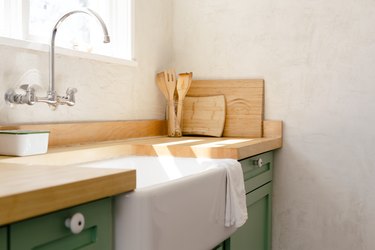 A butcher block countertop can be installed on every available surface area, including the kitchen island. In fact, you can even mix and match the material with granite or marble for a cool contrast.
When choosing a sink to pair with butcher block counters, the farmhouse variety goes without saying but if you're not into the bucolic theme, there are alternatives. Your best bet will be an overmount sink (this is when the sink sits on top of the counter) or an undermount (when the sink sits below the counter).
They are an environmentally friendly alternative.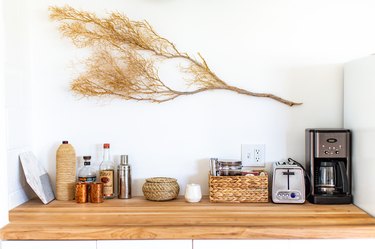 When it comes down to it, concrete, marble, and granite countertops aren't very sustainable. The wood used for butcher block countertops, on the other hand, can be significantly better for the environment — but as always, it's important to be cognizant of where and how the material is sourced. Before making a purchase, research the brand and ensure that the wood is sustainably harvested and that it abide by eco-friendly practices. Any sort of certification by the Forest Stewardship Council is always a plus.
Cons of Butcher Block Countertops
They can be a breeding ground for bacteria.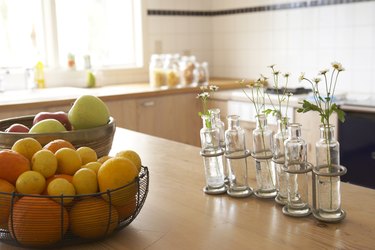 Butcher block countertops require a little work to make them last. Since the wood is porous enough to harbor germs, it can stain easily and absorbs liquid readily, so you need to apply a protective seal. Standing water on butcher block is a potential disaster, as it can loosen the glue that holds the wood together, split seams, and grow mold. However, occasional oiling and refinishing should prevent that outcome. Refinishing butcher block — depending on use, you can expect to refinish your countertops every 10 to 20 years — involves sanding off the old finish and any marks and then applying a new protective coating. With proper care, your counters will last a long time.
Wood isn't exactly invincible.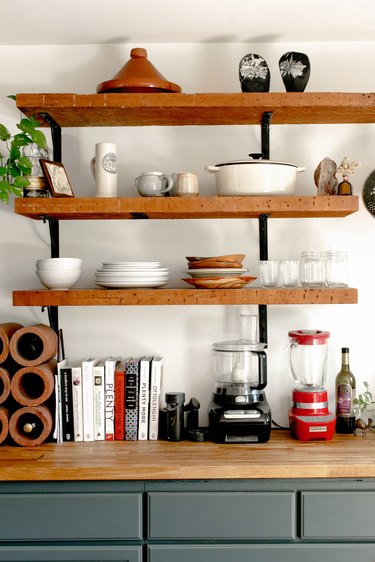 While the thought of retiring your old cutting boards for good might be a tempting idea, bear in mind that butcher block countertops aren't invincible. And while fixing them (by sanding and staining) may be simple in theory, it's not very practical if you have to do it on a regular basis. And if you use the counters as a chopping surface, note that they will eventually begin to look like a worn chef's table, with enough knife marks to disguise the beauty of the material altogether.
On that note, avoid using your butcher block counters as a trivet — heat can be significantly damaging to all materials and wood is no exception. When exposed to warmer temperatures, wood expands, which can cause it to warp, split, and even crack.
Alternative Countertop Options
If you decide that butcher block countertops aren't for you, consider stainless steel, which is an easy-to-maintain alternative. On the other hand, if you're looking for an option that features the same warmth of a wooden surface, laminate is the next best thing and a budget-friendly choice as well.