Hunker may earn compensation through affiliate links in this story. Learn more about our affiliate and product review process
here
.
In terms of kitchen countertop options, there's never been a better time to remodel or build your dream kitchen. Today's choices are seemingly endless; from engineered stone to limestone to laminate countertops, there's something for all budgets, taste preferences and maintenance styles. Read on to discover what might best suit your needs.
Most Popular Kitchen Countertop Options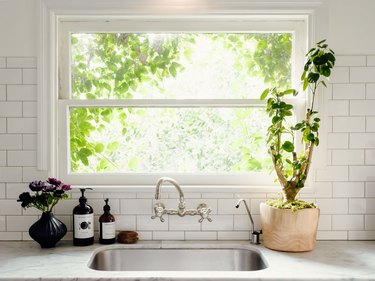 Some surfaces are naturally made while others are man-made. Marble, granite, soapstone, limestone, concrete, as well as ceramic and porcelain tile are all made from natural materials. Butcher block and wood countertops, both fashioned from wood, are sealed differently, resulting in products with different maintenance needs.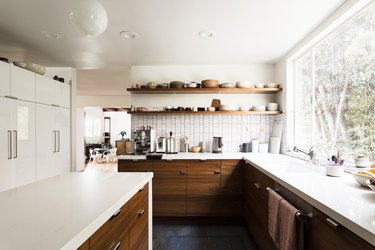 Engineered, or man-made surfaces include quartz (found under brand names like Caesarstone and Silestone) and laminate, which is made of layers of plastic bonded to particleboard. These are durable materials with minimal maintenance requirements that can be cleaned daily with mild soap and water.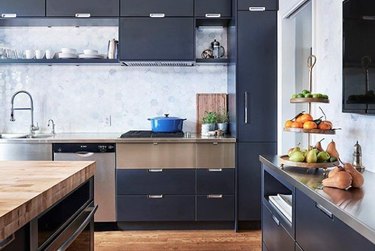 There are also metal-topped countertops including copper, zinc, and stainless steel. These bring a unique industrial vibe to kitchens and an appealing shine due to their reflective quality. They patina (translation: show wear) over time and will show finger prints, surface scratches, and dents, which some people appreciate and will drive others crazy.
Considerations in Selecting Kitchen Countertops
Countertops can be big bucks and wreak havoc on a budget, so before you embark on creating your dream kitchen, we suggest you do a little self-discovery/exploration to figure out what material best suits your lifestyle and personality. Natural stone, stainless steel, and butcher block come with the steepest price tags. If, however, you're looking for something affordable and easier to manage, you may want to consider laminate or porcelain tile.
What aesthetic are looking to achieve in your new kitchen? Are you going for a sleek minimalist look? Stainless steel countertops are clean and modern. Marble makes for beautiful and timeless kitchen countertops that have universal appeal (in our opinion), but their beauty comes at a very high price. If you have your heart set on the look of marble, but can't or don't want to spring for a slab, consider laminate in a marble finish — if you haven't taken a look at laminate in a while, you'll be amazed at how their textures, finishes, and colors have evolved. (They're also stain- and scratch-resistant. State-of-the-art brands like Wilsonart and Formica have some laminate products that are also heat-resistant.) Modern kitchens can benefit from the cool concrete countertops. Wood countertops are universally appealing but are particularly well suited for farmhouse and traditional kitchens.
Kitchen countertops that require the highest level of maintenance include wood, stainless steel, marble, and soapstone. Marble is very porous and therefore susceptible to stains and water marks. Stainless steel scratches easily, which, if you're a perfectionist, will drive you crazy. Dark soapstone can achieve a lovely effect in farmhouse or industrial kitchens, but as a softer stone it can dent and chip easily. Limestone is also a softer stone that is chemically sensitive and must be resealed yearly. Wood also scratches easily and requires resealing.
Low maintenance materials include laminate and tile — these generally handle wear and tear well and cleaning is as simple as washing them down with warm, soapy water.
Trends in Kitchen Countertops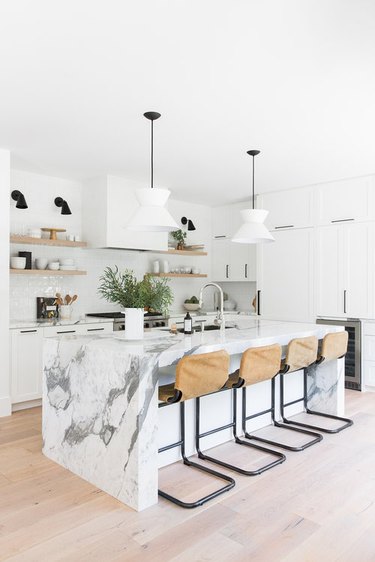 Great news! The kitchen countertop world really is your oyster. As always, we suggest choosing a style that you love rather than focusing on what's trendy, but wood and butcher block countertops are gaining in popularity again. They offer a warmth that can't be achieved with countertop alternatives. We're also seeing more waterfall islands with thick-cut, eye-catching countertops. Marble countertops continue to be popular for their timeless appeal and enduring quality.