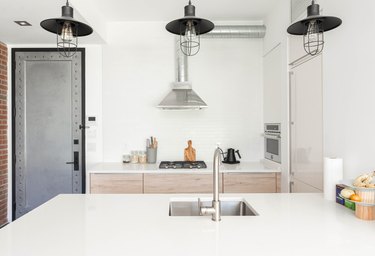 One key lesson we've gleaned over the years is that cooking shouldn't involve a scavenger hunt to complete the meal we're dishing up. After all, a recipe's estimated preparation time doesn't include digging around the pantry to find that spice you could have sworn was in your arsenal. For practical-minded types, that's where an industrial kitchen comes in. Modeled after commercial-style spaces, it tends to feature exposed pipes, bricks, beams, and shelving, along with materials like distressed wood, iron, and stainless steel appliances, including stove hoods. Most importantly, this setup prioritizes ease (hanging pots and pans, utensils out in the open). Below, find the industrial kitchen inspo that has us feeling like pro chefs.
An entire wall of steel windows instantly opens up any kitchen and injects the room with some industrial flair, too. Also known as "loft windows," they're a nod to the factory-style apartment panes popular in New York City. (FYI: You don't need this many windows to get the same effect.) This more modern take on the look from Chango & Co. — just peep the slate-colored cabinetry — also relies on open shelving and wooden ceiling beams.
Go Subtle With Industrial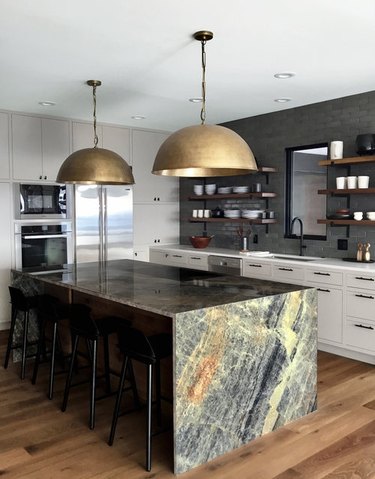 This California home puts mugs, utensils, and even salt and pepper shakers on constant display atop rustic wooden shelves and sleek countertops. This is a more tempered industrial look thanks to a luxe green marble countertop but the style still shines through, with an urban-feeling subway tile wall and hammered dome lights.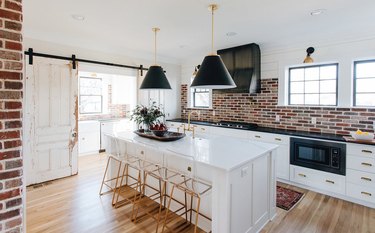 A distressed wooden door instantly brings industrial appeal to this white and brick kitchen from Christine Zeiler Interiors (just think of it as a sliding commercial kitchen door, but more stylish). Hardware, light fixtures, and even the hood rendered in iron make things look more gritty than farmhouse chic. Not ready to fully commit? Scour vintage shops for antique wooden stools in a similar hue to bring the same amount of character with minimal effort.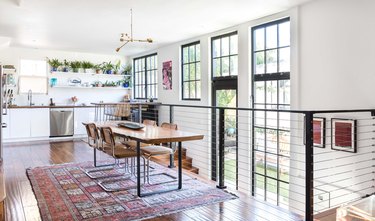 Your lighting choice can take your space into deconstructed industrial kitchen territory in no time — and this gorgeous design inspo from Devi Dutta Architecture is proof. Go for a fixture that incorporates 1900s-inspired Edison lightbulbs (features include visible filaments and a warmer glow). The skeleton-style bulbs can also be swapped into many existing fixtures if you're not game for a total re-install.
Store Things in Plain Sight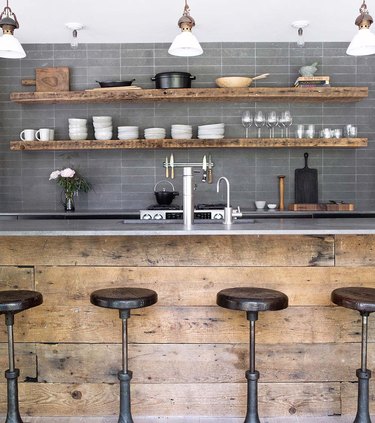 In a restaurant, everything must be within reach of the chef's (and sous-chef's) fingertips. We're gravitating toward this industrial kitchen idea because it has the same setup. A wall-mounted magnetic knife holder (try our DIY!) plays into the stainless steel fixtures the design style is known for. Plus, it lets your cutlery double as decor.
Hang a Statement-Making Hood
An eye-catching stove hood is the design equivalent of a fireplace in the family room (read: a dreamy luxury). This Smith Hanes Studio-designed space makes an antiqued commercial-grade style the focal point of the kitchen. Added perk: the fixture contains fans that carry toxic fumes far away from you and your loved ones.
Focus on the Finishing Touches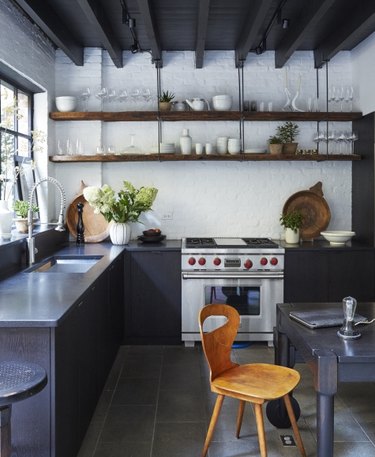 To try out the industrial kitchen look, you don't always need to focus on just one major change. Instead, try a few smaller tweaks: one of our favorites is installing an industrial-grade sink with a movable faucet head that can be spotted from afar. You can also add a pop of stainless steel via your appliances, like an oven, to break up a row of darker cabinets like in this Monique Gibson design.
---
Michelle Guerrere is a NYC-based lifestyle, fashion and beauty writer. She's currently trying to find the best set-up for her 300-sq. ft. Manhattan apartment.
View Work