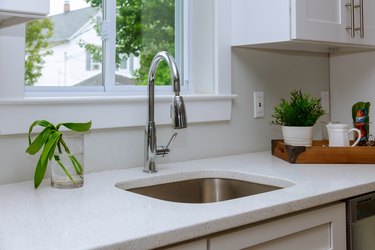 Stainless steel looks great and stands up to all that happens in a bustling kitchen. It can also take a beating, getting knocked, dinged and scratched as it's used to wash dishes and prep food. Nixing those nicks that can occur on the surface of stainless steel is a fairly simple task that requires a few tools and minimal effort.
Tip
Weekend warriors and DIYers with average skills can knock out this appliance restoration project in an afternoon.
Checking for Stainless Steel
There are many types of steel finishes on the market. To be sure that the appliance or sink is stainless steel, check for the telltale sign of fingerprints. If little smudges left behind by sticky hands show up regularly on the surface of the metallic façade, then you can be pretty sure that it's stainless steel.
Check out a small area that's not visible if you aren't entirely sure. If the surface has a high-gloss-finish colored metal or mirror style, it more than likely isn't stainless steel.
Cleaning a Stainless Steel Sink
Before you refinish the stainless steel sink, it will need a good scrubbing. This can also restore the sink to a degree. Give the sink a bath of vinegar and rinse dry to take down the hard water deposits and daily grime that can collect on the stainless steel surface.
Cleaning a stainless steel sink with steel wool may work best when it's layered with grease and grime. Bob Vila recommends that you scrub in the direction of the steel grain and be sure to use a fine steel wool and move carefully over the surface to remove caked-on crud. This will have the added benefit of removing hairline scratches.
Clean the sink with hydrogen peroxide to further remove dirt and ensure a good cleaning. If you are satisfied with the cleanliness of the sink, polish it with WD-40 sprayed on a dry, soft cloth. Rub this into the sink for a polished finish and a somewhat protective coating.
Refinish a Stainless Steel Sink
Sanding out the scratches on a stainless steel façade can remove the unsightly flaws, but it does take a gentle hand and the proper tools and techniques. A stainless steel scratch remover repair kit will contain all you need to completely clean, repair and, typically, buff out and polish the stainless steel sink or appliance. Or, you can grab a sanding block, 400- to 600-grit sandpaper, an abrasive pad or a quality rubbing compound to finish the job.
The Family Handyman notes that this technique only works on plain, or uncoated, stainless steel fixtures and appliances. Take your time in working on the scratch. If you can, test out your technique on an area that isn't easy to see or a sample of stainless steel that you can get from a hardware store.
With the lowest grit paper or abrasive pad, begin to move over the scratch in a zigzag pattern. Use sanding fluid to create a good bond with the sink that allows you to glide over the scratch without ruining the surrounding finish. It should only take a few minutes to remove. If not, try the next coarsest grit sandpaper.
---
Kimberley McGee is an award-winning journalist with 20+ years of experience writing for a variety of clients, including The New York Times, Las Vegas Review-Journal Home section and other national publications. As a professional writer she has researched, interviewed sources and written about home improvement, interior design and related business trends. She earned a B.A. in Journalism from the University of Nevada, Las Vegas. Her full bio and clips can be viewed at www.vegaswriter.com.