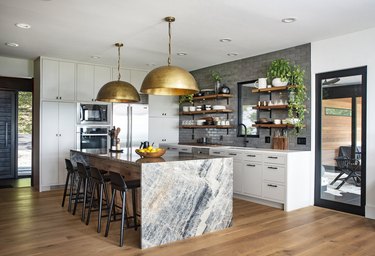 Looking to add some drama to your kitchen? Luxe countertops that you love — marble, say, or a beautiful soapstone — are a good place to start, of course. But why stop there? Instead of ending your countertops at the edge of the island or bank of cabinets, you can extend them vertically down the sides, therefore creating a continuous "waterfall" effect.
A waterfall countertop is traditionally done with natural stone like marble, quartz, or granite, but nowadays the options are expanding, and just about any type of material can be continued into a waterfall effect: Think wood, stainless steel, concrete, and solid surface. (Trying the tile countertop trend? While it looks great as a work surface, tile won't work very well as a waterfall countertop — the idea is to create one continuous surface, something that tile just can't do. Laminate won't look right or hold up well, either.)
On the plus side, a waterfall countertop, particularly in natural stone, adds a luxuriousness to the kitchen, and creates seamlessness between the counter and the floor. Extended a bit width-wise, too, it can conceal counter stools tucked below. The downsides? Waterfall countertops tend to be expensive, particularly if you're using natural stone, such as marble. You'll need to hire a professional to cut and install the countertop, as it's probably not something you want to DIY. Plus, there's the cost of materials: at least one length of material, floor to countertop, and maybe two, if you want it mirrored on both sides of an island or bank of cabinets. Keep in mind that there's a lot of precision required to make a waterfall countertop look good, too. Your installer will need to match the seams so they're almost indiscernible, and find stone or wood slabs where the grain or veining matches up pretty well.
BobVila estimates that the fabrication process — which, for natural stone, involves using a computerized laser to miter the edges so that you can't see a seam between the regular counter and the waterfall part — can tack on $1,000 to $2,000. If you're a perfectionist, you'll want to pay careful attention that the look is to your liking; the slightest bit of misalignment could bug you every time you see it. All told, though, waterfall countertops are an impactful addition to the most important room in the house — and they don't always have to be made of marble or super-pricey materials.
Interested? Check out these nine waterfall countertop ideas to inspire a kitchen makeover.
1. Bright White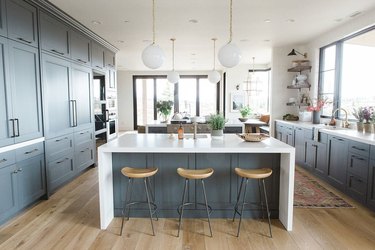 2. High Style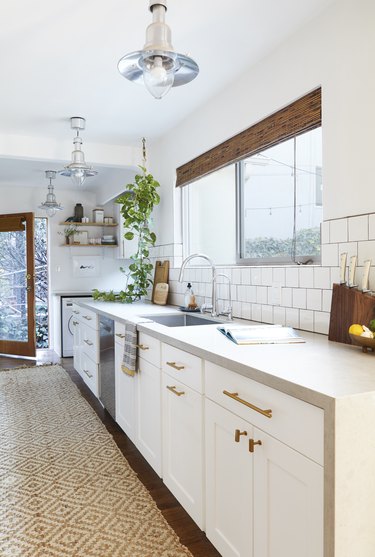 A high-style-meets-low-budget way of getting the waterfall countertop look? Use engineered quartz in lieu of a pricier option like marble. A waterfall countertop adds continuity and length to a smaller or single-wall kitchen, too.
3. Warm Wood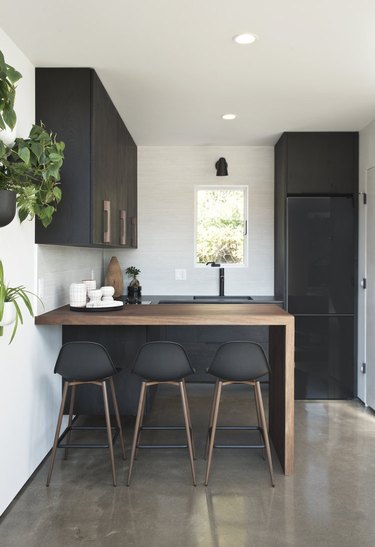 Not just for stone and stone lookalikes: Thick slabs of wood make for a neat waterfall countertop and add a bit of organic warmth to the kitchen, as proven in this black situ designed by Dichotomy Interiors.
4. Chunky Marble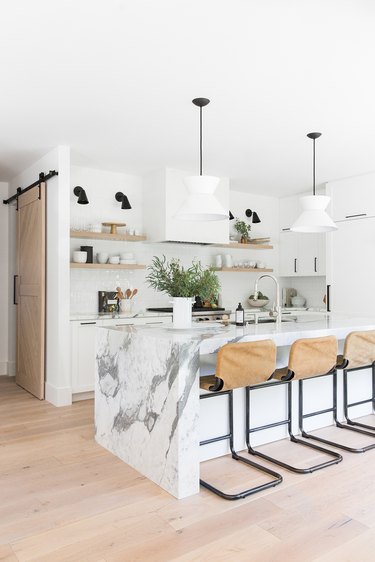 5. Neutral Concrete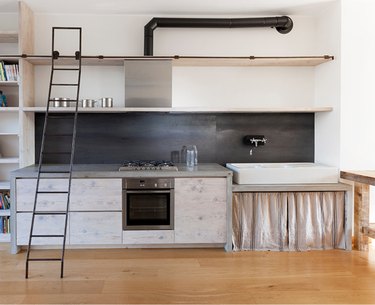 Concrete makes a surprisingly sleek and neutral waterfall countertop. Pair with black and steel for an industrial look, or with softer elements — like the sink skirt and pale whitewashed wood cabinetry in this kitchen by Katrin Arens — for more of a rustic/modern vibe.
6. Barely There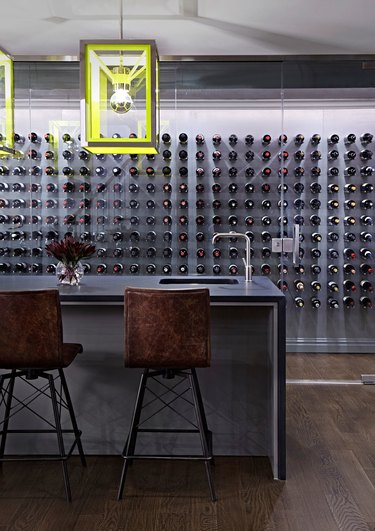 A thin waterfall countertop in a dark gray or black hue — like oiled soapstone — adds a sleek, industrial look without weighing down the kitchen with a lot of heavy black stone, as seen in this space by Chango & Co.
7. Dramatic Veining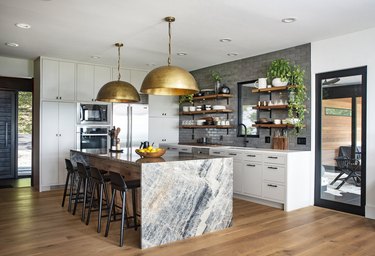 Follow the lead of Dichotomy Interiors if you want to add a one-of-a-kind addition to your kitchen. Here, the waterfall countertop is made up of a few slabs of uniquely veined, natural stone. Literally nobody will have one like it.
8. Sleek Stainless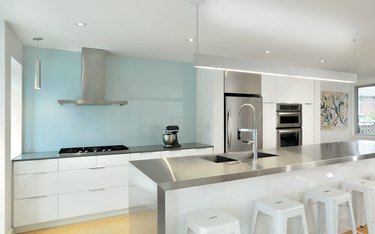 Stainless steel is an excellent material in culinary spaces — non-porous, easy to clean, and utilitarian — so much so that restaurant kitchens are often entirely clad in it. So why not do the same in your own home, like this setup designed by Linebox Studio? Not only is a stainless steel waterfall countertop practical, it works with a variety of design styles, too.
9. Moody Soapstone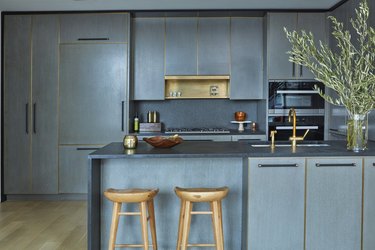 Lastly, a monolithic waterfall countertop is a great opportunity to go monochrome (or close to it). Design your kitchen palette around the tone of your work surface, inspired by this dreamy blue space by Jarret Yoshida (think blue-toned soapstone paired with pale gray and blues). For something bolder, make a statement with a solid surface waterfall countertop in a brighter hue.