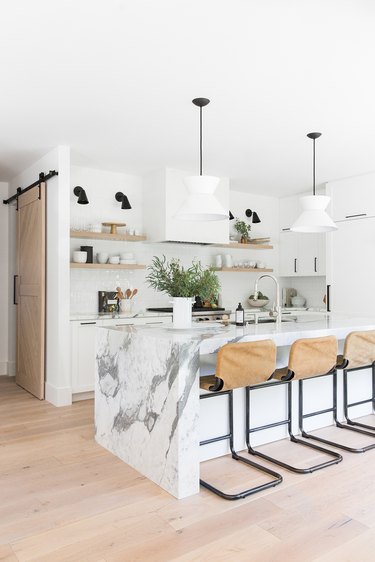 It goes without saying that the kitchen is one of the most popular rooms in the house. People gather there not just for the food, but to connect with one another, so it's important to consider all of the ways that you use the space when planning your dream kitchen. Oftentimes, it's the smallest items on that list that can make the biggest difference, such as seating for your kitchen island or breakfast bar.
In the grand scheme of things, this might not seem like a big deal, but your seating should be more than just practical, it should add to the overall essence of your cook space, tying together all of the little details while weaving in a dash of your personality, too. In an effort to get those creative juices flowing, here are six kitchen bar ideas that you should definitely consider putting on the menu.
1. Seek simplicity.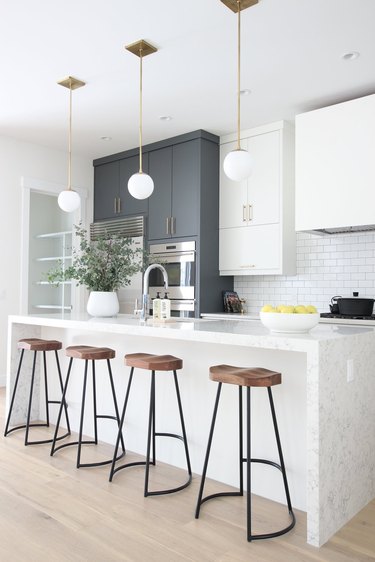 If you're after a seamless look, backless bar stools will ensure that the kitchen island remains the center of attention. The wood seat and steel-frame numbers in this kitchen designed by Laura Tonopa Interiors are the perfect contrast to the sleek waterfall marble island and glamorous pendant lighting.
2. Add some glamour.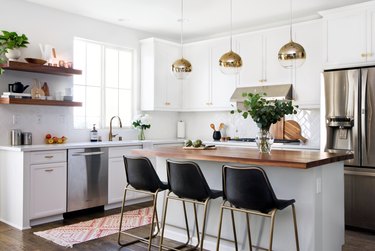 Guess what? Kitchen bar ideas don't need to be purely functional; there's plenty of room to add some elegant features, too. And seating is one of the ways to incorporate that sparkle. Amy from Panorama Interiors created a balanced look in this modern cook space by adding leather bar stools with a gold frame to complement the trio of pendant lights.
3. Contrast with natural textures.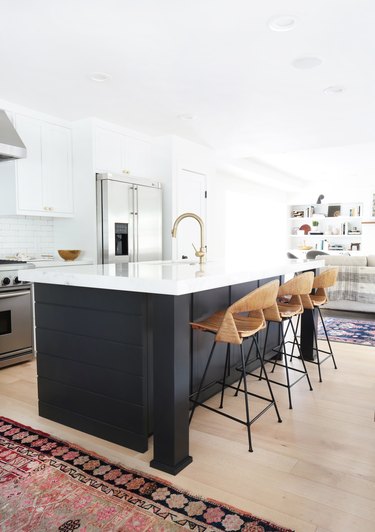 Another kitchen bar idea: Add seating made from natural materials to warm things up and incorporate a tactile, boho vibe. The rattan counter stools selected by Amber Lewis for this kitchen are by no means ordinary though; they have a geometric back, which adds a point of interest without distracting from the crisp clean lines throughout the rest of the space.
4. Color match the details.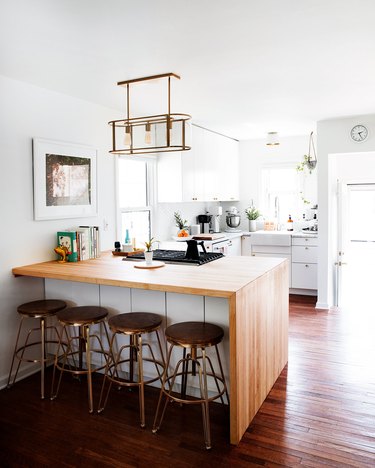 Select some of your favorite kitchen details that could do with a boost, and choose your bar seating based on those elements. Prime example: In this chic kitchen, Jillian Guyette of Better Happier has accessorized her custom-built island with brass and walnut counter stools to complement the unique brass light fixture hanging above.
5. Make them invisible.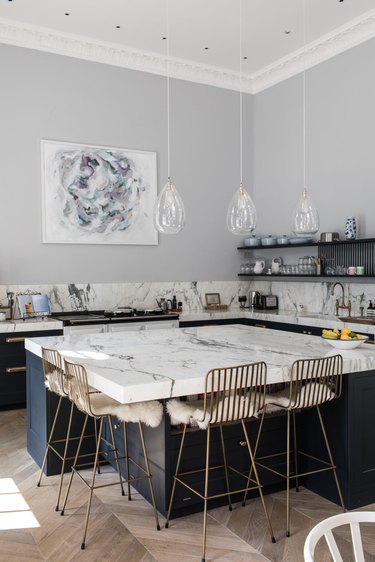 6. Create more space.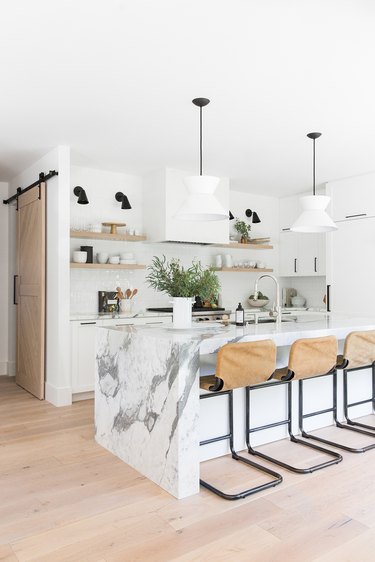 Create the effect of a bigger kitchen by opting for cantilever bar stools which 'hug' your island in all the right places. This culinary design by Shea from Studio McGee incorporates tan leather counter stools which provide warm contrast to the predominantly monochrome setup. Not to mention, they perfectly match the wooden open shelving.