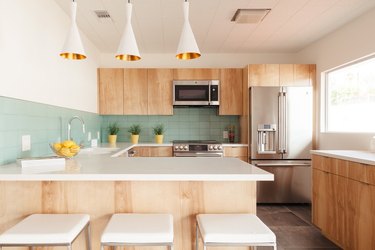 Like high heels at a beach wedding, what looks great might not be the most practical. The same goes for kitchen countertops. You can choose a countertop material for looks alone — pristine marble, for example, because it'll make your styled food shots look great on Instagram — but you may be exasperated to discover that you spend cocktail parties trailing after your guests with a rag and avoiding cooking anything with acid, lest a drop of it land on the counter and leave a mark behind. (Not to mention how dirty a porous material like marble or butcher block can get.)
For those of us who want to make lemonade and chop vegetables and set down hot teakettles on our counters, there are a few materials that are both hard-wearing and good-looking, with minimal upkeep required. Think of them as the slip-on mules of culinary spaces: effortlessly chic, but sure to hold up. Here are four kitchen countertop ideas that rank high on our list for hardiness.
Quartz Kitchen Countertops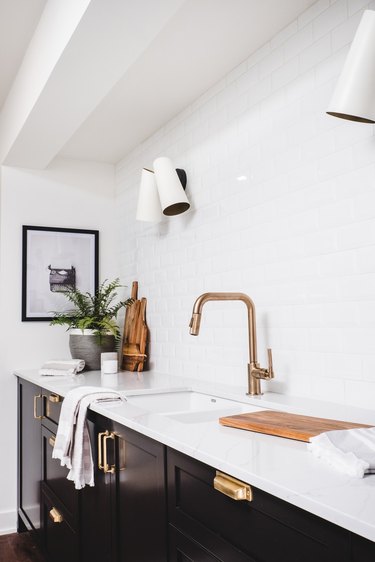 Most of the time, "quartz" countertops are not pure quartz at all — chances are, they're "engineered stone," made of crushed marble, stone, and, yes, maybe some quartz mixed with resin or cement. (Caesarstone is a well-known brand.) The material is nonporous, so it's resistant to scratches and spills, and the resin makes it less prone to chipping. (During a Hunker face-off between quartz and popular cultured marble, quartz won in the Durability category, hands down.) Quartz is also super easy to clean: Give it a spritz and a wipe with a favorite non-abrasive cleaning spray. Just be careful with hot pots and pans: Heat can leave a mark, according to Lowe's.
Quartz can range from $100 to $140 per square foot, according to HomeGuide (depending on factors like installation and type). But looks-wise, you can't beat quartz for its versatility. It comes in nearly every color and pattern for the eclectic; or, it can be a dead ringer for marble, for those who prefer a classic look.
Soapstone Kitchen Countertops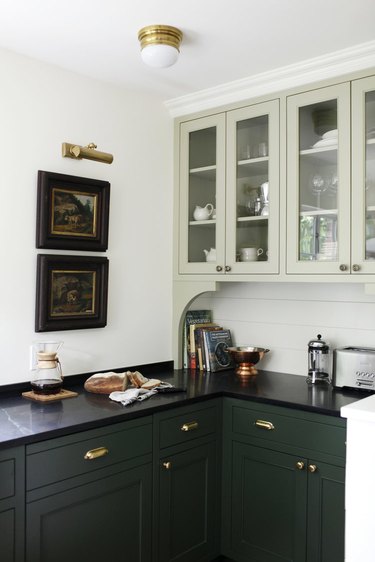 Remember your high school science lab? Chances are it had soapstone countertops. There's a reason soapstone is the go-to for labs: A natural quarried stone named for its soft, "soapy" feel, it's naturally stain- and heat-resistant, won't etch when acid lands on it, and is non-porous, which makes it easy to clean, according to Vermont Soapstone Co. The only caveat? Soapstone can nick and scratch easily if you cut directly on it or drop a heavy pan, though blemishes can be easily buffed out. Many owners of soapstone countertops opt to treat their slabs with mineral oil every so often, but, CounterTopGuide.com notes, this is for "aesthetic rather than performance reasons."
Prepare to shell out a bit for soapstone (it can run between $70-$120 per square foot, according to Angie's List). But it's one of the most durable, can't-do-a-thing-to-it countertop materials out there, and its dark, dramatic look — which can range from nearly pitch black to deep, marbled green — is sure to make an impact in any style kitchen.
Solid-Surface Kitchen Countertops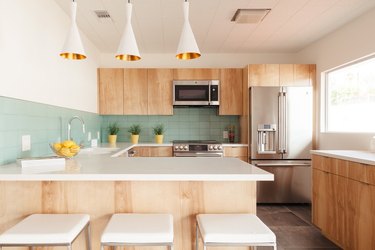 The big downfall of solid surface countertops is that they're not heat-resistant: You won't want to put a hot pot of water down on them. But otherwise, they're engineered to be tough, nonporous, easily cleaned, and stain-resistant, with a multitude of colors and patterns and nearly invisible seams, according to Popular Mechanics. They do scratch, but if you forget to use a cutting board, no fear: Marks can be sanded out. And it tends to be the least expensive of these four picks, running between $52 to $120 per square foot, according to HomeAdvisor.com.
Stainless Steel Kitchen Countertops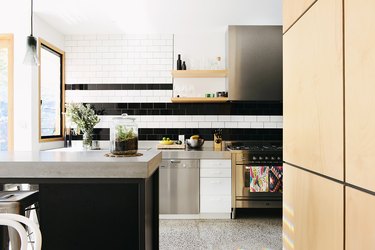 If you've ever peeked inside a restaurant kitchen (or binge-watched Chef's Table), you know that commercial kitchens are often clad entirely in stainless steel worktops. And for good reason: Stainless steel is stain-resistant, heat-resistant, rust-resistant, and easy to sanitize, according to Bob Vila, and comes in a variety of finishes. It can scratch (solutions to any mishaps here) and is prone to showing smudges and fingerprints (which can be wiped clean). Also, stainless kitchen countertops can make more noise than other materials when something's dropped or knocked against them, though it helps that they're often installed over a block of wood. Installation can run between $80 to $225 per square foot, but with its timelessness and utilitarian toughness, you'll never have to replace them.