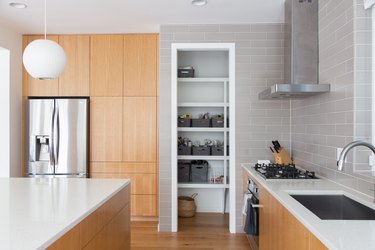 When it comes to tackling home improvement in your kitchen, you may think that you have the "big stuff" covered — the appliances that will help you whip up all those delicious meals, ample storage space, and a backsplash to protect your walls and lend a stylish touch.
But in the course of a kitchen remodel, it's just as important to carefully weigh countertop materials. You see, the type of countertop you choose will make a huge difference when it comes to maintenance, durability, and visual appeal.
If you're currently trying to decide between quartz and soapstone kitchen countertops, these insights may help you make your decision, once and for all.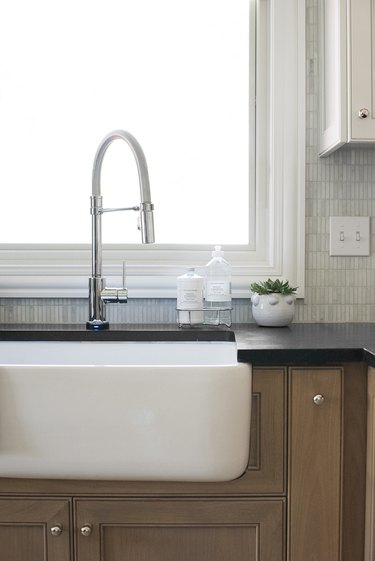 You might think that soapstone is an engineered stone, but it's not. Actually, the countertop material is made of a metamorphic rock comprised of talc and other minerals — and it happens to feel a lot like soap, hence the name. Unlike quartz with its wide variety of colors, soapstone hues tend to stick to shades of dark gray, blue, green, or brown, with some variegated veining as well.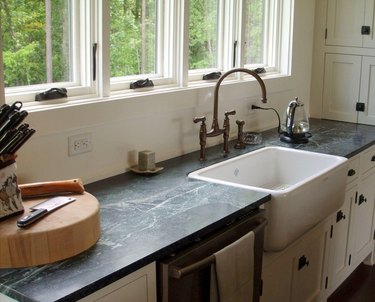 Soapstone is typically a very low-maintenance option for kitchen countertops. All you really need to do to take care of it is rub your countertops with mineral oil occasionally to draw out the stone's eye-catching marbling. Since it's often used in masonry projects and in forensic and science labs, it's super resistant to chemicals and whatever else might be spilled on it — that means you won't have to seal it.
But you should know that like any stone countertops, soapstone is prone to scratches, especially since it's on the softer side. The good news is that you can buff those out with the help of fine grit sandpaper and mineral oil. However, this process is oftentimes left to the professionals, increasing the cost.
Another pro of soapstone is that it's quite stain resistant. Homeowners love it for its ability to eschew acidic spills like tomato juice, wine, and vinegar, and since it's also heat resistant, you can even place hot pans on it without worry.
Finally, one big con of soapstone is that it's one of the most expensive countertop materials around, something that should be considered if you have a budget in mind.
Unlike granite countertops that are 100% natural stone, a quartz countertop is a bit of a mix. It's made up of 90% quartz, a natural mineral, and 10% resins, pigments, and polymers. These materials lend to the patina of the countertop and suspend the quartz chips, creating a one-of-a-kind look.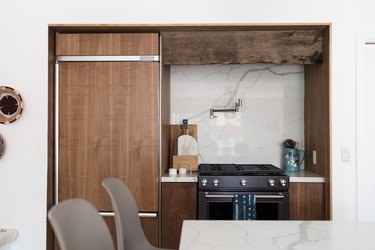 One thing that people really enjoy about quartz countertops is that there are tons of colors to choose from. Since they're manufactured, you can pick from brown, gray, red, green, white, cream, and even navy.
Quartz is also very durable. In fact, many say that it's even more durable than concrete or granite, since it's a man-made stone that doesn't permit as many cracks and chips. It also resists stains better than granite. And although it's known for being resistant to heat, if your pots and pans are extremely hot, you can still damage your countertop. But generally, you can count on your quartz countertops to be fairly low maintenance. They'll benefit from a simple mild dish soap and soft rag when you need to tidy up.
On the downside, they can be one of the most expensive kitchen countertop materials available today. This can be a con if you're being careful with your budget. And, if you're going for a rustic or vintage theme in your kitchen, quartz countertops can look fairly contemporary because of their man-made nature.
Cost: Soapstone vs. Quartz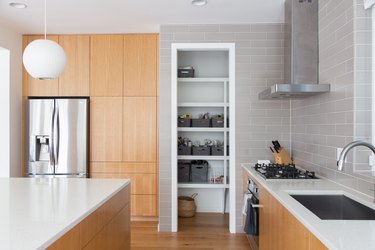 Soapstone is one of the most costly kitchen countertop materials out there. According to HomeAdvisor, soapstone countertops can range from $2,700 to $4,200 and slabs come in at $50 to $100 per square foot. The website reports that countertop materials usually cost $2,200 on average.
Quartz countertops are considered to be pricey as well, but could run you less than soapstone, coming in at $1,000 to $5,000 per HomeAdvisor.
Although it's almost always advised to hire a professional when replacing your kitchen countertops, soapstone is one that you could technically DIY. Since it's so soft, you can cut the slabs yourself with a saw, as well as create a hole for a drop-in sink. If your heart is set on soapstone but it doesn't exactly fit your budget, you can always save on installation costs by doing it yourself.
As for quartz, you can choose your own slabs and hue, but this material would be a bit more challenging to install yourself since it's not as soft as soapstone. So this material is one that's best left to the pros.
Which one is right for you?
At the end of the day, whether you go with quartz or soapstone for your countertops depends upon your personal preferences, commitment to maintenance, and budget.
But it must be said that soapstone really is an excellent kitchen countertop material. As mentioned, it doesn't require all that much maintenance and it's very resistant to stains.
Quartz has its good points as well. It's highly resistant to scratches, if that's something you're often concerned about, and it tends to be less expensive than soapstone.
It's best to weigh all of the pros and cons, your personal style, and needs before making your final decision. Pro tip: It might also help to get a large sample of each and live with them in your kitchen to get a better idea of the materials, and how they would look in your space.