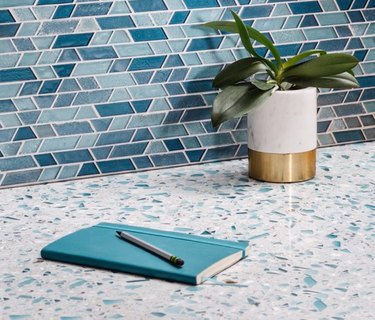 It's a smart choice for tons of reasons, though. The material is just as hard as granite but more flexible and less prone to chipping or cracking. Plus, it's non-porous, so you never have to seal it. Quartz is also considered environmentally friendly as 90% of its materials are waste by-products. Moreover, it can last ages.
So, now that you've settled on the engineered stone for its durability and sustainability, let's look at some quartz countertop color inspiration to put your design dreams in motion.
Here are eight colored options we want for ourselves.
1. Gray All the Way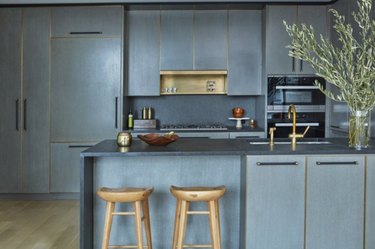 This kitchen from Jarret Yoshida plays with shades of gray. And the charcoal-colored quartz countertop looks stunning with a matte finish. In your own space, opt for a monochromatic palette and incorporate brass accents and wood counter stools to complete the look.
2. Speckled Sea Glass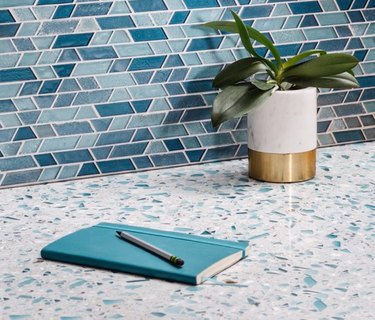 Go bright and cheery by choosing a quartz with a speckled pattern that highlights the tones of your backsplash. This blue quartz countertop from Vetrazzo proves mixing and matching patterns in your kitchen can be beautiful and fun.
3. Perfect Pink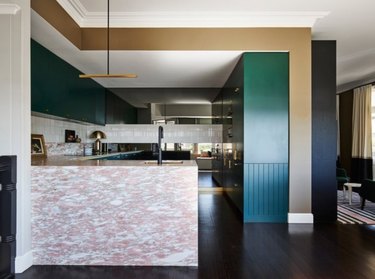 If you like to experiment with color and design, try adding a pink quartz waterfall countertop. This one from Lynne Bradley Interiors shows how well the bright hue can complement a variety of colors. Forest green, pink, and black can all work in one kitchen!
4. A Little Glam Gold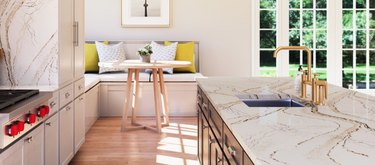 This may look like a marble island countertop, but it's actually a gold-veined quartz from Cambria. The result is just as elegant and warm but way more durable and affordable. Opt for this alternative when you want a timeless material that still feels welcoming. And feel free to splurge on a brass kitchen faucet since you saved on the counter.
5. Crisp White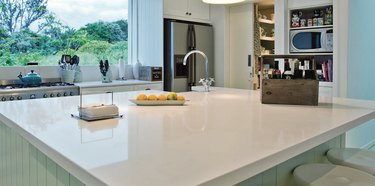 Quartz can be patterned or marbled. And it can come in a variety of shades. There's nothing wrong with a high gloss solid white quartz countertop color, though. It can look so sleek in a modern kitchen. Just keep your counter decor minimal, and your cooking space will always look fresh.
6. Dusty Rose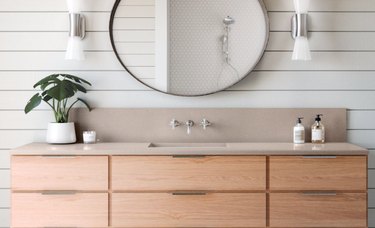 In a minimalist bathroom, this rose-toned beige quartz from Cambria will be the perfect partner to light wood cabinetry and white shiplap walls. If you add it to your space, get ready to relax.
7. Nautical Navy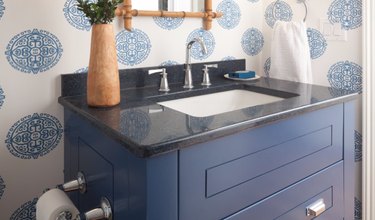 Navy blue is always a classic shade, and it looks even more striking on a quartz bathroom counter. Go tone-on-tone with blue cabinets and patterned blue wallpaper. It won't matter if you have a small vanity or a large one, either.
8. Black, White, and Gray