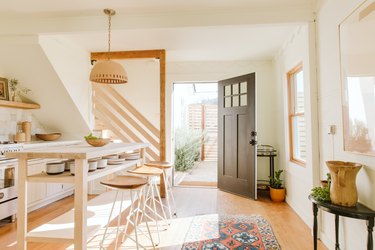 Here are eight ways to add kitchen island decor that's useful and fun to look at.
1. Add a bit of green.
Even if you prefer to have a mostly white cooking space, you can still have fun with your kitchen island decor. Take this space from Studio McGee. A medium-sized indoor plant graces the partially marble island, and a few green veggies complete the look. You can copy this minimal kitchen style and add statement pendant lights for more interest.
2. Go for a cohesive color palette.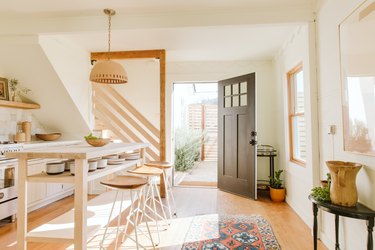 Tiny kitchen islands can still be stylishly decorated. You just have to be intentional about which items get a place. First, try finding an island with open storage. Then display your prettiest ceramics on the open shelf. To keep things from feeling cluttered, though, opt for bowls and plates in a cohesive color palette. We especially like white and cream tones.
3. Curate a collection.
A temporary or DIY kitchen island can be jazzed up, too. Display a collection of pretty ceramics, experimenting with color and shape. Just be sure to give each item its own space to avoid a clunky look. This eclectic island look would be stunning in a simple white kitchen.
4. Have one statement vase.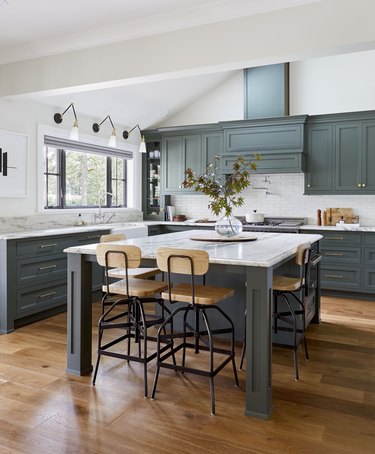 Sometimes you only need one thing to complete the look. A simple foliage clipping in a clear vase, for example, is so subtle. But it lets the other kitchen statement moments (green cabinets and gorgeous wood bar stools, we're talking about you) shine. Plus, the refined kitchen island decor gets rid of dead space.
5. Group small items together.
If you have multiple small items to display but don't know if they go together or where they should sit, group them together. Corral things like candles, bowls, and lotions on a tray to make them look intentional. Play around with color, shapes, and heights to create a subtle, yet stylish centerpiece on a white or wood island.
6. Just add nature.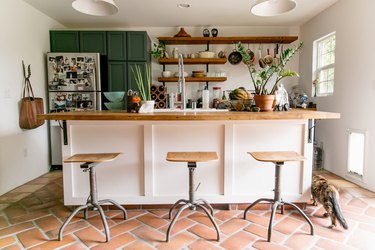 Indoor plants can thrive in the kitchen, so why not add a few to the top of your farmhouse island. Doing so will introduce color and fragrance into your cooking zone. You can even create your own mini herb garden with bunches of basil, rosemary, or cilantro.
7. Make zones.
If you have a large, uniquely-shaped island like this one, create little decor vignettes or zones in multiple places. This way you won't overwhelm the counter space, but each area will still feel special. Accent the entire setup with a modern ceiling light.
8. Establish a theme.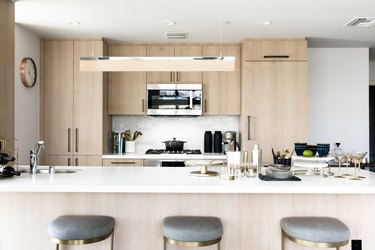 It's okay to display your kitchenware as long as it has a theme and a cohesive color palette. In this kitchen, bar accessories, glassware, and utensils stay on the island. But they all complement one another and the chic wood cabinets.
---
Natasha Bazika is a globetrotting, freelance journalist specializing in all things lifestyle, and calls New York her second home; her first will always be Sydney. She has contributed to various publications including Robb Report and Haute Living covering dining, lifestyle and design. She brings her stories further to life with her photography and when she's not on the go she enjoys a good book and editing her photos.