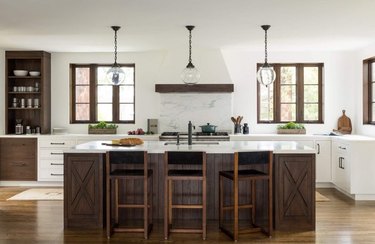 There's no denying the power of a true white kitchen. Light, bright, clean — it's just about everything you want your cook space to be. And yet, in a kitchen flooded with white, we can't help but occasionally feel the urge for just a little more depth or character, without losing the crisp, classic design of white painted kitchen cabinets. Just when we thought we were too hard to please, we stumbled across the perfect solution: A classic white kitchen paired with a wood island.
A wood kitchen island trend has plenty of variations to suit your needs, and adds just the right amount of contrast to take your kitchen from pretty to one-of-a kind. Ahead, we're sharing nine of our favorite kitchen island ideas to inspire your own space.
1. Pair with galvanized steel details.
2. Make it modern.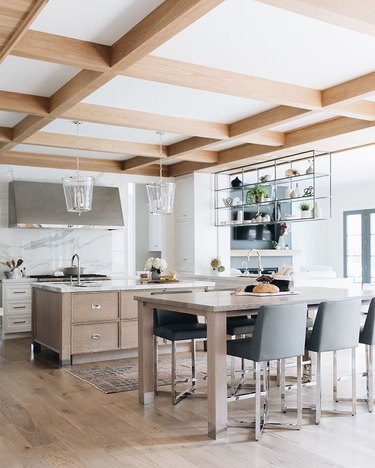 Designer Amy Storm skillfully created this space with wood accents, which include cool, gray undertones, allowing the wood island to tie in seamlessly with the bold gray veining of the white marble countertops. To recreate this look, use chrome hardware for a touch of modern luxury.
3. Use reclaimed wood.
Even though this kitchen was been custom-built for Lauren Liess, the reclaimed wood island makes it feel as though it's been there forever. A sleek white countertop against the darker, aged wood keeps it feeling timeless and cohesive with the rest of the light kitchen.
4. Combine modern lines with rustic materials.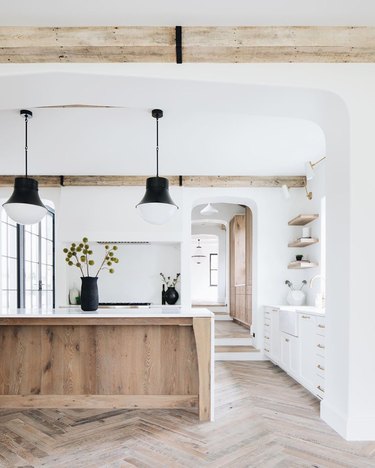 This kitchen by Grand Tradition Home is modern rustic style done right, thanks to clean lines and modern hardware juxtaposed with rustic, aged, wood. Bringing in plenty of black accents through accessories and lighting instantly elevates the entire space and keeps it feeling current and fresh.
5. Opt for freestanding furniture over a built-in.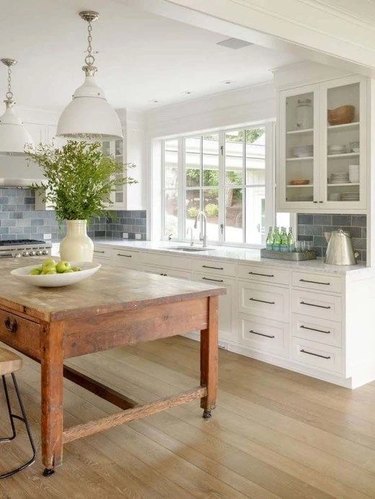 Perfect for those on a budget, this white kitchen with wood island by Molcao Design Co. proves that simple is best. Rather than a custom-built island, opt for a rustic, freestanding table that immediately transforms a basic white kitchen to a cozy, comfortable sanctuary.
6. Keep the countertops the same.
If you're switching between white and wood cabinets in your kitchen, a great rule of thumb to ensure that you maintain a cohesive design is to keep all countertop materials the same. Here, the team at Studio McGee uses a light gray countertop to marry this contemporary wood island to classic white cabinetry.
7. Add contrast with espresso.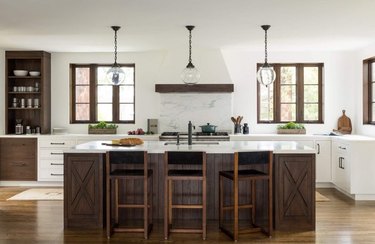 Go big or go home! We love that the team at Jute Home went all out with this rich, espresso wood island in a predominantly white kitchen. Pro tip: Tie in the darker wood to the rest of the space with window trim or accent shelving for a seamless feel.
8. Inject character with an antique.
We appreciate modern kitchens as much as the next design junkie, but this antique wood island is proof that "old" can truly feel new again. An elegant, character-filled kitchen island in this space designed by Heidi Lachapelle Interiors ties in perfectly with classic cabinetry and subway tile. Using timeless materials allows the island to be the star of the show while still fitting into the rest of the space with ease.
9. Tie it together with brass hardware.
Kate Marker ties this jaw-dropping wood island into an all-white kitchen by injecting brass details throughout the room — a genius move, if you ask us. To recreate this look, be sure to include a few classic details: Lantern pendants and a vintage runner make the space feel timeless.