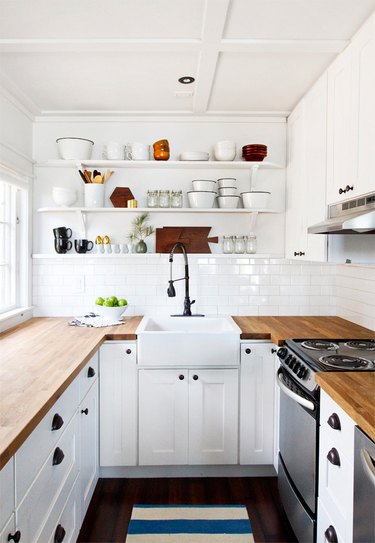 It's no secret that we here at Hunker HQ are big fans of white kitchen designs. They're fresh, timeless, and serve as the perfect backdrop for a variety of design styles — what's not to love? However, although designing an all-white kitchen may seem straightforward, pairing neutral tones with natural textures and materials in a way that creates an aesthetically pleasing space is a subtle art that interior designers work for years to perfect.
So to find out exactly how to nail the look, we tapped interior design extraordinaire Sarah Sherman Samuel, who has more than a few all-white kitchen designs under her belt, to break down how to curate a unique space that's neutral yet infused with plenty of personality. Whether you're of the camp that all-white kitchens look alike or of the mindset that they'll never go out of style (like us), read on for Samuel's tips and tricks for getting the look.
1. Let Light In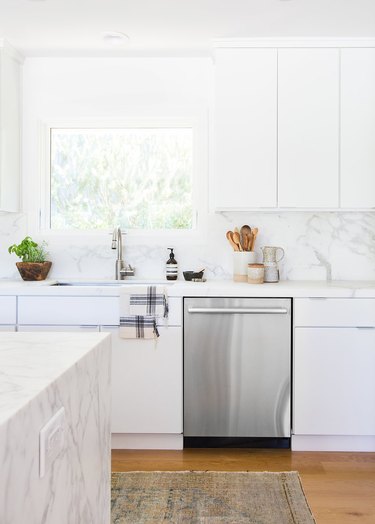 "There are so many reasons an all-white kitchen can be an ideal choice," Samuel tells Hunker. For one, "a white kitchen gives you the most amount of light, and I love a bright kitchen," the designer divulges. "It can also be classic and modern at the same time and serves as a perfect blank canvas for colorful meals, and/or decor and accessories," she notes.
This light-filled white kitchen design by Amber Lewis features flat-front cabinetry and slim nickel pulls for a sleek, modern look. Calacatta marble countertops that transition seamlessly into the backsplash, along with a waterfall island, add glamour while wood accessories and a vintage rug bring a bohemian vibe to the space.
2. Embrace Natural Textures and Materials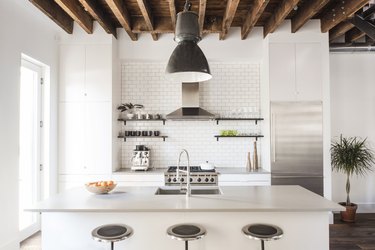 "The best part of having an all-white kitchen as a foundation to build on is that the possibilities for furniture are endless. It is a true blank canvas," notes Samuel. Rather than incorporating color into the space, the designer advocates for embracing natural textures and materials instead. "Keep it neutral, allowing the subtleties in surface variations to be highlighted, which is important with an all-white kitchen."
3. Add Warmth Through Wood Tones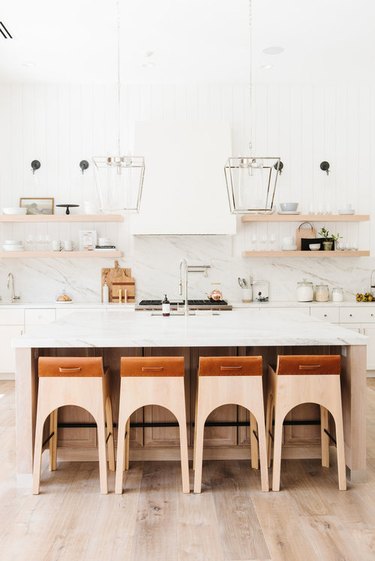 "Wood tones are a must to bring in some warmth," Samuel says. Like wide plank floors, wood and leather stools, and open wood shelves infuse warmth in this bright white kitchen design. Shea of Studio McGee applied tongue-and-groove wall paneling above the marble backsplash for added texture and oil rubbed bronze sconces for contrast. A pair of traditional pendants add overhead light without visual clutter.
4. Mix and Match Shades of White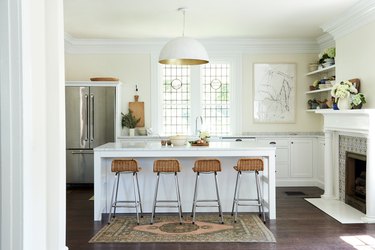 According to Samuel, the biggest mistake people make when creating a white kitchen design is trying to match everything to the exact shade of white. "It's better to mix in varied shades of white to add depth and interest," she advises. Take style notes from this kitchen designed by Leanne Ford in which ivory walls are juxtaposed with bright-white molding and cabinetry for a warm cook space with added dimension. Vintage wicker bar stools and an antique area rug add plenty of charm.
5. Make It Your Own With a Pattern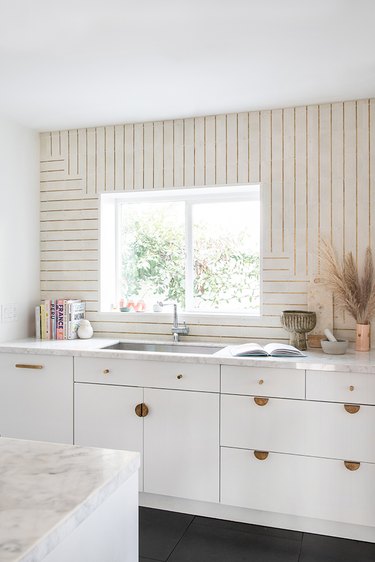 To make an all-white space your own, "look for opportunities to add pattern," says Samuel. "I love using Semihandmade doors that pair with IKEA cabinets." In a recently updated client's kitchen, the designer paired hardware from her Park Studio collaboration with vertically paneled doors and drawers from her Semihandmade line. "Also, look to interesting tile layouts for the backsplash as a great spot to reflect your own style," the designer offers. In this white kitchen design, cement tiles with a brass inlay are oriented in an unexpected pattern to create a backsplash that infuses plenty of personality and glamour.
6. Incorporate Wood Accents or Warm Metallics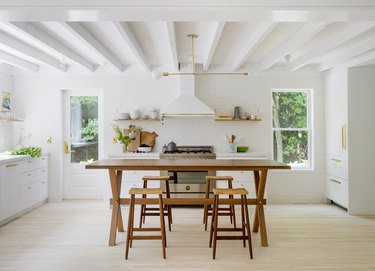 Every white kitchen design should include "wood accents or warm metallics," Samuel says. Take for example this kitchen, which has plenty of both. Designer Jessica Helgerson infused warmth through soft wood tones and brass hardware to complement floor-to-ceiling subway tile and whitewashed wood beams. Open shelves styled with white ceramics and counters accessorized with cutting boards personalize this beauty.
7. Create a "Wow" Moment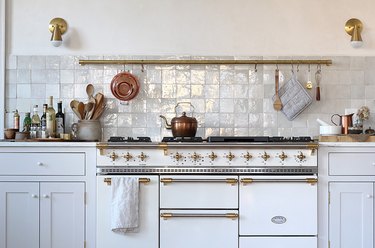 "Search out unexpected cabinet hardware or make a statement with a custom range hood," suggests Samuel. "Basically find a way to create a 'wow moment' to set the kitchen apart," she adds. Case in point: This elegant yet accessible kitchen by Jersey Ice Cream Co. anchored by a statement-making Lacanche stove. Zellige tile backsplash reflects light, adding texture and slight color variation for interest. Brass accents amp up the glam factor but are tempered by shaker-style cabinetry with blended knobs.
8. Opt for Varying Finishes to Keep Things Interesting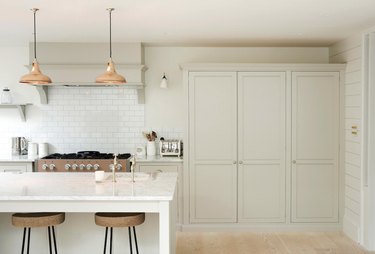 "Matte finishes, wood accents, and mixing patterns will make a white kitchen anything but boring," Samuel notes. Here, DeVOL Kitchens exercises a restrained combination of materials with varying textures — marble, subway tile, shiplap — and utilizes a muted shade of matte paint to create a modern kitchen infused with old-world charm. Copper pendant lights and wood stools do double duty, adding both a hit of modernism and warmth.