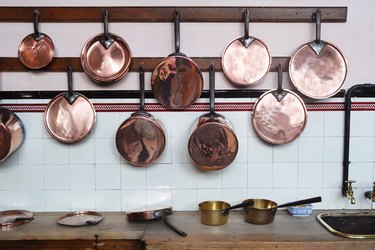 Copper is a trending kitchen aesthetic and for good reason. It functions well in classic, rustic and modern designs all while providing superior durability and excellent cooking capabilities. Many décor items feature copper, but it can be difficult to find appliances treated in the finish. Here are nine copper appliances you'll want to include in your kitchen.
Copper Cuisinart Coffee Maker
Available at Home Depot, this copper Cuisinart 14-cup coffee maker offers an exciting way to start the day. It features charcoal filters to remove any impurities from your morning brew, and it has 4.5 stars from close to 3,000 reviewers.
Copper 10-Cup Drip Coffee Maker
Want something more steampunk or modern to brew your coffee? This 10-cup drip coffee maker from KBG makes a serious statement sitting on your countertop. Its copper coil heating element heats coffee to the perfect temperature, and it turns off automatically after 100 minutes for the sake of safety. The entire brewing process is completed within a speedy six minutes.
Copper Ovente Electric Kettle
Perhaps you prefer making pour-over coffee or are a tea or hot chocolate fan. This stunning copper electric kettle has boil-dry protection and auto-shutoff to protect the appliance in case you walk away. The exterior of the kettle has a modern triangular texture that makes it a conversation piece on your stovetop.
Copper Blendtec 90-Ounce Blender
If you love smoothies, mixed drinks or milkshakes, you'll appreciate a high-quality copper blender sitting on your counter. This one 90-ounce blender from Blendtec has eight speeds and powerful ice-crushing capabilities. With this small appliance, you can blend in style.
Copper GoWise USA Pressure Cooker
Good Housekeeping explains that pressure cookers work by raising the boiling point of water and cooking your food in less than 70 percent of the time required by traditional food preparation methods. This one, from GoWise USA, easily accommodates 12.5 quarts and offers 12 preset functions to give you a wide range of cooking capabilities. It has a stainless-steel interior and a nonstick coating for easy cleanup.
Copper Three-Part Slow Cooker
Perfect for entertaining, this MegaChef three-part slow cooker is dressed in a visually appealing copper exterior. It has a 2-quart capacity and is also an excellent choice for preparing healthy, effortless, multi-part meals at home.
This copper Dualit toaster is a retro throwback that modern chefs will love. Able to accommodate two slices of bread at a time, this toaster also boasts a crumb tray for easy cleanup. Electrical Safety First explains that frequently cleaning out the crumb tray on your toaster is an important fire-prevention strategy.
Copper KitchenAid Stand Mixer
There's nothing quite like a classic KitchenAid stand mixer to elevate your cooking and baking projects. With an imposing stance on your countertop, the KitchenAid mixer lets guests know that you mean business in the kitchen. This copper KitchenAid mixer looks beautiful amid other copper appliances or on its own.
Why stop at small appliances in your copper-infused kitchen? This ZLINE 36-inch copper range hood makes quite a statement in the kitchen. It boasts a 1200-CFM high-powered motor to keep the air circulating while you cook or bake. Best of all, its easy-to-use push-button controls are straightforward and don't require much effort to get used to.