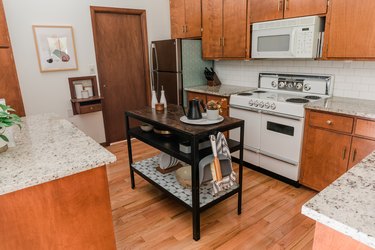 The kitchen island is emerging as the focal point in the heart of the home these days, so this feature couldn't be a more satisfying project for DIYers to take on because of its popularity and endless potential for creativity.
Between the color, materials, and storage possibilities, a DIY kitchen island can save you money in the long run and transform your everyday life. Imagine what you could do with the extra counter space and storage.
Of course, any hardcore DIYer knows the real reward: that "I made that" pat on the back — especially when visitors ooh and aah as they congregate around your work. Here are eight design approaches to add to your DIY kitchen island ideas list that will illicit such animated responses.
1) Use a live-edge wood slab as a countertop.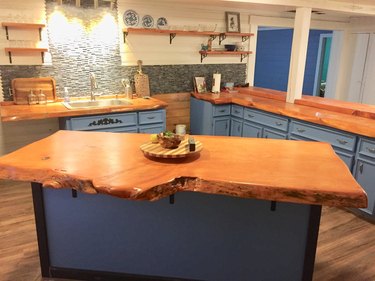 An otherwise drab or inexpensive cabinet or table can become a showstopper with a live-edge slab, like this design by MaineCreativeWorks. You can select some stylish wood slabs from Makarios Decor in a range of wood styles and sizes, or you can seal and finish a slab from a local lumber yard yourself for serious savings. Either way, you would have a one-of-a-kind piece.
2) Turn a small bookshelf into a slim kitchen island.
3) Make a workbench into your wow workstation.
4) Bring your old dresser, buffet, or desk into the kitchen.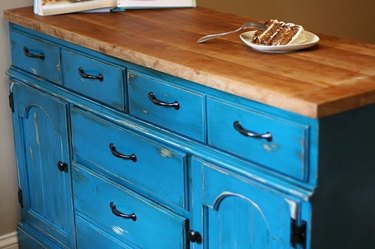 If you haven't seen this design trend yet, then welcome to an affordable and unique answer to your kitchen storage needs. This blue DIY kitchen island by Derek and Angel of Sweet November was a cheap Craiglist find, and we applaud how they then applied their own eye-catching distressed look.
5) Create a corner island with recycled wood pallets.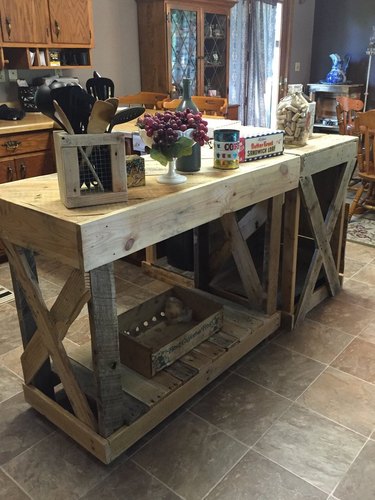 6) Use pipes as your frame for industrial appeal.
This tiered bar cart by MaverickIndustrial is giving us Flea Market Flip vibes with all its smart features: casters, towel bars, movable hooks, and a wine glass rack. Follow the lead by taking some reclaimed wood and using black pipe and fittings for an island with a little steampunk flair.
7) Assemble crates in a unique fashion.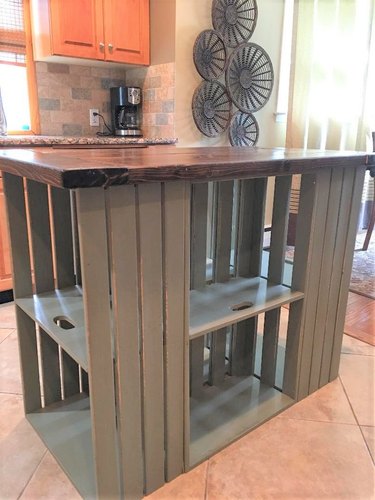 Just as with wood pallets, crates are inexpensive and often free if you're lucky. While this kitchen island by Erick Perez on Custom Made screams farmhouse, yours need not if that's not your style. Other possibilities would be painting the crates a darker color and using a cement or steel countertop for a more modern look.
8) Elevate your island with corbels and paintable beadboard.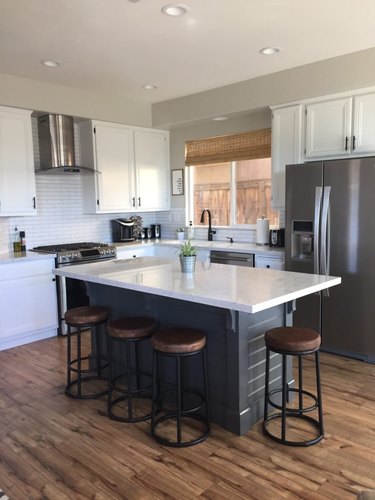 For the DIYer who wants to produce something really chic versus outwardly clever, this DIY kitchen island by Kelly of Domestic Blonde has #goals written all over it. The base is a no-frills, inexpensive kitchen cabinet combined with a similarly simple custom piece. By adding the beadboard and corbels and painting the whole island a nice charcoal to contrast the white quartz countertop, she created a stunning island we covet.