The kitchen is often considered the heart of many homes but the countertops are often forgotten when it comes to styling. Countertops can be a challenging area to work with, particularly if you're limited on space. Between appliances, cords, and general cooking clutter, keeping them clean (let alone cute) can be a battle. For smaller space dwellers putting bulky electrical appliances into cupboards isn't always an option, but there are ways to organize your kitchen essentials that will add style without wasting precious counter space.
The key is to work with functional, but stylish, items to create beautiful collections of vignettes in your kitchen. The good news? We're sharing eight ideas that will help you to style your countertops like a pro — and you'll probably have most of these items in your home already.
Herbs and Plants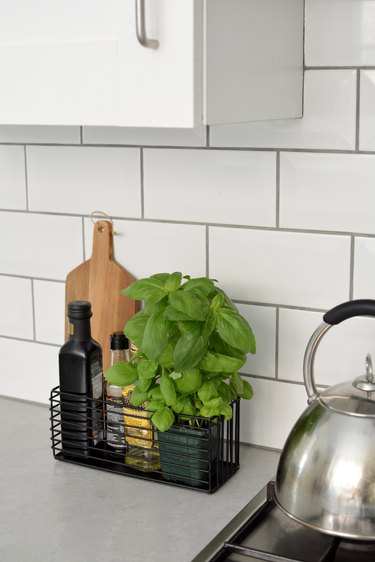 Herbs aren't just useful for cooking, they'll also add much-needed texture, aroma, and color to your kitchen. Plants are another countertop hero: If you have to keep your everyday appliances on display, place a potted plant next to them to disguise all the cords and cables that you can't tuck discretely out of sight.
Trays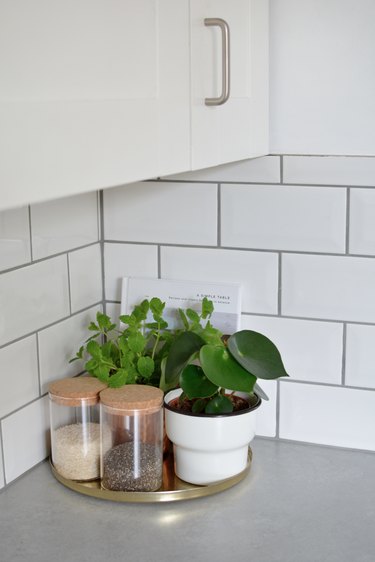 Trays are one of our favorite items for styling countertops. Smaller items like salt shakers and condiments have a way of making counters look cluttered but by grouping them together on a tray, you'll create a less busy and more intentional counter display. Consider rustic wooden trays for country-style kitchens and chic metal trays to suit more modern kitchen styles.
Chopping Boards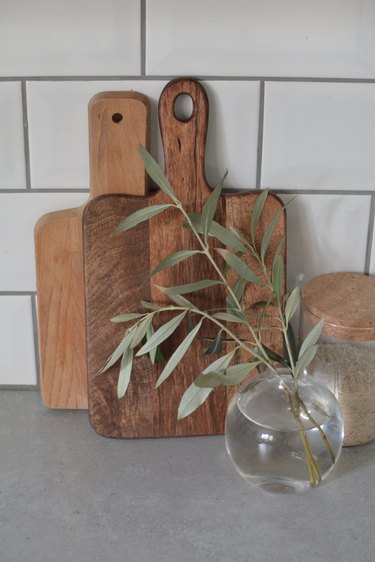 Wooden chopping boards add texture and bring another natural element to a kitchen, plus having them close on hand makes easy work of meal prep and they look great stacked up or leaning against a tile backsplash.
Storage Jars or Canisters
Chic canisters are a must-have for displaying dried goods. Glass containers or mason jars are ideal for countertops and open shelving, but ceramic options look great in traditional kitchens, too. Consider simple color choices to avoid making counters look busy with too many styles or patterns. (Handwritten labels are a great way to personalize glass jars while keeping your most used ingredients tidy and within easy reach.)
Cookbooks
Cookbooks are a kitchen staple and they can be a stylish accent to your counters. By thoughtfully arranging them in stacks or curating a selection of favorites, you can create a collection of recipes that will often become a talking point with friends.
Baskets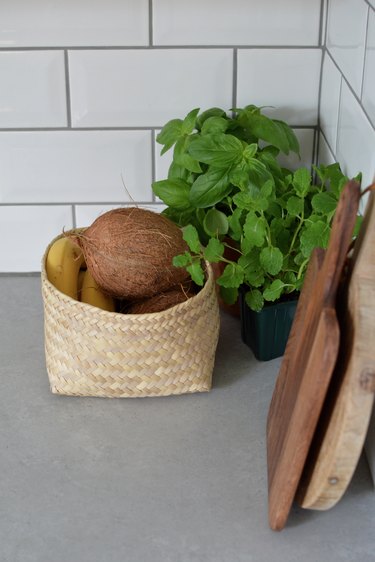 Like trays, baskets are a go-to for kitchen styling. Fill them with an abundance of fresh fruit, vegetables, or bread to create a welcoming arrangement.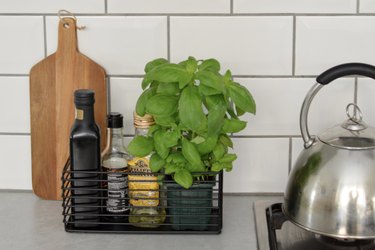 If you have a lot of condiment clutter, wire baskets are perfect for gathering jars and bottles in one location to save you from hunting through kitchen cupboards. Keep your cooking oils and seasoning items in a basket close to the stove for extra organizing points. Other items that work well styled in baskets are folded or rolled linens, kitchen towels, sponges, and hand soaps.
Vases and Holders
Vases and utensil holders serve double duty for displaying flowers and practical items like utensils and cutlery. Not only do they look more organized, but they also save us from having to rummage to locate tools in the middle of cooking dinner.
Shelving and Wall Organizers
If your kitchen is at capacity, consider adding in some shelving or a simple wall organizer like this IKEA rail. By adding a few hooks or baskets you can free up your countertops and help make them look less congested and more effortless.
As you can see, all you really need are a few kitchen items to help style your countertops. As a finishing touch, add a candle or two for ambiance — we recommend a candle with citrus notes because they are particularly good for combating cooking smells.