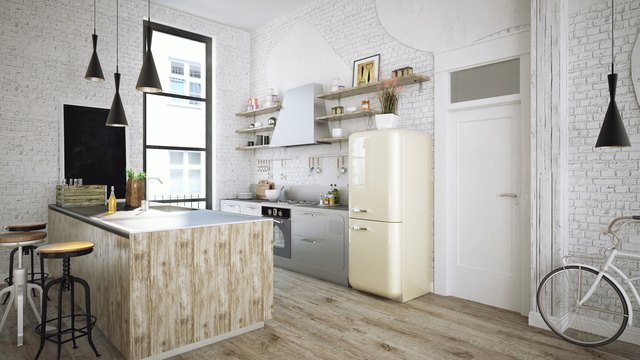 credit:
Jovy86/iStock/GettyImages
"A place for everything and everything in its place," is the north star of organizing. A telltale sign we're "off-course" is when the house is clean but it still looks a mess. And no place in your house has this problem more often than the kitchen, which is home to hundreds of small items, many of them used frequently, calling to be put away. By its very nature, kitchen clutter is a reality. Here are some tips for making sure your kitchen shelves are used to maximum effectiveness.
Review Your Kitchen Layout
Simple layout issues can create problems with organization right from the start. The NKBA (National Kitchen and Bath Association) describes the kitchen work triangle—the space between the sink, the refrigerator, and the cooktop—that when efficiently designed and organized becomes the ultimate space for food preparation and clean-up. To the degree that it's possible, arranging the kitchen triangle efficiently will also assist you in keeping your kitchen shelves and cabinets organized in the most efficient manner.
Of course, not all kitchens are designed with the work triangle in mind. If your kitchen lacks a countertop next to the refrigerator, perhaps a cart or small cabinet is an option? As per the NKBA, a 15-inch landing area on the handle side of the refrigerator or on either side of a side-by-side refrigerator improves a kitchen's function, and best of all, the extra cart or cabinet provides additional storage. Microwaves and ovens are among the other appliances that benefit from a landing area.
Too Many Cooks in the Kitchen
Does it feel like someone is always underfoot in your kitchen? According to the NKBA, no major traffic patterns should cross through the work triangle. Are family members crossing into the work triangle for something stored in a less than ideal location? When organizing kitchen shelves, review your storage solutions to see if they affect the traffic flow.
Tips
Have any wee ones crawling about? Instead of childproofing every cabinet with locks or child-proof latches, consider moving some of your pots and pans, plastic storage containers, or even toys down onto lower cabinets and shelves, and move chemicals and breakables up out of reach. Accommodating children in the kitchen fosters more family time and integrates them into day-to-day home life.
Who doesn't love gathering around a kitchen island? An island adds valuable storage space and is great for entertaining. A portable island has additional advantages, as it can be moved to accommodate different functions. Fill it with appetizers or set chairs around it to add seating. FYI, the NKBA recommends that a kitchen island not hang more than 12 inches into the work triangle.
For a modern vibe, consider a row of open shelves. At a fraction of the cost of floor-to-ceiling cabinets, shelves are an economical option. Open-concept storage doesn't have to be boring. Bare grates can be covered with stained wood to match your room. A collection of antique shelves with old serving trays might be an attractive option that allows you to stack glassware and dishes out in the open.
While placement of kitchen items is paramount, sometimes the shelf space just isn't there. Does your kitchen have hollow wall spaces, bench seating, or nearby stairways that aren't being used? Consider building drawers, cabinets, or shelves in wasted spaces to create accessible storage you might not have thought about. With fewer items demanding shelf space, it becomes much easier to organize those shelves.
Whether you need a place to store paper towels, spices, cutting boards, or dishcloths, accessories such as racks, hooks, or stackable specialty shelves allow you to place the items you need, where you need them. For instance, spice racks come stackable to save on cupboard space, magnetized to adhere to metal backsplashes or can be hung inside cabinet doors or on walls. Cabinet companies even have options that incorporate pull-out spice racks that fit next to appliances or under upper cabinets.
Whatever the need in your kitchen, look at smart storage accessories that maximize space or can be tucked away under sinks, on walls, and in cabinets, making your kitchen triangle more organized and efficient.
If storage is the problem, shelves are the solution. Hallways may be too narrow for cabinets but sometimes they can be just right for shelves—provided you have enough space. According to the NKBA, walkways should be at least 36 inches wide. If yours our wider than this, shelves along one wall might be an option. If you're worried that it will feel too closed-in, run shelving along the bottom half of the walkway.
Make Efficient Use of Drawers
You might benefit by objectively look around your kitchen. What stands out as unsightly that might better serve you tucked away in a drawer? Knives and cutlery? Small kitchen appliances? Bills? Ask your more creative family members for their suggestions.
Deep cabinet drawers allow access to items stored away in a kitchen without the need for bending down into hard-to-reach spaces. Reserving the upper half of the room for open shelves clears the sightlines of your kitchen and keeps you from feeling boxed in. Display pretty dishes on shelves and tuck toasters and blenders away in the drawers.
Yes, electrical outlets in drawers are a thing. They allow you to charge phones and laptops out of sight, without ugly cords taking up valuable wall outlets. Wall caddies and phone charging stations are also a thing. Neatly stack all your technology in one location while they charge.
When random items need to be stored, baskets pull it all together and present a cohesive appearance. By investing in matching baskets that fit your kitchen's design style, you can quickly tuck bills and papers away and clean up cluttered sightlines. Today's baskets often come with their own custom cabinetry. But even on their own, baskets can be a design statement. Made of decorative cloth, paper, wicker, metal, or see-thru materials, baskets provide a tidy solution to the otherwise messy problem of too much stuff.
Tips
Plan ahead for recyclables and garbage. Is there a nearby cupboard that you can use? According to the NKBA, there should be two garbage bins in the kitchen. One near the food prep area and another one that includes recycling somewhere in the kitchen or pantry. Attractive recycling bins and cabinets are widely available.
Got a favorite hobby? Display it on the end of a string of kitchen cabinets or above upper cabinets. Whether it's wine, recipe books, or antique glass bottles, collections add interest to a kitchen and allow you to personalize your space. Lower kitchen island shelves present another perfect location for display storage. Explore online cabinet collections for ideas that might work in your home.
Tips
Remember, there's nothing that says you have to store kitchen items in the kitchen. Your space might be better served if you store less frequently used items such as roasting pans, crock pots, and canning equipment on a shelf in the garage or perhaps in the closet of a spare bedroom.