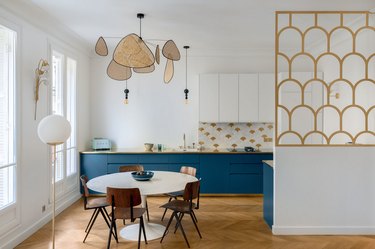 Even though art deco style was all the rage back in the Roaring '20s, the style has roared back once again, and this time, it's taking over kitchens. But there are some characteristics to consider when putting together your glam cook space. First of all, you'll want to aim for luxurious and opulent finishes and visuals — this isn't the time to get shy or suddenly switch to a minimalist design.
Need additional guidance? Scroll on for six art deco kitchen designs that show us how it's done.
1. Try an unexpected color palette.
Again, art deco isn't intended for the bashful; when going all out in your kitchen, we suggest a daring color palette that's guaranteed to turn heads. For instance, in this cook space crafted by Lynne Bradley Interiors, the pink and white island along with the saturated green cabinets pair perfectly amid deco details.
2. Eye-catching patterns are a must.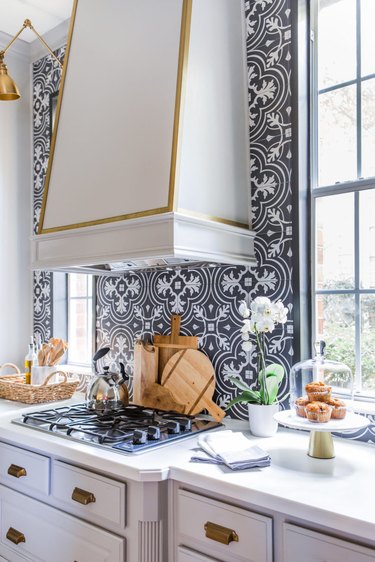 Curvy, floral-inspired designs are frequently seen in art deco kitchens. By using gorgeous, patterned tile, Cassie of Hi Sugarplum! added a visually-interesting element to her stove backsplash. And the culinary scene just wouldn't be complete without a grand range hood trimmed in brass and articulating brass sconces.
3. Go luxe with your material selections.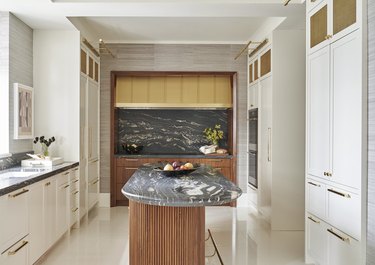 If your budget allows for it, we say make an art deco kitchen as lavish as possible. That means marble on the island and the backsplash. High-quality textured wallpaper. Custom cabinets and wood paneling. These accents are all accounted for in this deluxe space created by BK Interior Design.
4. Embrace a vintage feel.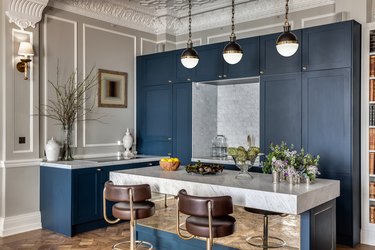 5. Include bold details.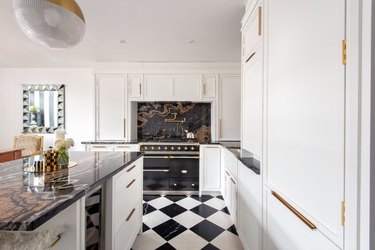 6. Play with shapes.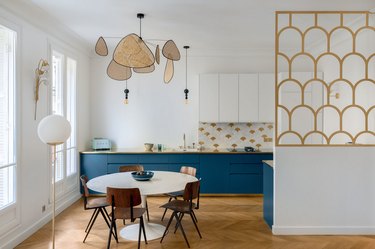 Art deco design has always gravitated toward geometric shapes, accents that you can easily capture in a culinary space. For instance, in this cool and modern art deco kitchen designed by Charlotte Fequet, a geometric rattan mobile, fish scale tile backsplash, and shapely dividing wall lend themselves to the aesthetic.