An island makes a stately focal point in any kitchen. But because it's an island, it will be visible on all sides — right in the middle of the most important room in the house. Yikes, that means you'll need to make your kitchen island look good from every angle — no unfinished backs, no unpainted sides, no pressure, right?
So what to do with the long, empty expanse otherwise known as the back of your kitchen island? How can you make it look polished and finished (even on a minimal budget)? Take a look at these eight clever kitchen island ideas. They all artfully disguise the back panel — so it's just as beautiful to look at as your glamorous waterfall countertop.
1. Add faux cabinet doors.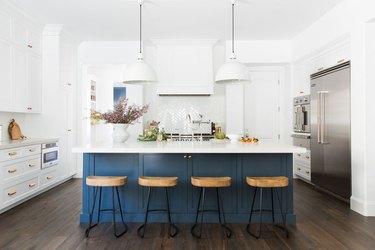 Bet you didn't know that, most of the time, those little cabinet doors on the backside of kitchen islands don't open. It's a commonly-used trick: Add a little molding and a couple of knobs to the back panel of your island, add paint, and suddenly the unused space looks a little more useful, similar to this setup by Shea from Studio McGee.
2. Or, keep it real.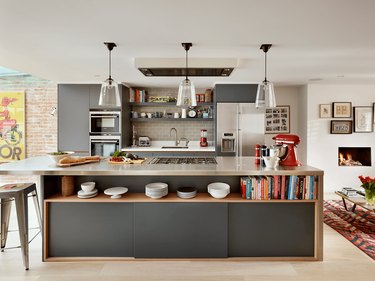 We love the way Roundhouse Design snuck in a little extra storage with this kitchen island back panel idea. Instead of covering the back with faux cabinet doors, they opted for sliding doors topped with a long open shelf to display ceramic dinnerware and go-to cookbooks. Now, instead of an empty space that acts as a backdrop to counter stools, and you've got a few feet of usable storage.
3. Match the flooring.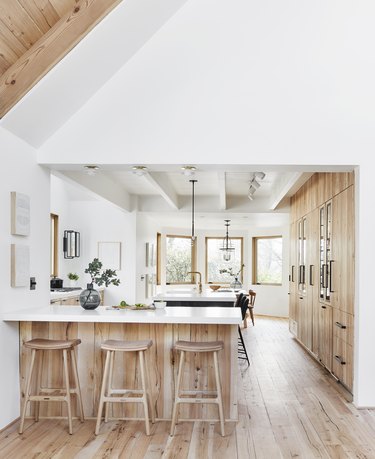 Here's a kitchen island back panel idea we love from Emily Henderson: Clad the back in wood paneling that matches your hardwood floors. It adds continuity, rather than breaking up your space with another material, which is particularly good for small kitchens.
4. Clad it with tile.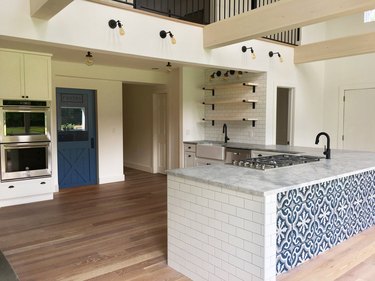 Who says you can't incorporate tile in your kitchen island idea? Find a wall tile (so it's not too heavy) in a pretty pattern or hue and install from the floor to the underside of the countertop. We like this blue option selected by Dichotomy Interiors, which pairs nicely with a little subway tile on the end.
5. Go dark ... very dark.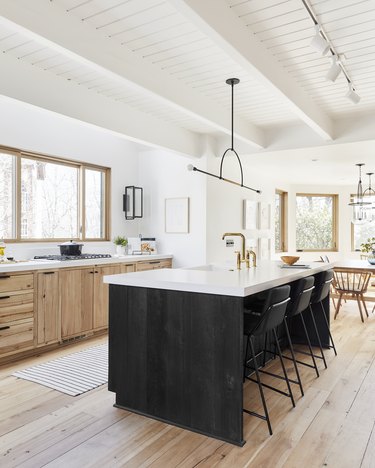 For a bit of drama, go black with your kitchen island back panel idea like Emily Henderson. You can get shou sugi ban boards, charred black according to the Japanese technique. Or, just add wide wood planks and paint them. It's particularly impactful in an otherwise light- and pale-wood kitchen.
6. Finish with plywood.
This kitchen island back panel idea is the easiest on our list: Simply cover the back with a sheet of inexpensive plywood. That's it! You're done. We like the slightly "finished but unfinished" look of this one by Daleet Spector, and it adds an interesting visual to the back panel without breaking the bank.
7. Affix shiplap.
8. Install simple flat panels.