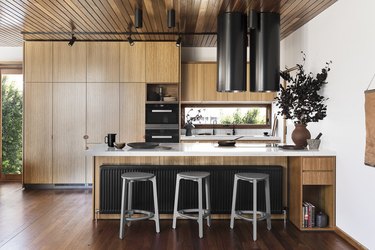 Minimalism is a lifestyle approach that has been gaining quite a bit of steam in recent years. With its devotees writing books, producing documentaries, and bringing this sensibility into their own homes, minimalist interiors are having a moment.
In today's jam-packed world (accompanied by crazy schedules and overflowing closets), minimalism is a way of thinking that applauds the "less is more" approach. When it comes to our homes, the design style urges us to donate unused items, keep things that are truly essential, and lovingly display a handful of cherished pieces of decor. Marie Kondo refers to these pieces as items that "spark joy."
Minimalism can be especially potent in a kitchen, where rarely-used items tend to pile up in dusty cupboards and fill every inch of counter space. Take a look around. If you're longing for a culinary space that feels easy and uncluttered, then it may be time to embrace a pared-down design. Here are eight minimalist kitchen ideas that are seriously inspiring us to live with less.
1. Incorporate storage in a seamless way.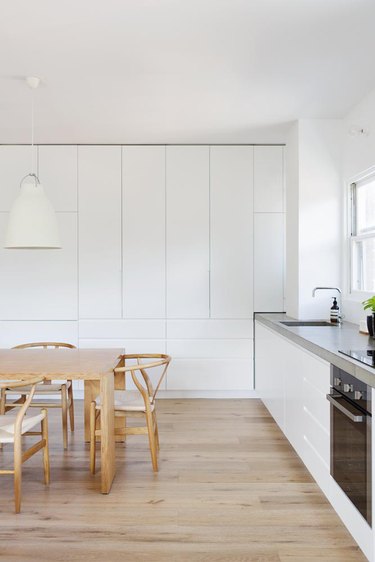 Instead of installing banks of cupboards (complete with decorative accents and colors), why not go with understated storage that fits right into your design? In this minimalist kitchen by Rachel Hudson Architecture a white, built-in cabinet design free of hardware quietly exists, foregoing any fussy details.
2. Choose a subtle backsplash.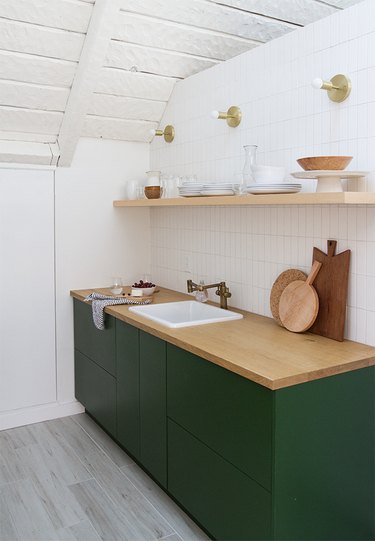 A backsplash in a minimalist kitchen should fly under the radar, using just a hint of detailing that can be caught by the eye. For instance, in this pared down space designed by Sarah Sherman Samuel, vertical subway tile makes a gentle visual impact thanks to neutral tones and an unassuming patterning, allowing the dark green cabinets to take center stage.
3. Install an integrated sink.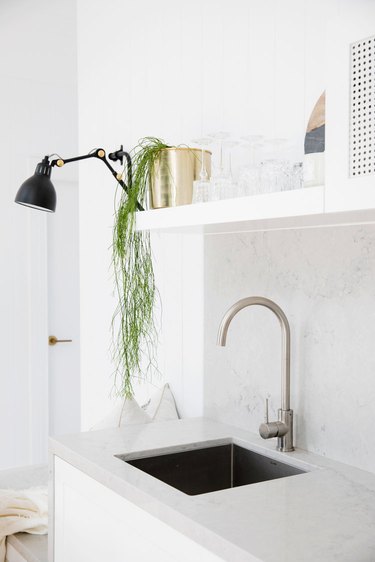 Undermount sinks and minimalist kitchens go hand in hand. Since they're installed below the countertop, there's no visible lip to interrupt or compete with the other details within the space. Bonnie, Lana, and Erin of Three Birds Renovations chose a sleek (and chic!) square stainless steel sink and paired it with a modern gooseneck faucet to complete the look.
4. Be picky with your decor.
Minimalists are extremely selective when it comes to their decor. For your minimalist kitchen, only display accents that serve the dual purpose of either being functional and/or having a special meaning to you as well as looking good. In this culinary space belonging to Molly of Almost Makes Perfect, the curated objects displayed on her open shelving and countertops are all practical, yet, they add style as well.
5. Simple lighting is better.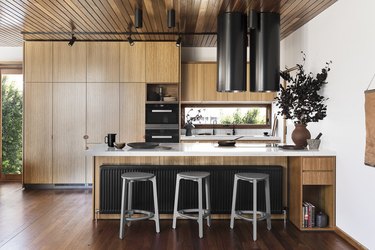 In a minimalist kitchen, simple lighting makes the most sense. Sure, we love intricate and artistic fixtures as much as the next person, but when you're looking to pare things down, unadorned lighting looks the best. Skip ornate details and fussy lampshades and instead, opt for a streamlined look, like the track lighting in this kitchen crafted by Cantilever Interiors.
6. Go for linear design details.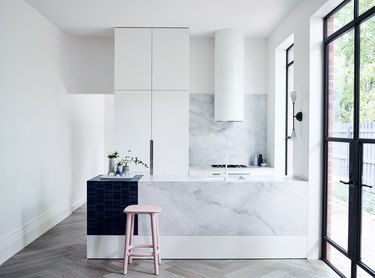 7. Weave in a neutral color palette.
In the land of minimalism, you won't find a lot of vibrant colors. Instead, the visuals are awash in shades of white, beige, green, and soft blue, not unlike the hues you would find outdoors. For your pared down cook space, keep things light with a neutral palette. We are particularly loving the scheme in this minimalist kitchen designed by Catherine of The Stables.
8. Only display the essentials.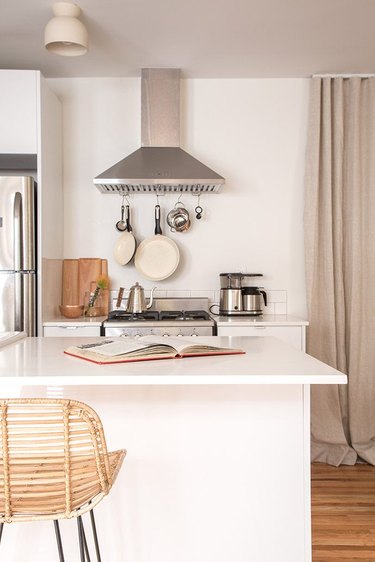 Think about the items you use the most in your kitchen and give those pieces the honor to be within arm's reach. Stash away (or give away) those things you haven't used in a while. Paige Geffen shows us how it's done in her neutral space, by having a carefully edited collection of pots, pans, and other culinary essentials on display at all times.
---
Shelby Deering is a lifestyle writer who contributes to national magazines and websites, including Country Living, Good Housekeeping, Well+Good, and more. When she's not writing, you'll find her shopping flea markets, hiking, and going for walks with her corgi.
View Work