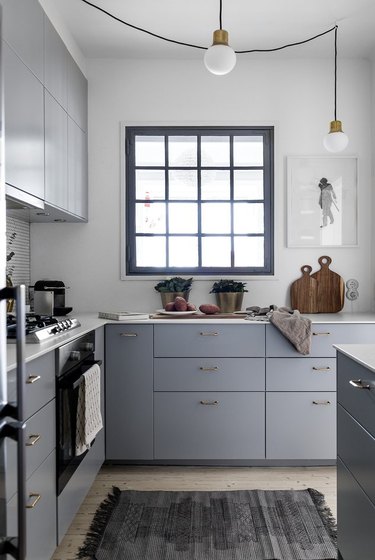 With great design comes great responsibility — especially when you have a small kitchen. And when square footage is at a premium, every design decision carries more weight. The amount of countertop space will affect your ability to prep multiple dishes at once. How many cabinets you have will make it easier (or more difficult) to store all of your pots, pans, and groceries.
But perhaps the biggest decision is the floor plan. Choosing between a U-shape or L-shape for your kitchen design will not only affect the overall flow of your culinary hub, but it will also impact your storage and countertops. Luckily, we're breaking down five small kitchen layout ideas — and what you need to know before you commit.
Small Kitchen Layout Idea #1: Galley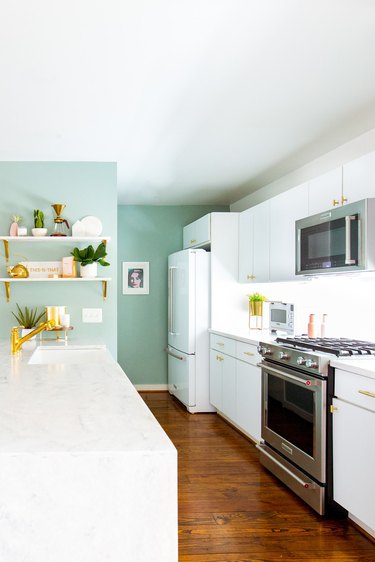 Comprised of two rows of cabinetry and a slim walkway, galley kitchens are a great way to incorporate a full-functioning cook space in a narrow room. But, depending on where in your home it's located, galley kitchens can feel isolated and claustrophobic. Take a cue from Ashley Rose over at Sugar & Cloth and turn one wall of cabinetry into an island. The result? An open and inviting small kitchen layout idea perfect for hosting.
Small Kitchen Layout Idea #2: L-Shape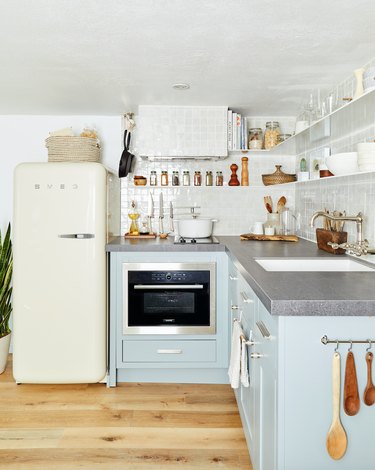 Want to keep your home's open-concept floor plan intact? Give an L-shape kitchen a try, like this culinary space designed by Emily Henderson. Although this layout can pretty much fit in any space — especially a corner — it doesn't always offer an abundance of counter or cabinet space. So make the most of your kitchen by adding open shelving everywhere. Yes, even above your stovetop for your go-to herbs and spices.
Small Kitchen Layout Idea #3: U-Shape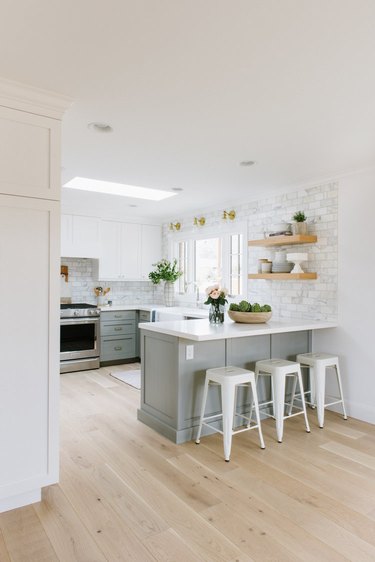 Calling all multitaskers: U-shape kitchens are the perfect layout idea for small spaces. This popular style blends the openness of an L-shape with the storage capacity of a galley kitchen. With continuous counter space, as seen in this kitchen by Shea from Studio McGee, a U-shape design is great for prepping multiple dishes at once. Plus, it will give your family's chef easy access to the refrigerator, stovetop, and sink mid-recipe.
Small Kitchen Layout Idea #4: G-Shape or Peninsula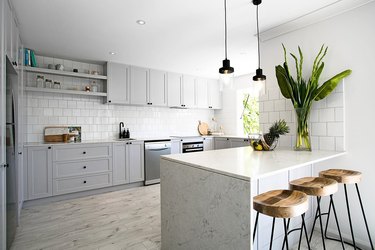 What's the difference between a U-shape and G-shape (also known as peninsula) kitchen layout? Similar to the former, G-shaped kitchens boast long, continuous countertops; however, they also have a peninsula offering an extra row of cabinetry, as seen in this project designed by Three Birds Renovations. But while G-shape kitchens have plenty of counter and cabinet space, they have a tendency to feel cramped. So before you get too excited about the idea of a peninsula, make sure you have enough room to walk around.
Small Kitchen Layout Idea #5: One-Wall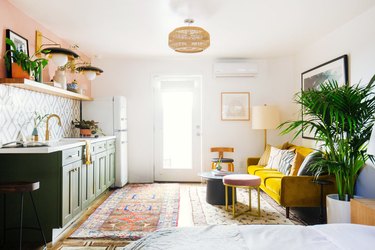 A one-wall kitchen layout is a great option for anyone with a pint-size space, like a studio apartment or a tiny house. With all of the cabinets and the countertop against literally one wall, you don't have to worry about an island or peninsula eating up valuable square footage. Plus, this gives you more incentive to turn your culinary hub into a design moment á la this kitchen designed by Dabito from Old Brand New.
---
Kelsey Mulvey is a freelance lifestyle writer and editor. Her work has been featured in Lonny, Apartment Therapy, and Wallpaper*, among others.
View Work