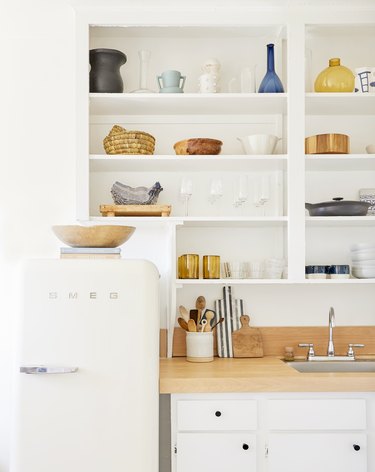 It's always so satisfying to stumble across a flawlessly organized small kitchen storage idea while scrolling through Pinterest or Instagram. What is it about organization that also looks so pretty? Stylish? Pleasing to the eye?
To find out, we turned to none other than The Home Edit co-founders Clea Shearer and Joanna Teplin, who have perfected the art of organized-meets-pretty. The design duo professionally organizes spaces and sprinkles in some interior styling pixie dust (we can't get over the beauty of their rainbow color-coded drawers and shelves). Through their booming business and New York Times best-selling book, they provide organizing services from their home bases in Nashville, Los Angeles, and beyond. Not to mention, over a million Instagram followers watch as their projects come alive (no big deal).
Shearer and Teplin have wielded their superpowers in closets, offices, and bathroom drawers — but what about teeny-tiny kitchens that seemingly have no room whatsoever for storage? The answer is an unequivocal yes. "In a space of this size, it's crucial that every item is pared down to necessity," the duo tells Hunker. "You truly have to know your categories." Ahead, The Home Edit co-founders impart their wisdom for making the most of every hidden nook and cranny in a small kitchen.
Step 1: Clear the clutter.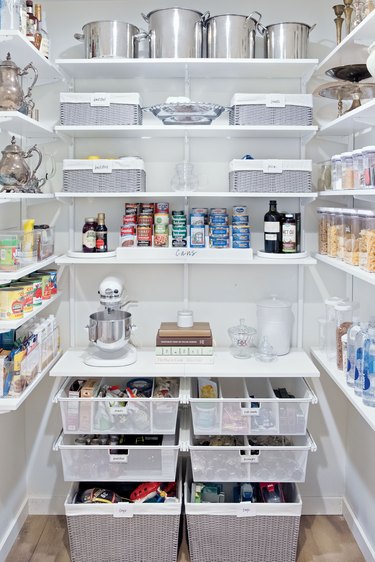 Face it: There are certain things in your kitchen that you just don't use. That torch for crème brûlée? Those four sets of measuring cups? The ancient boxes of cereal? Shearer and Teplin's most important small kitchen storage idea: clear out the clutter.
"We always suggest purging, because if you don't, you're likely just moving items you don't need back and forth," they advise. "Doing a purge allows you to take stock of the items that have been living in the space so you can judge their importance. That ice cream machine that's never seen the light of day? You won't miss it when it's gone."
As a general rule of thumb — if an item has a place and purpose in the space, then you can argue for its importance, Shearer and Teplin say. "Take your time to really think about what kitchen items are the most efficient for you."
Step 2: Go vertical.
If you have ample wall space in your small kitchen, put it to good use. The professionals recommend installing shelving, hooks, or modular storage to clear up countertop space. "For example, if your kitchen lacks a pantry, create a substitute with a wall-mounted cabinet or shelf and some stacked dry-goods containers," Shearer and Teplin explain. "It will free up valuable real estate and items will be easier to access."
Step 3: Don't overcrowd your counter.
When it comes to small kitchen storage ideas, consider your counter space precious real estate. "The key is to not overcrowd your counter," they reveal. "There should be plenty of space to prepare food. We suggest creating stations for your favorite things. This will allow you to access them more easily and at the same time create a visually appealing space."
Step 4: Utilize under-the-radar spaces.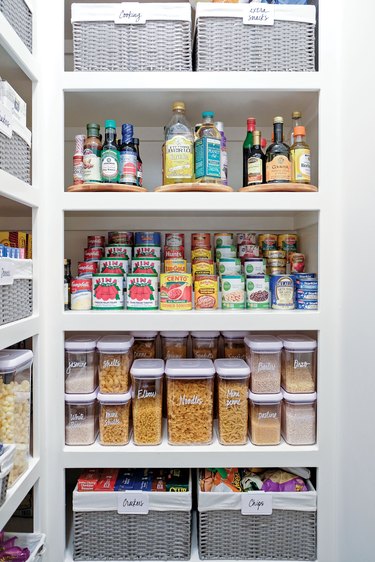 Shearer and Teplin are surprised that more people don't take advantage of one particular area. "Most people neglect the space under the kitchen sink," they remark. "It doesn't have to be a cave of cleaning products. Adding some bins and labeled categories for other kitchen items make it just as pretty and functional as any other cabinet."
Step 5: Make it all aesthetically pleasing.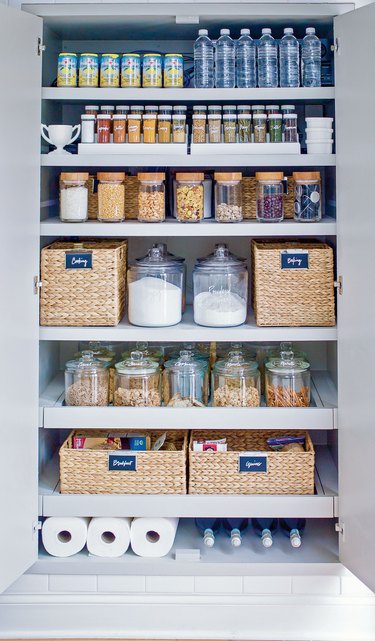 When in doubt, it can help to think of your organizational system as part of your kitchen decor — if it's appealing to your eye, you might be more apt to keep everything neat. According to Shearer and Teplin, "In order to keep things functional and visual, include your everyday items with the items you want on display (almost as decor), and try to stick to a similar color scheme: for example, stacks of ceramic plates, tall drinking glasses, a bright electric mixer, labeled canisters, and your favorite cookbooks."
Shop the Look
Here, Shearer and Teplin share their most beloved products for tidying up a miniature kitchen — and explain why these items are game-changers.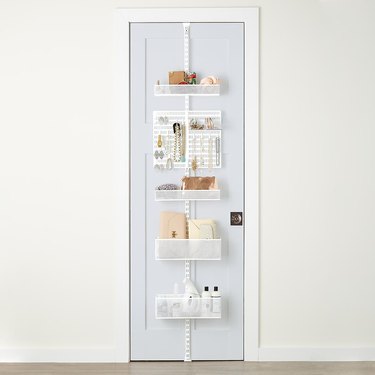 "If you don't have the extra drawer, counter, or pantry space, an over-the-door organizer is your option," Shearer and Teplin say. "We like the Elfa system. It can easily hang over a pantry door for easy access."
"We like to use OXO canisters to store bulk items like oats, flours, rice, and pasta more efficiently and to keep them fresh longer."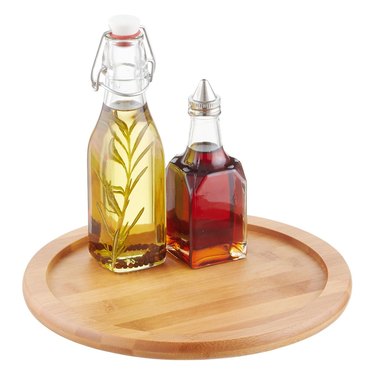 "Turntables make items like spices, oils, and canned food more accessible," offer Shearer and Teplin. "You can spin and see what's behind, rather than taking each item off of the shelf."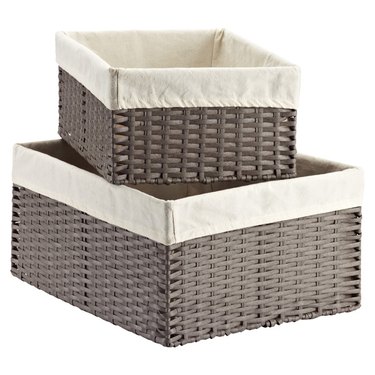 "Take advantage of unused space whenever it makes sense," they advise. "We like using bins, like Montauk bins, to store back stock, water bottles, or snacks that kids can grab on their own."
Photos Reprinted from The Home Edit. Copyright © 2019 by The Home Edit Print, LLC. Photographs copyright © 2019 Clea Shearer. Published by Clarkson Potter, an imprint of Penguin Random House, LLC.
---
Shelby Deering is a lifestyle writer who contributes to national magazines and websites, including Country Living, Good Housekeeping, Well+Good, and more. When she's not writing, you'll find her shopping flea markets, hiking, and going for walks with her corgi.
View Work