Controversial opinion, but we actually love one-wall kitchens more than any other kitchen layout. Sure, they're more compact than others; there aren't quite as many cabinets as a U- or L-shaped kitchen, and they don't incorporate the well-loved, foolproof kitchen triangle. However, one-wall kitchens are often open to the rest of the home, making them easy to integrate into the rest of your living space.
So what exactly defines a one-wall kitchen? Well, it's pretty much exactly as it sounds. You'll often find this layout in apartments or homes with a smaller footprint that have limited square footage to dedicate to a functional cook space. Appliances, countertops, and cabinetry all align on a single wall. This can certainly create a challenge when it comes to function and flow, but not to worry, because there's a saving grace: adding a kitchen island.
Whether you're working with an ample budget to transform your space or are simply a renter looking for an inexpensive fix, we've rounded up tips for one-wall kitchens with islands that will have you ready to cook up a storm in no time.
1. Create the illusion of space with an oversized island.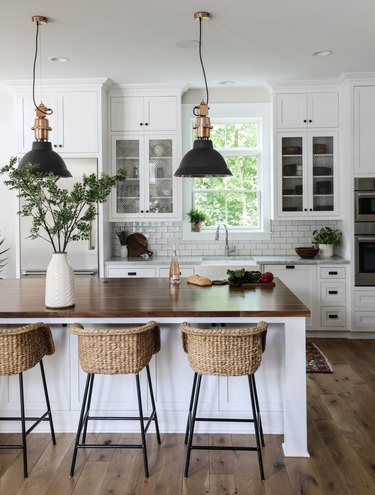 2. Integrate appliances for a seamless look.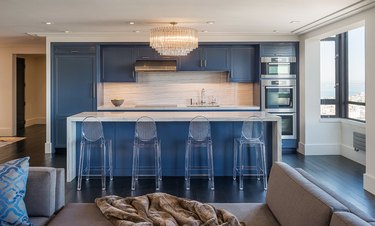 Since a one-wall kitchen with an island is often open to the rest of the home, we love how Ian Stallings opted for an integrated refrigerator to give the feel of high-end furniture rather than a utilitarian cook space. Painting the cabinets a rich blue further allows the open space to feel more decorative, rather than purely functional.
3. Utilize over-the-cabinet storage.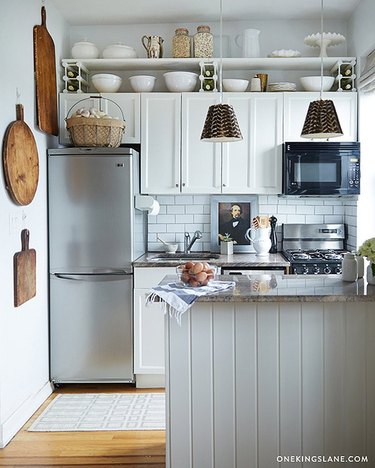 This tiny kitchen featured on One Kings Lane makes the most of a small space by adding over-the-cabinet storage. Not only does this create more function in a compact kitchen, but it also draws the eye up to give the illusion of higher ceilings. To recreate this look, keep all items on display similar in size and color to ensure the space doesn't look cluttered or overwhelming.
4. Mix open shelving with traditional cabinets.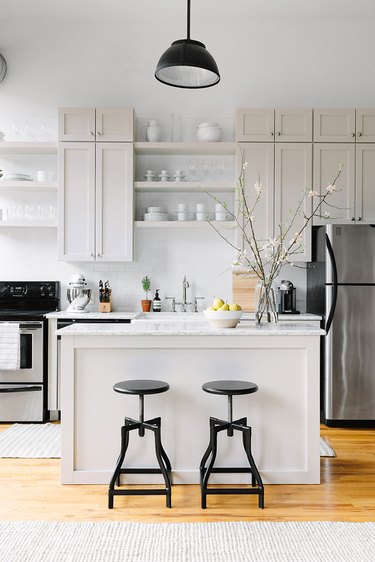 Open shelving in a petite, one-wall kitchen can be tempting to keep things light and airy, but it's not always practical. In The Everygirl's office kitchen, Alaina and Danielle mixed traditional cabinetry with open shelving to get the best of both worlds. To get this look in your own home, keep the cabinets and countertops light, but incorporate black accents with bar stools and lighting to tie in the industrial appliances.
5. Add appliances to the kitchen island.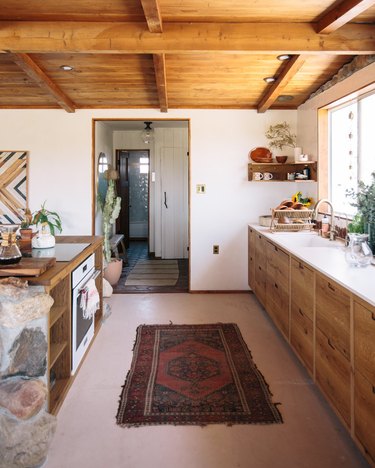 Rather than primarily using a kitchen island as extra counter space for a one-wall kitchen, the owners behind The Joshua Tree House moved their oven and range to the center island, creating more flow between the sink, fridge, and prep space. Want to achieve this character-filled look in your own space? Balance rustic wood cabinets with light countertops for a style that feels warm and cozy without being heavy or dated.
6. Keep the color palette consistent.
The cohesive color palette and lack of upper cabinets in the Urban Cowboy Brooklyn immediately makes this one-wall kitchen with an island feel more expansive. Opt for all-white everything in your own home to recreate this look, from countertops and appliances, to lighting and bar stools.
7. Take the backsplash to the ceiling.
Even though this one-wall kitchen from the Bodega House is technically one of the smallest we've featured, it's arguably the most elegant. The serene color palette coupled with iridescent tile that goes all the way up to the ceiling reflects plenty of light, making the space feel calming and spacious.
8. Add bar stools to a moveable island.
This sleek white island in the Bodega Cove is the perfect antidote to wood planked walls and rustic cabinets. Better yet, the island is movable and lightweight, making it a flexible furniture piece that can easily double as a breakfast bar, prep space for cooking, or even a relaxing spot to get some work done.