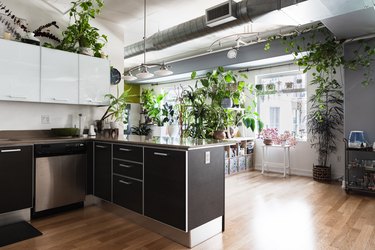 Unless you've been blessed with kitchen storage that extends to the ceiling or a series of open shelves, you've likely pondered at one point or another: "How should I fill that awkward space above my cabinets?"
Well, you have plenty of options to maximize that space, both for purely decorative reasons and practical ones, like using it for extra storage. We're here to bring you some inspiration and ideas for how to style the space above your kitchen cabinets.
1. Plants
Almost any space looks cheerier with some greenery, so why not add a few plants above your kitchen cabinets? Of course, given the space's hard-to-reach location, you might be better off throwing some faux plants up top, since watering might be a pain.
2. Extra Storage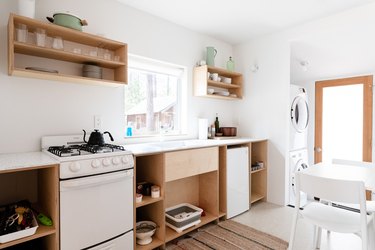 When pressed for space in their kitchen, some people might use their oven for storage if they're not big into cooking. But if you have a penchant for baking and need to turn your oven on regularly, you can use your above-the-kitchen-cabinet space as extra storage for your not-so-frequently-used kitchenware.
3. A Styled Vignette
Are you a stylist at heart? Use the space to house a thoughtfully crafted vignette, whether that's using pretty (if not actually practical) kitchenware like painted pitchers or decorative plates.
4. Empty Bottles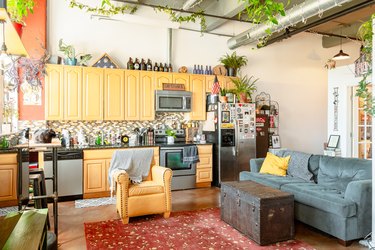 While it's true that a line of bottles might recall a college apartment if done haphazardly, a curated display of glass vessels can actually look quite mature.
5. Baskets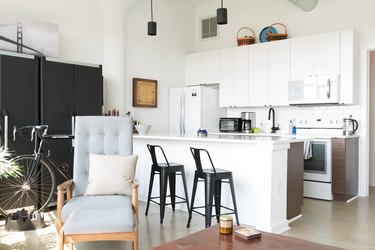 If you're going for a more farmhouse-chic look, place a few baskets atop your kitchen cabinets. Bonus points for filling them with objects!
6. More Open Shelving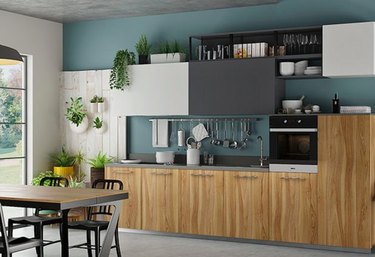 If you're into a chic asymmetrical look, we suggest playing with the configuration of our cabinets. This space, for example, uses the top of a black cabinet as room for more open shelving. A couple of plants nearby finish off the look.
7. Collectibles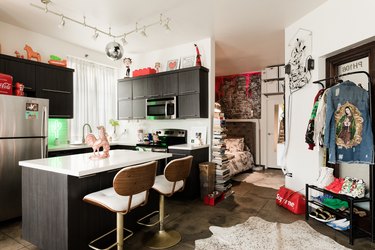 Have a collection of objects (figurines, Matryoshka dolls, or what have you) that needs a home? Stick 'em atop your kitchen cabinets!
8. Boxes or Crates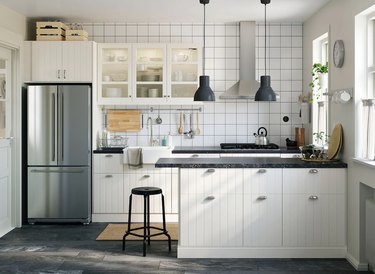 For a very subtle farmhouse look, place wood boxes or crates atop your kitchen shelves. You can actually use them for storage, or you can use them decoratively.
9. A Bar
If you have bottles of spirits that you don't regularly need for your evening cocktail — or if they're quite pricey and for special occasions only — you can create your own version of a bar's top shelf.
10. A Mix of Any of the Above!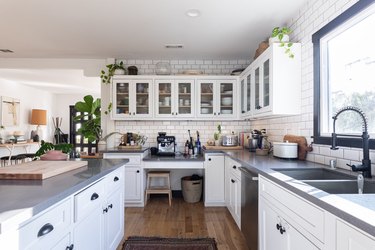 You don't need to stick to just one of these ideas! Find a mix of them that works best for your kitchen's aesthetic.
---
Stefanie is a New York–based writer and editor. She has served on the editorial staffs of Architectural Digest, ARTnews, and Oyster.com, a TripAdvisor company, before setting out on her own as a freelancer. Her beats include architecture, design, art, travel, science, and history, and her words have appeared in Architectural Digest, Condé Nast Traveler, Popular Science, Mental Floss, Galerie, Jetsetter, and History.com, among others. In another life, she'd be a real estate broker since she loves searching for apartments and homes.
View Work