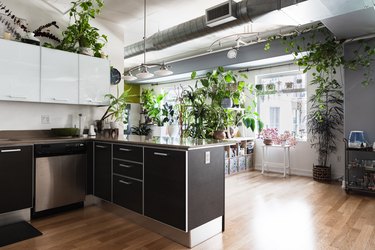 Unless you're lucky enough to have ample kitchen storage that extends up to the ceiling or a series of open shelves at your disposal, you're probably dealing with some sort of awkward space above the cabinets, simply begging to be filled.
Here's the thing, you have plenty of options to maximize that zone, be it for purely decorative reasons or practical ones. And let's face it, we can all use extra storage wherever we can get it. Ahead, you'll find inspiration and clever ideas for styling the space above your kitchen cabinets with both form ​and​ function in mind.
1. Display plants, on plants, on plants.
Let's face it, greenery brings a lot to the table, especially decoratively speaking — and these days, the concept is all the rage. So when it comes to considering above-the-cabinet decorating ideas for your kitchen remodel, potted plants are pretty much a no-brainer. Outside of lending a pop of color to the area, they will instantly liven up even the most tired of spaces and they will help clean the air, too. Just be mindful of the greens you're utilizing and take note of the amount of natural light and water they need to receive in order to thrive.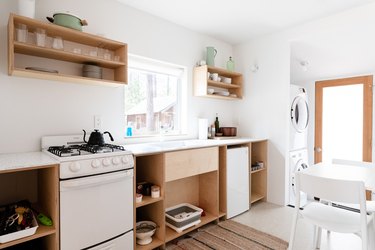 When pressed for space in a kitchen, we take all sorts of creative measures to maximize storage where necessary — the interior cavity of the oven included. But for those who happen to be avid cooks, it's not the most conducive approach. The empty space above your upper cabinets presents itself as the next best solution, oftentimes with ample room to spare. Use it as extra storage for your not-so-frequently-used cookware.
3. Show off vintage treasures.
Use the space above your kitchen cabinets as a platform to arrange a thoughtfully crafted vignette of design-forward kitchenware. Painted pitchers, handmade ceramics, or decorative plates are always a great start. Bonus points for bringing in a colorful or patterned variety.
4. Create an extension to your library.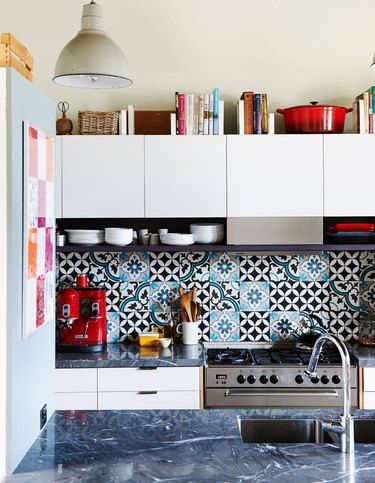 Attention all book lovers: The space above your kitchen cabinets is the perfect way to expand your library without having to buy a new bookcase. Follow the lead of this colorful cook space, captured by Eve Wilson over at The Design Files, and stylishly display a collection of your favorite tomes. Opt for a vibrant approach as seen here or limit your selection to neutral spines to keep the look subtle.
5. Hone in on an aesthetic.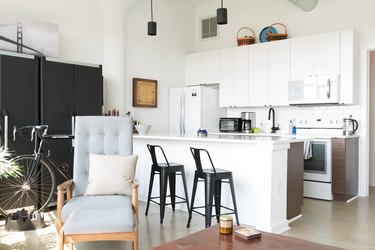 The space above your kitchen cabinets should double as more than just a functional landing spot. Allow it to serve as an area for you to reinforce a stylistic theme such as boho or farmhouse. Bring in accents such as woven baskets, reclaimed wood decor, greenery, or colorful pottery to round out your space.
6. Create more open shelving.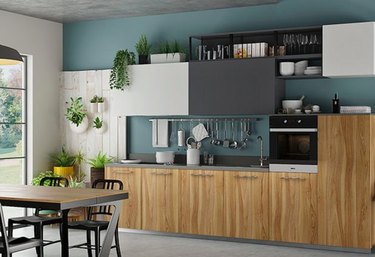 If you have a generous amount of space above your kitchen cabinetry, consider installing shelving to create a design-forward, asymmetrical look. This contemporary cook space showcasing a mix of wood, black, and white cabinets, definitely has the right idea. Filter in a few potted plants to visually extend the line of sight and outfit the new upper shelving unit with cookbooks and glassware.
7. Showcase collectibles.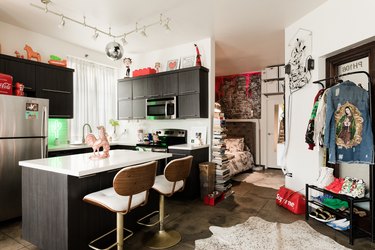 Have a collection of objets d'art (figurines, Matryoshka dolls, or what have you) that need a home? Use the space above your kitchen cabinets to show them off in all their glory. But before you go lining the tops of your cabinetry with valuables, take inventory of the condition of every item and be wary of tchotchkes that are potentially flammable or not suited to a high-heat environment.
8. Declutter with crates.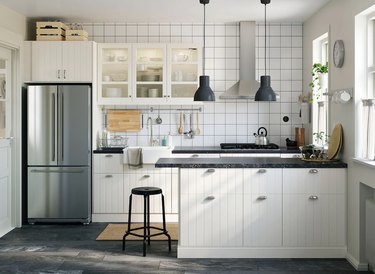 Living in a small space? Decorating ideas for the space above your cabinets should incorporate a functional element in addition to a stylistic one, such as placing wood boxes or crates on top of your upper cabinets. Fill them with items better left out of sight or smaller, specialty appliances that require infrequent use.
Bar carts aren't always spacious enough for all the bottles of booze that come our way. So when it comes to the spirits better left for special occasions, the top of the cabinets might just be the next best thing. Create your own version of a bar's top-shelf by arranging a few choice bottles of liqueur above the kitchen cabinets. Corral them on a tray to keep them beautifully contained.
A combination of high ceilings and open shelving create the perfect framework for outfitting a kitchen with artwork. This maximalist kitchen makeover from Fastighetsbyråns Mäklare, as featured on Decoholic, illustrates the major impact from just two framed prints. Casually stacked on top of wall-mounted shelving (this idea would also work above upper cabinets), the large-scale pieces of art are far from culinary dangers such as splashing food and water, lending an unexpected dose of personality and a touch of whimsy to boot.
11. Showcase an assortment of vases.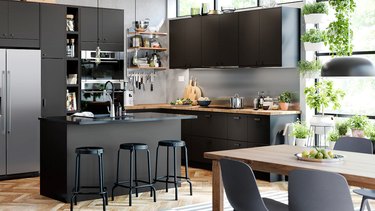 The space above your cabinets can be a stylish storage solution for an ever-growing collection of vases. This modern kitchen spotted on IKEA showcases just how valuable the often-left-empty space can be. In addition to adding a pop of color to the area, the lineup of glassware also generously filters light throughout the room.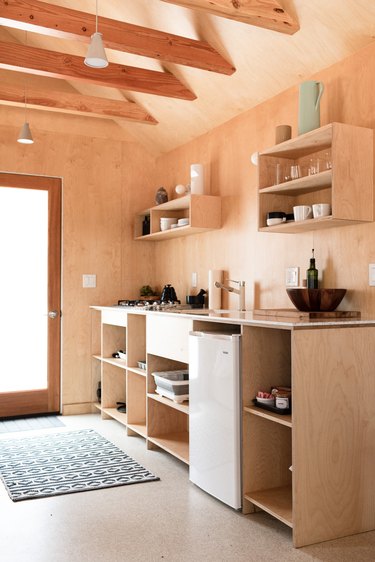 Not all kitchen accessories are created equal and for those whose shelving is cohesive in height, chances are, you'll be left with a series of staples that don't quite fit in. Here's yet another key reason to decorate above your kitchen cabinetry. Use the open space to store taller items — such as large vases or pitchers — which would otherwise be relegated to the garage or dining room credenza.
13. Fill out awkward corners.
It always seems as though the awkward space on top of your cabinets is all the more prominent and trickier to fill in small kitchens. We're all for taking a page out of designer Orlando Soria's book — as seen here on Style by Emily Henderson — and using the nook to display a series of decorative accessories. Play around with various forms — such as oval platters or cylindrical vases — to find a configuration that works best for your space.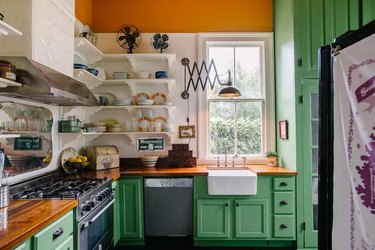 When things get too hot in the kitchen a little extra breeze can go a long way, especially if your hood vent is lacking on the power front. Whether for show or for functionality, we're taking a cue from this cheeky orange and green kitchen, captured by Sandy Soohoo, where a slew of fans are displayed on top of the kitchen cabinets.
15. Throw in a little bit of everything.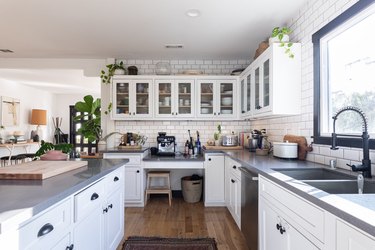 Don't feel as if you have to pigeonhole yourself into one singular box. When it comes to your kitchen design, do what feels best and get creative by integrating a medley of ideas to produce a thoughtful space. Start with a few curated pieces of home decor, such as a potted trailing green, a vase or framed piece of art, and a basket or bin to keep clutter out of sight.