A kitchen is a pretty functional place. It's where you break out your Instant Pot, scrub your pots and pans, and cut up veggies. But it's also a place often referred to as "the heart of the home," and for good reason. Friends and family likely congregate in the kitchen as you whip up meals made with love, and you probably spend more time there than you think, poring over your favorite cookbooks while planning upcoming gatherings.
Unfortunately, the kitchen is also likely to have less wall space than any other room in the house. Needless to say, it can take some extra creativity to make your culinary space shine. So do yourself a favor (and make life easier) by checking out these nine brilliant kitchen wall decor ideas to complete your design.
1. Make a statement in an all-white kitchen.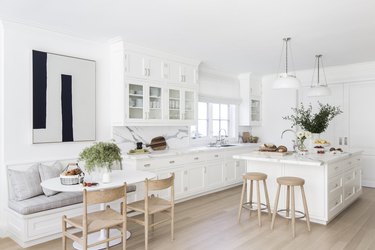 Top-to-bottom white kitchens, like this modern cook space designed by Alyssa Kapito Interiors, are very of the moment. They also present an ideal opportunity to let your kitchen wall decor stand out. Choose something bold with contrast that will jump right off the wall.
2. Treat open shelving as a picture ledge.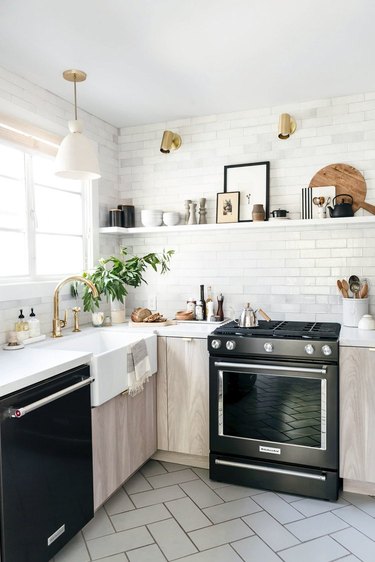 Open shelving is a distinctive alternative if you're not feeling traditional upper cabinets for your culinary space. Plus, they'll give you more freedom to decorate and display your favorite prints, as proven by this kitchen designed by Shea from Studio McGee.
3. Score a vintage oil painting.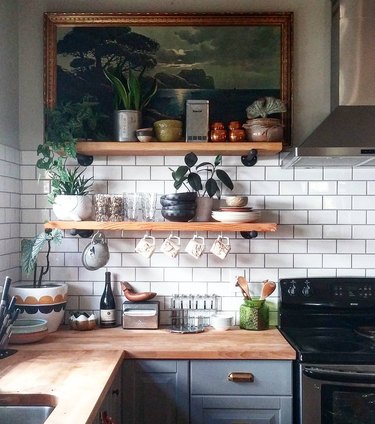 Another kitchen wall decor idea that we're loving these days? Vintage oil paintings. It's a little surprising to see an ornately framed piece of antique art near the stove, but that's what makes it so eye-catching. Designer Liz Kamarul discovered this landscape at a vintage shop, and it definitely turns up the drama in her culinary space.
4. Create a gallery wall.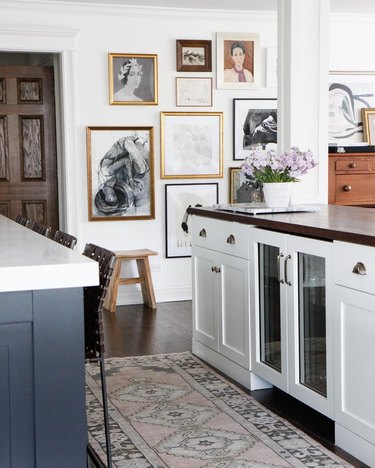 A gallery wall doesn't have to be relegated to living rooms and stairwells. If you have the space, it can make especially chic kitchen wall decor, too. Renee and Christina of Park & Oak Interior Design utilized a wall just off the kitchen and filled it with a combo of vintage and current artworks.
5. Utilize your tile backsplash.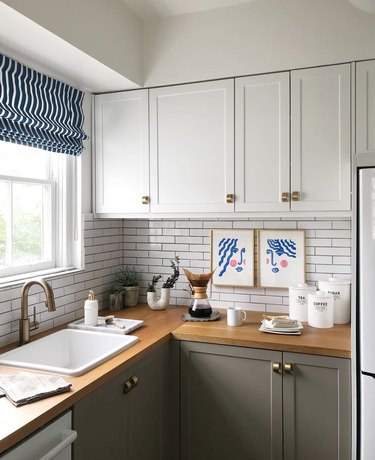 So, let's say you have a farmhouse kitchen complete with subway tile, two-tone painted cabinets, and wood countertops. Bring it up a notch by hanging one or two pieces of modern artwork on top of your backsplash, like Orlando Soria did in this kitchen. The modern portraits look shockingly spot-on amid classic details (not to mention pair beautifully with the blue-and-white striped Roman shade above the sink).
6. Take advantage of random wall space.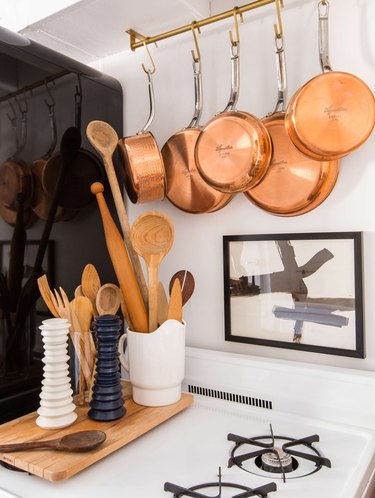 In a small kitchen, every square inch counts and that goes for the walls, too. Make use of random wall space like this clever kitchen wall decor idea imagined by Brady Tolbert. The black-and-white wall art above the cooktop paired with a collection of hanging copper pots and pans is perfection.
7. Put kitchen essentials to work.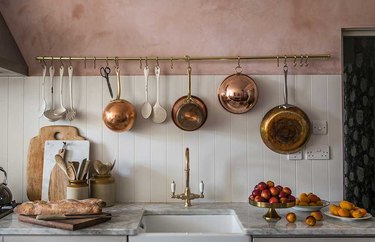 8. Emphasize surprising colors.
When choosing artwork for your kitchen, use the opportunity to emphasize shades used throughout your space. In this minimalist cook space, the team over at General Assembly highlighted the delicate pink hue of the pendant lights and dishware with help from a complementary abstract print.
9. Have a sense of humor.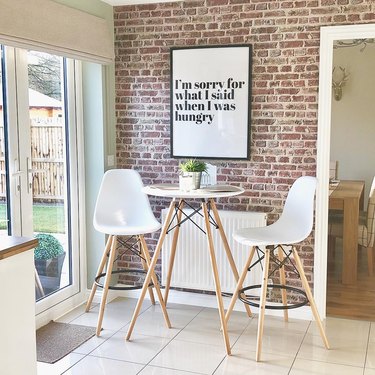 Don't be afraid to lighten the mood like Craig of Corby Craig Residence did in his kitchen. The "I'm sorry for what I said when I was hungry" print showcased on the brick accent wall is not only hilarious, but oh-so-relatable.