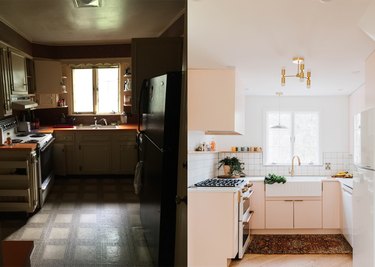 A foreclosed home in less-than-stellar condition might scare some buyers off, but Chris and Claudia Beiler aren't ones to shy away from a challenge. The couple, who own the Chris & Claude Co., a real estate and renovation company in Lancaster, Pennsylvania, saw potential in the 1950s stone house and thought they could turn it into a future buyer's dream home. They focused on maintaining the house's midcentury vibe. "We saved original items when they were salvageable and re-worked them into the design," says Claudia. "It was exciting in the design process to try to stay true to the era of the home. This meant designing with lots of lines and pops of color in strategic places."
When it came to color, the couple was inspired by the house's retro roots and decided to think pink. "We found the perfect shade of pink and ran with that," says Claudia. "Pink went on the bathroom ceiling, doors, kitchen cabinets, and a wall in the attic. We also pulled in other shades of pink in light fixtures, wall hangings, pillows and rugs." The couple was able to completely transform the home with a modern take on '50s style that's definitely pretty in pink.
---
Elizabeth Stamp is a freelance writer in Los Angeles. Her work has appeared in Architectural Digest, Elle Decor, and CNN Style.