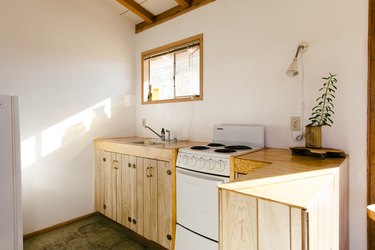 Whether you live alone or are more into takeout than cooking, you may want to forgo a typical oven when your kitchen space is super snug. An apartment-size stove is the ideal solution for those smaller quarters, and you can still cook all your favorite things. Plus, you'll gain counter space and room for other appliances.
So sit back and start planning cozy meals with these apartment-size stove ideas that give a lot while taking up very little square footage.
1. Combine modern appliances with warm wood cabinets.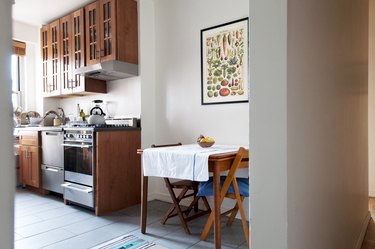 Take some inspo from this cozy kitchen, and combine a stainless steel, apartment-size stove with more vintage cabinets. The modern appliance will fit right in and look cozy instead of cold and sterile. Plus, if you keep your existing cupboards, you'll save a ton in renovation fees.
2. Keep your counters clutter-free.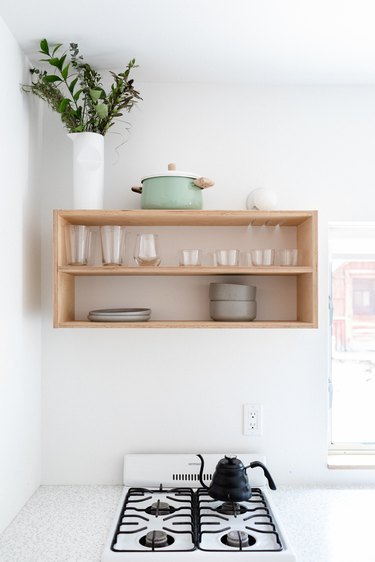 Store your pots, dishes, and glassware on open shelves right above your cooktop to keep your counter clutter-free. With smaller spaces, if you keep them organized, they'll feel much more spacious. And it won't hurt if you go with a simple color scheme, either. The white in this kitchen is perfect.
3. Work with what you have.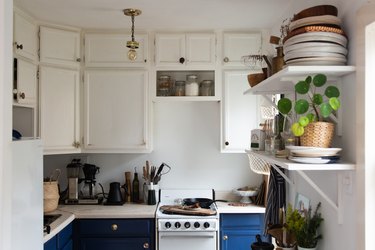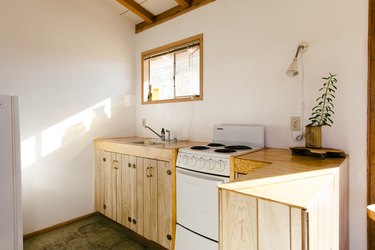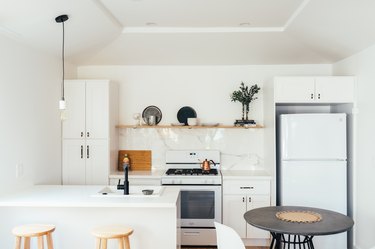 Your kitchen may be narrow, but that doesn't mean you need to forfeit style. Choose a smaller-scale sink, refrigerator, and oven that keep things feeling cohesive. We love this look because the white appliances, black faucet, and marble backsplash backsplash all blend beautifully.